Product Description
1. Xhorse Condor XC-Mini Plus II Key Cutting Machine, 2nd Generation of Condor MINI Plus.
2. Next level working experience with AI Tech.
Xhorse Condor XC-Mini Plus II 2nd Generation Key Cutting Machine

Production Introduction:

Xhorse Condor XC- Mini Plus II 2021 is the is the second generation of Xhorse Condor XC-Mini Plus 2020 automatic key cutting machine. Driven by AI technology and 8 core processor, it has a higher performance compared with its former edition.

Xhorse Condor XC- Mini Plus II is able to quickly and accurately identify almost all car keys, motorcycle keys, plastic keys and aluminium keys while connecting to a key reader. It maintains excellent performance even under extreme weather. With Condor XC- Mini Plus II, users get a piece of art rather than a normal duplication result. It does not just simply complete the duplicate process. Xhorse Condor XC- Mini Plus II is a work of art, but has strong capability.

Xhorse Condor XC- Mini Plus II can produce super high precision processing results. The finished keys passed the precision test of the advanced optical instrument. The machine can deliver high accuracy processing results even after cutting over 150,000 keys.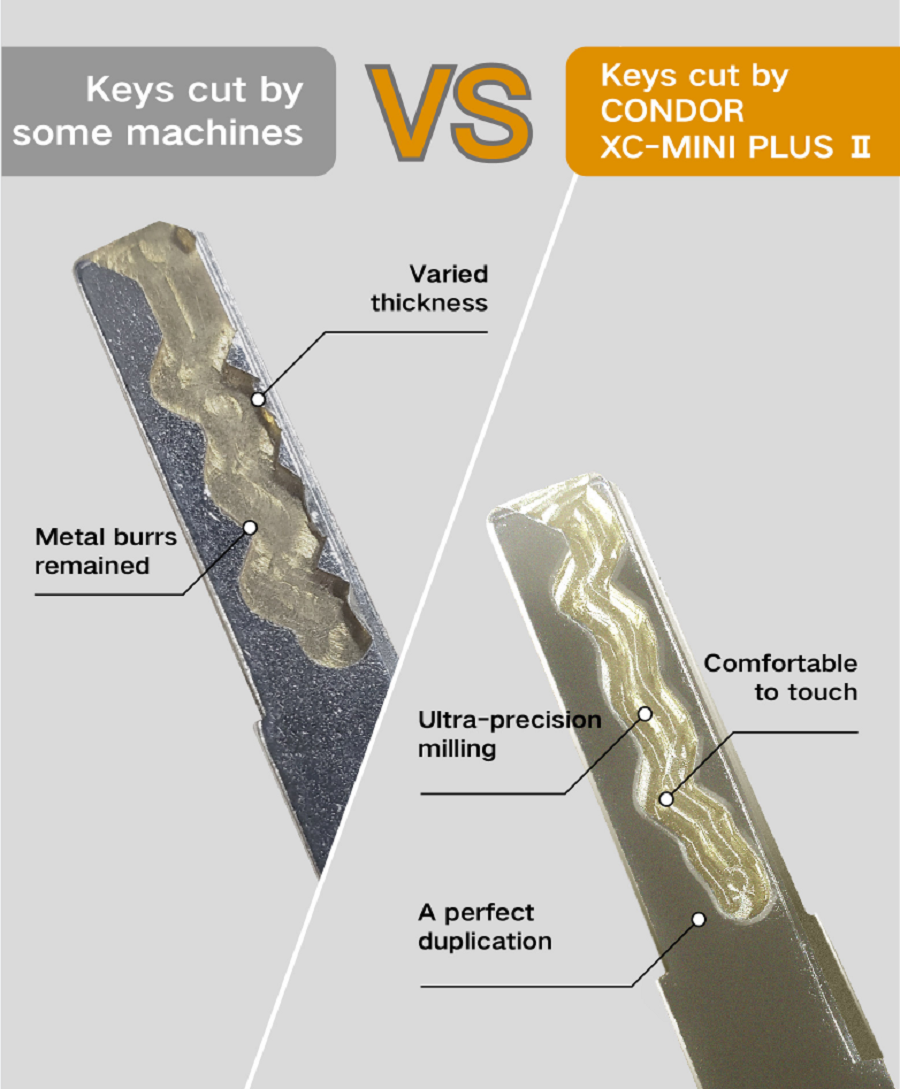 Condor XC-Mini Plus II Top 12 Revolutionary Features:

●Smart User Interaction in Android
●Intelligent Indicator Light
●8-Core Process
●7 Display Intelligent Touch Screen
●Powerful Database
●All-purpose Clamps Extraordinary Versatility
●All Key Lost Solution
●Key blank Engraving
●Key Data Customization
●Support Bluetooth and WiFi
●Optical Key Bitting Recognition (Work with Key Reader)
●Key 3D Preview

Product Features:

8-core Processor

With 8-core processor, Xhorse Condor XC- Mini Plus II can realize prompt response, faster running speed and high resolution.




Intelligent Color Synchronization

This smart indicator light, assembled by the advance LED chips and lamp shade, seamlessly automates the color with the change of real-time working status, ensures a stable light source and intelligent status indication with flicker-free illumination and long service time.

Red light – error warning Blue light – normal working Yellow light – info notification




Smart 2-in-1 M5 Clamp and Multi-purpose Clamps

Condor XC-Mini Plus II is equipped with M5 and M3 clamps. M1, M2, M4 clamps are for options. The multifunctional clamps support a variety of key types such as side, track, tibbe, F021&Citron SX9 keys, residential keys, etc.

M5 is a 2-in-1 clamp of M1&M2, supports 2 track external, channel track, standard single sided, 4 track external, 4 track internal, standard double sided, dimple key types. More convenient to be switched into M1&M2 clamps directly, no need to install or disassemble clamps over and over again.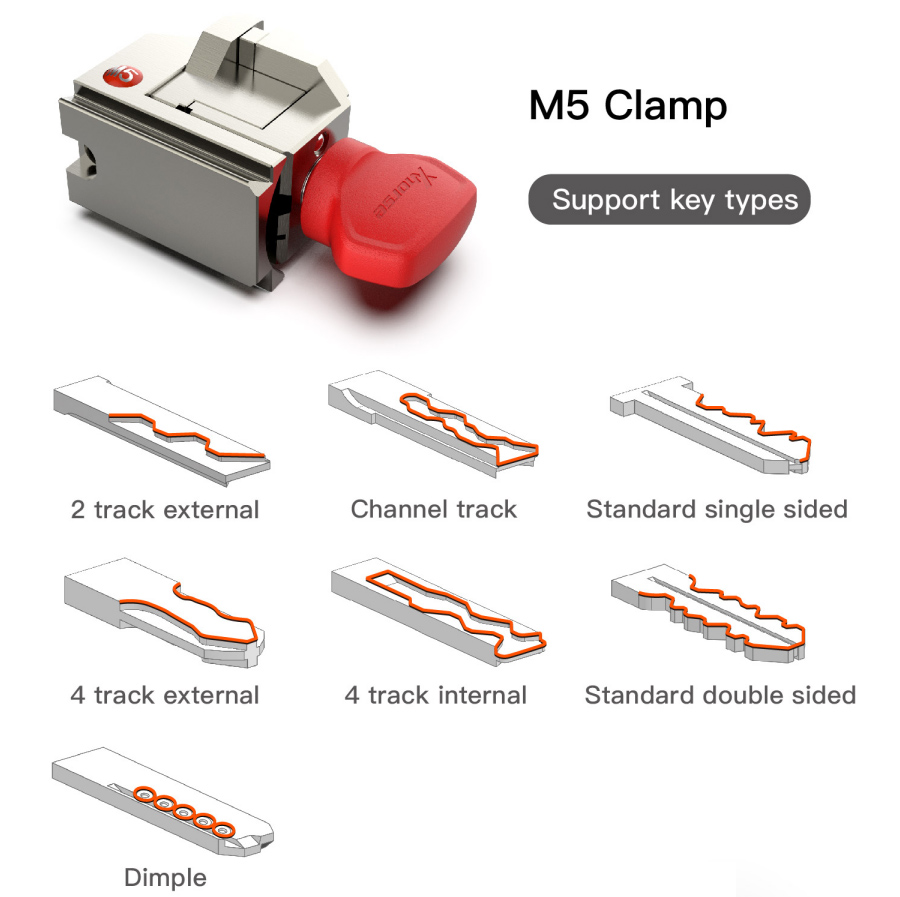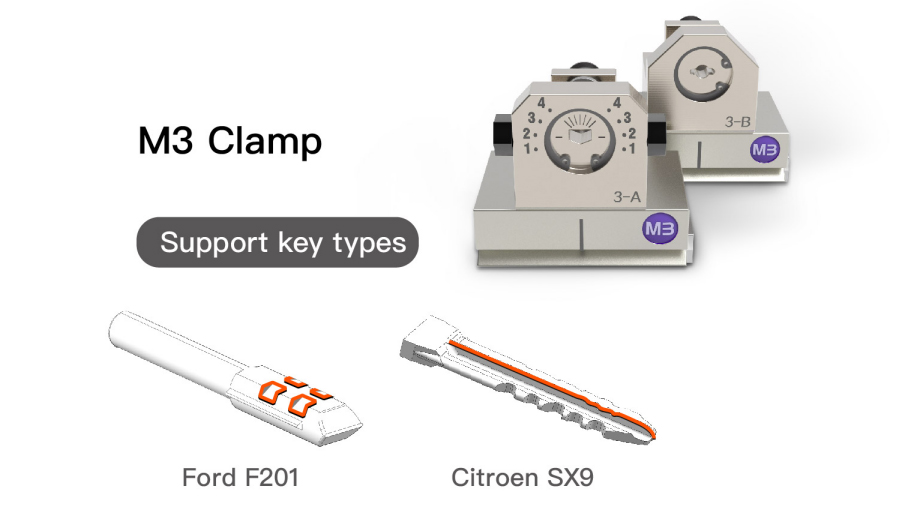 Smart User Interaction in Android

Powered by Android System, it provides stronger compatibility, faster running speed, and smarter user interaction. Fast and effective solutions are provided to make you an expert in all key lost.

2-in-1 Tool

Decode with 2-in-1 or other pro tools. Entering bitting code and then click "start cutting" on the screen.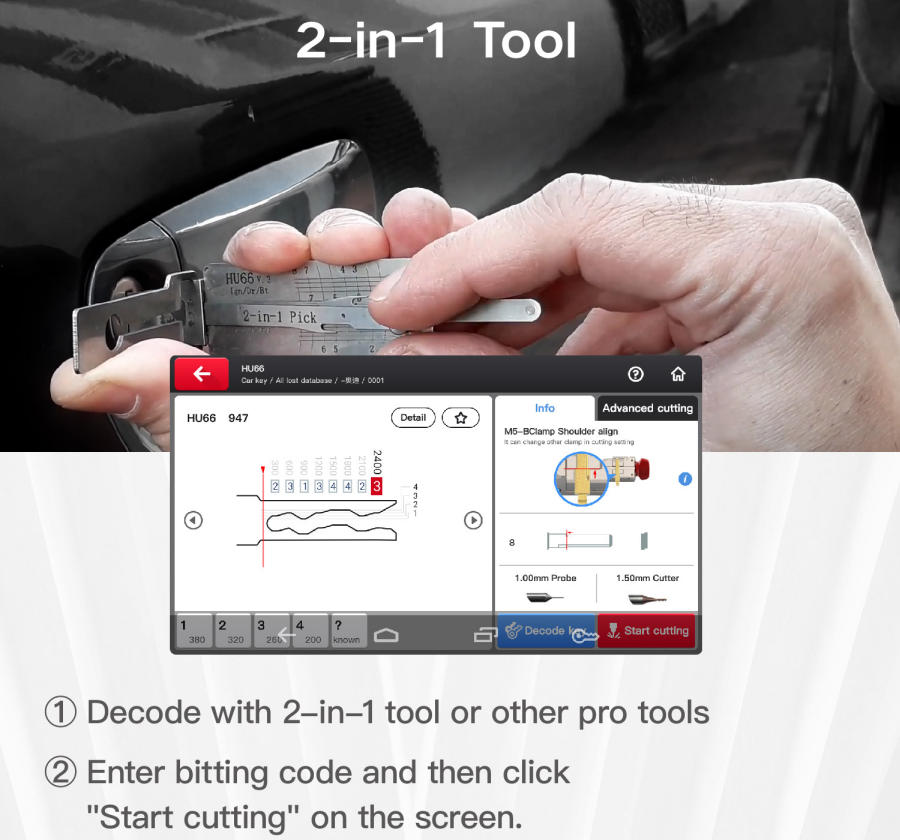 All Key Lost Database

Our built-in powerful database cover over 100 car brands, 2000 car models, 20000 keys All Key Lost data with a lifelong upgrade service for free.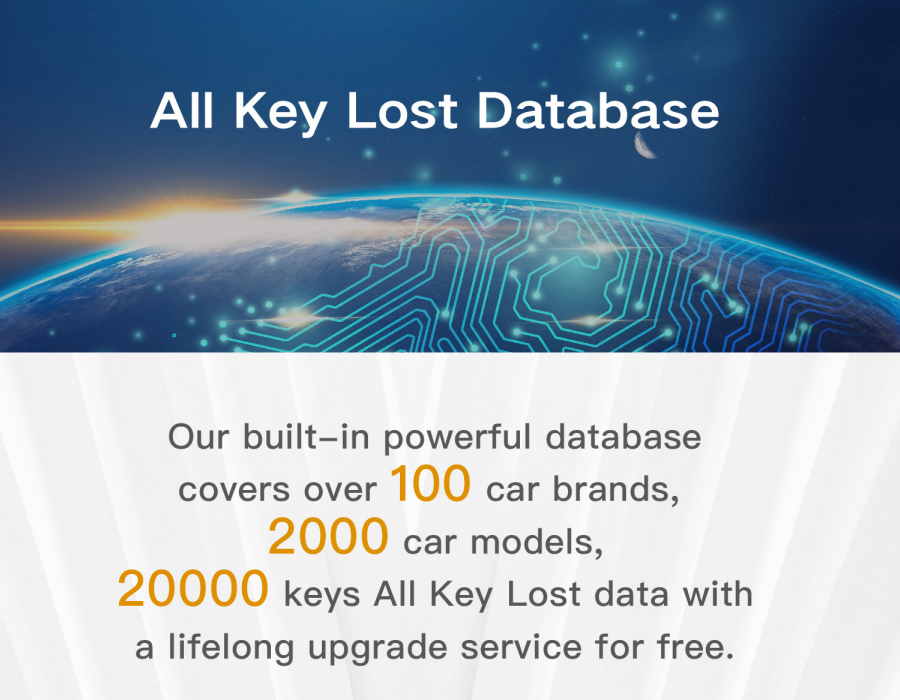 7" Display Intelligent Touch Screen

With a resolution of 1280*720 pixels, laid out on a real estate of 7 inches, offers a much better picture quality on the screen to minimizes eye fatigue. The machine adopts an angle-adjustable capacitive touch sreen. You can set the angle of the screen based on actual needs.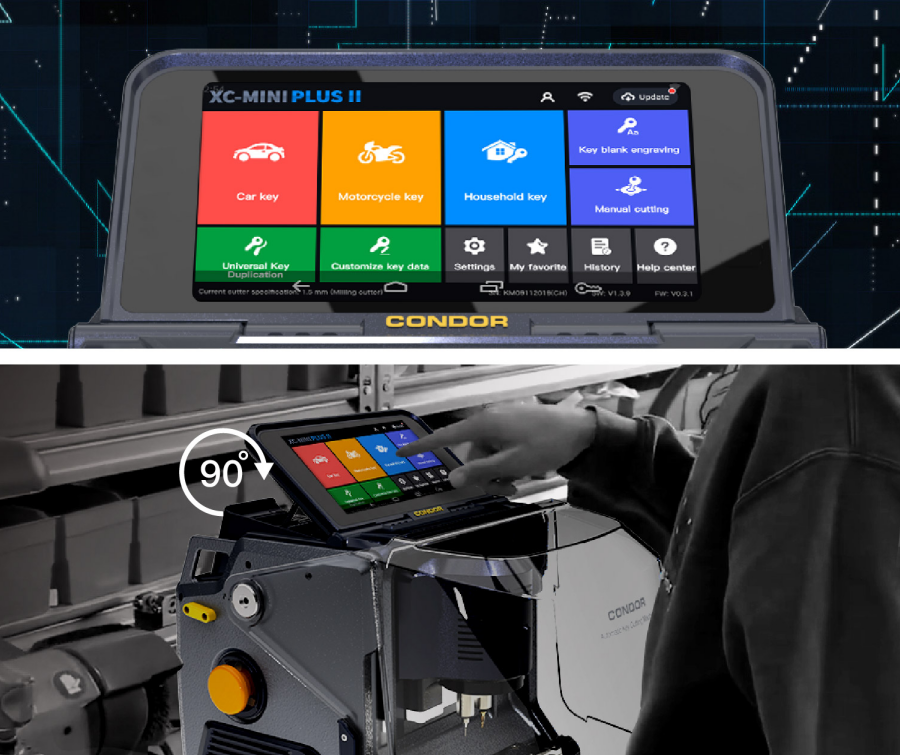 Intelligent Control Experience

Users can easily complete operations on the clear screen with step by step operation guidance. The built-in powerful database contains accurate key data, detailed parameters and clear key graphics. Users can directly edit key data on the screen to complete key duplication.

Support Multiple Types of Keys

Automobile, motorbike, residential and other general keys.

Offline Operation Available

A lifelong online database upgrade service for free. To better serve users in a poor network environment. Offline operation is available after download the database.

Key Blank Engraving

Too many keys, hard to classify, would like a key with unque design?
Luckily, the key blank engraving function allows users to add and delete texts and pictures, resize and turn them, to perfectly design a unique key.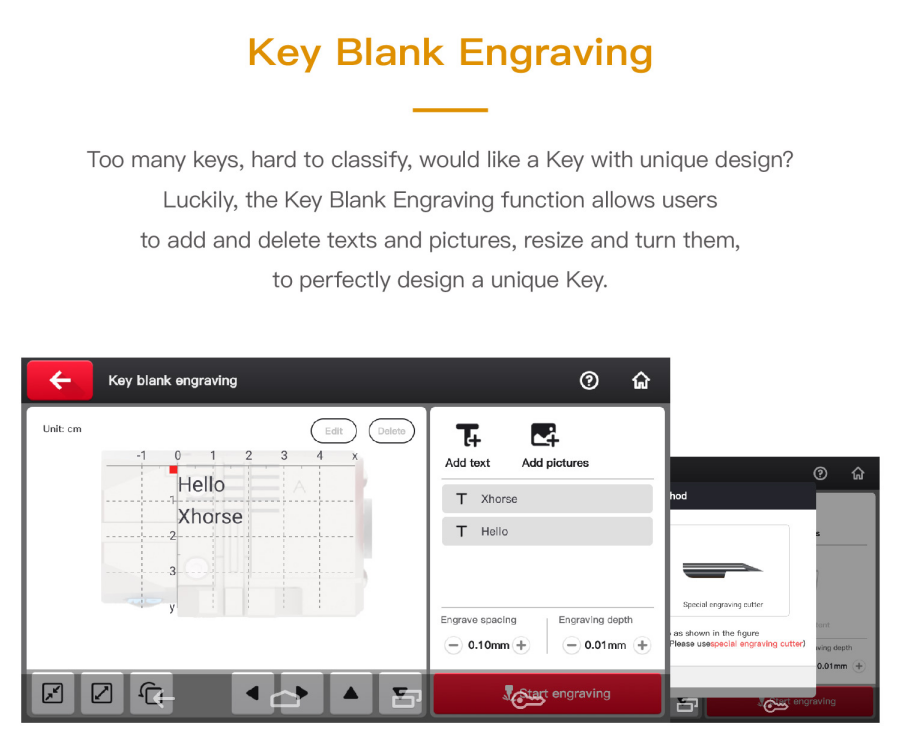 Optical Key Bitting Recognition

It's able to quickly and accurately identify almost all car keys, motorcycle keys, plastic keys and aluminium keys while connecting to key reader.

optical recognition avoid probe breaking identify key data faster




Smarter APP Control

Meet users' various demands on Xhorse APP. Connect the machine to the Xhorse APP for more functions, take photos to recognize bitting, key 3D preview, cut by bitting, find bitting, customize key data, etc. Take photo to recognize bitting: Import a photo or take a photo of the key to recognize key bitting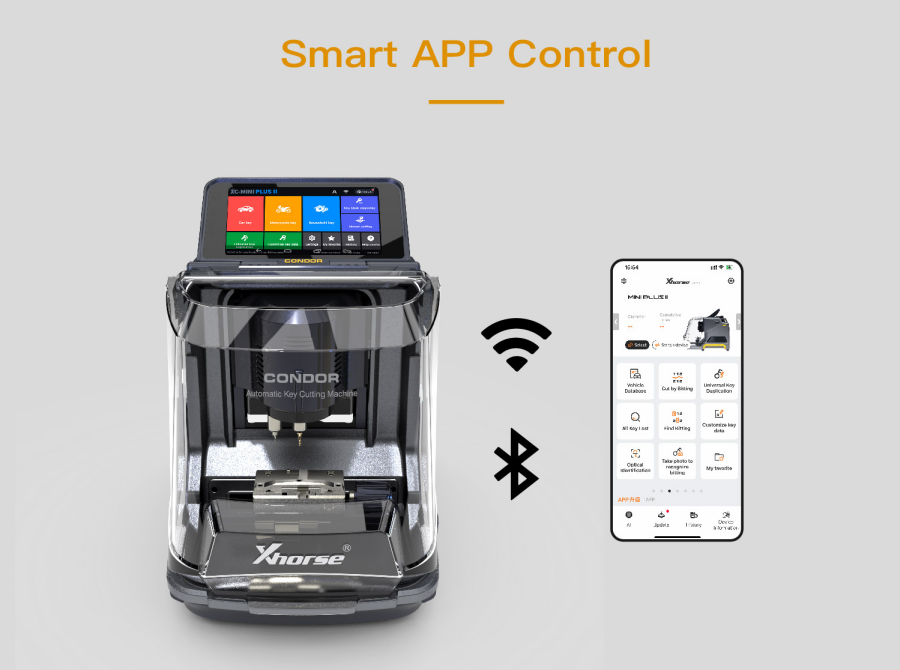 Key 3D Preview

Preview the 3D shape of the target cutting key before starting key cutting work. Greatly avoid wasting the key blank.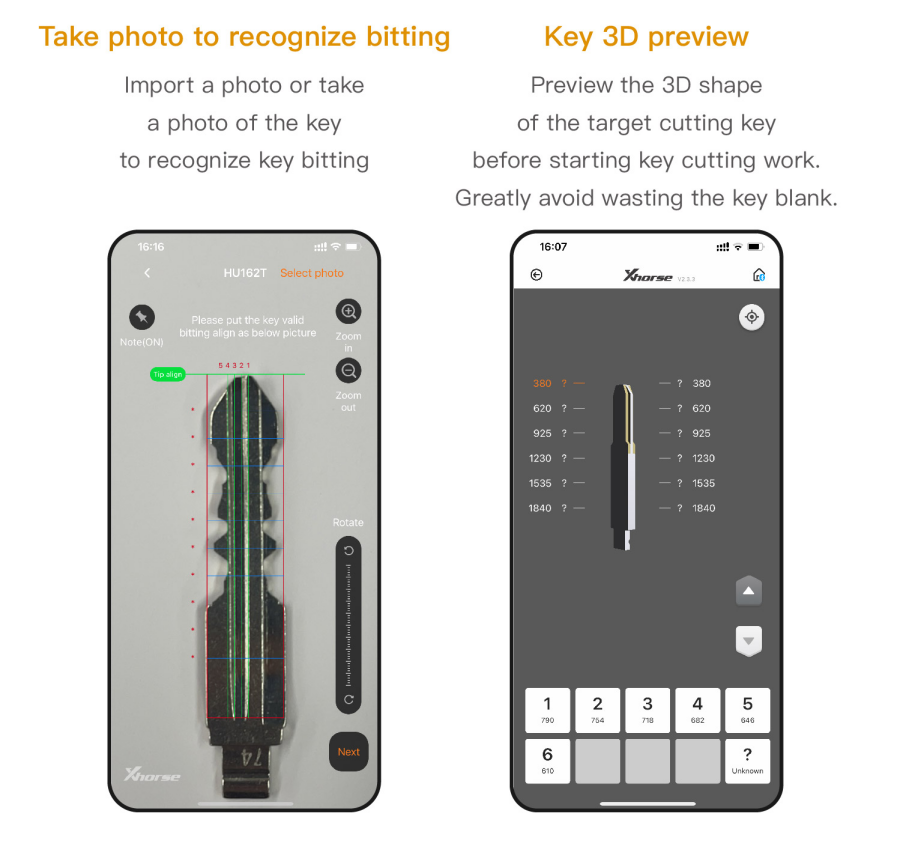 Customize Key Data

Input customized key parameters, support machining the lastest key types and those not coverd by the built-in database.

Customize key data function, independently developed by Xhorse. Manually choose key type, input key data, then synchronize date with key cutting machine to complete the key cutting process.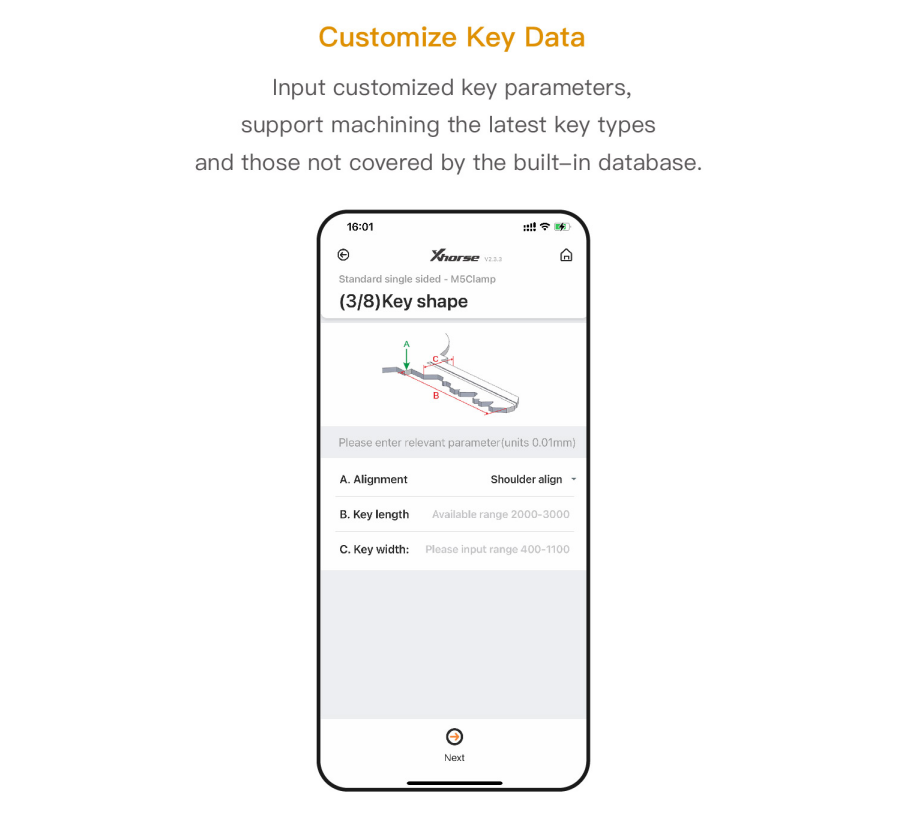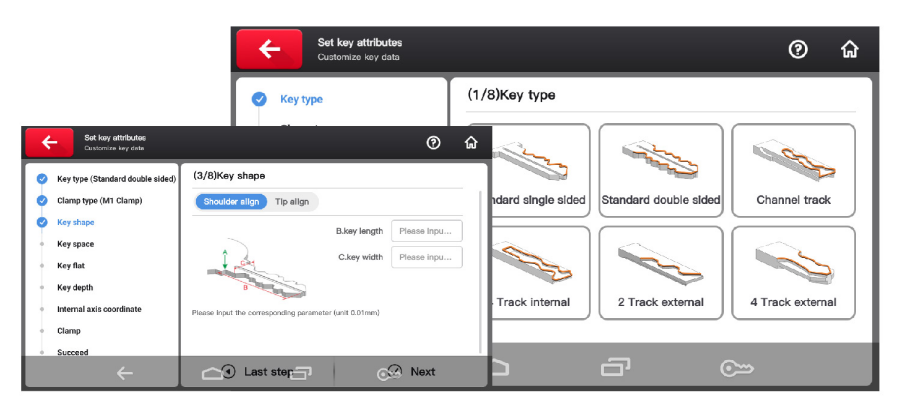 Manufacture Craftsmanship

All-aluminum body structure; Manufactured by German-made DMG CNC machine to guarantee high precision cutting results. The finished keys passed the rigid test of the optical instrument. The transparent shield enables users to check the real-time working status while preventing metal debris from spattering.

Lifelong free online technical support

Xhorse offers a three-year warrenty for Condor XC- Mini Plus II. Technical videos and articles can be easily found on Xhorse APP which will greatly help you with your work. Click "Customer Service" on Xhorse APP to contact Xhorse technical support team.

Product Specifications:




Specification:
| | |
| --- | --- |
| Power | 200W |
| LED Screen Resolution | 1280 x 720pixels |
| Motor Rotation Speed | 10000rpm |
| Package Dimensions | 515 x 480 x 380mm |
| Product Dimensions | 413 x 250 x 300mm |
| Input Frequency | 47~63HZ |
| Input Voltage | 90~264V |
| Net Weight | 19KG |
| Gross Weight | 24KG |
| USB Port | DB15 |

Package Includes:

1pc x Xhorse Condor XC- Mini Plus II
Launch X431 Pad VII Plus X-Prog 3 Advanced Immobilizer & Key Programmer Supports All Keys Lost
[EU Ship]Multi-languages Autel Maxisys Elite II Global Version NO IP Limit
Top Brand Products


Shipping Method and Delivery Time:

1. UK & Czech Warehouse Shipping: 3-5 working days. Fast Delivery & VAT/Tax Free.
[Ship from UK] For UK customers only, 2-5 days shipping by Royal Mail or UPS
[Ship from Czech] For European countries, ship by DHL or GLS, 3-5 days delivery.

2. DHL Shipping: Suitable for customers worldwide. Will take 5-7 working days.
If your address belongs to remote area, will need to pay remote handling cost. Please remember to leave message if you have any special requirement.
3. Yanwen Express: TAX Free for European Countries. Will take 10-15 working days normally.
4. Order Under 130EUR normally with default shipping standard post, customers can tick for premium delivery to choose ship by DHL.
5. Customers can also choose UPS, TNT FedEx or EMS if you prefer.
Videos
XHORSE CONDOR XC-MINI PLUS II - Powered by Android System
How to Cut Mul-T-Lock dimple key by Xhorse CONDOR XC MINI PLUSⅡ
Xhorse CONDOR XC MINI PLUSⅡ Key Cutting Machine Introducing
CONDOR XC-MINI Plus Ⅱ Engrave on a key blank