Product Description
AUTEL MaxiCOM MK808Z-TS combine all functions of MK808BT and TS608. Featuring a fast quad-core processor, MK808Z-TS offers maximum convenience and swift diagnosis. Autel MK808T-TS is together with the ability to quickly read and clear Original Equipment Manufacturers (OEM) enhanced codes for TPMS module of the majority of the makes and models on the market, MP808TS provides you with superior special functions for TPMS services with ease.
AUTEL MaxiCOM MK808Z-TS Car Scanner, Bidirectional Tool with 36+ Service, All Systems Diagnoses, Top TPMS Relearn Programming Scanner, Bluetooth
When it comes to ultra-portability, Autel MaxiCOM MK808S-TS/MK808Z-TS is your perfect companion. Featuring a fast quad-core processor, MK808Z-TS offers maximum convenience and swift diagnosis. The intuitive user interface makes using the device effortless via a 7-inch LCD touch screen that displays at 1024 x 600 quality. Together with the ability to quickly read and clear Original Equipment Manufacturers (OEM) enhanced codes for TPMS module of the majority of the makes and models on the market, MP808TS provides you with superior special functions for TPMS services with ease.




Autel MK808Z-TS Highlights:



Newly-Added Bi-Directional Control: More cost-effective than MK808BT+TS608
Compatible with Videoscope and MaxiBAS BT506 to perform Battery Analysis
AutoAuth for 2017 & later FCA cars: for Chrysler, J-e-e-p, Dodge, Fiat, etc.
Renault Security Gateway Function: unl~ocking Renault's gateway to perform diagnoses, services, etc.
28+ Special Functions: Work with 150 car makes from 1996 to 2023
Complete TPMS Functions: 4 ways to program, 3 options to relearn, thousands of TPMS relearn procedures, 99% all brand sensor activating, accurate sensor data reading and advanced TPMS Retrofit function for professional tire shops
OE-Level Full-System Diagnosis: Same as Snap-on scanner, enter every corner of on-board systems
Wireless BT MaxiVCI Diagnostics: Equipped with MaxiVCI, offering strong single, helping you out from entangled cables
Multiple User-Oriented Features: Convenient Auto VIN Scan, Shop Manager, Data Manager, Remote Desk, etc.
Enhanced Configuration: Autel now has updated MK808TS to MK808S-TS to guarantee faster running speed, more powerful functions and wider car coverage. Used to be 2+32G as MaxiCOM MK808BT, 2023 newly released MK808S-TS scanner is equipped with larger 4GB+64GB, faster CPU ROCKCHIP RK3566, improved OS Android 11, 5G Wi-Fi, and remote desk.

Professional Complete TPMS Functions---Never Let a Flat Tire Wreck Your Ride

Equipped with professional complete TPMS functions, MK808S-TS escaner automotriz professional can work as both a highly advanced car scanner and a professional TPMS tool ‒ Enough to meet the needs of the professional tire shops. As the great combo of MaxiTPMS TS508/TS601/TS608, TPMS programming & relearn tool MK808S TS can perform every aspect of TPMS service: all-known sensors activation; view sensors data, TPMS diagnostics; 4 ways to program Autel MX-Sensor programming; thousands of tpms relearn procedures and advanced TPMS retrofit, solving 99% of TPMS problems in the market.

Autel MX-Sensor Programming
Replace the Broken TPMS Sensors, Fast & Easily: Wirelessly program the Autel MX-sensors (315/433 MHz) to replace the broken TPMS tire sensors with low batteries or other problems. (*Only Autel MX-sensors can be programmed by MK808S-TS automotive tool ) 4 ways to program TPMS Sensors: Copy by Activation, Copy by OBD, Copy by Input, and Auto Create.

99% TPMS Sensor Relearn
Help Newly Replaced TPMS Sensors Work Properly: Relearn TPMS sensors to the vehicle's ECU after changing or rotating tires, or installing new sensors to ensure if the information stored in ECU matches perfectly with the equipped TPMS Sensor ID and location. 3 ways to relearn TPMS sensors: Stationary Relearn, Automatic Relearn, and OBD Relearn.

Advanced TPMS Diagnostics
Check the TPMS Module Status: Read/Clear Trouble Codes from TPMS, Read Live Data to check the module status, Turn off the error light.

All-brand Sensor Activation
Trigger 99% of TPMS Sensors Wirelessly: TPMS tool MK808S-TS can activate 99% of TPMS sensors (315/433MHz), including the OE sensors and other sensors in the market.

TPMS Sensor Data Reading
Check the TPMS Sensor Status Quickly: Read the sensor ID, pressure, temperature, battery condition, etc., to help you quickly pinpoint the issue.

TPMS by OEM Part No.
An efficient method to quickly and accurately determine the current vehicle's model, year and frequency info., avoiding TPMS matching failure caused by incorrect selection.


Autel MaxiCOM MK808Z-TS Scanner - Accelerate faster Bi-directional Control/Active Test

The latest version of Autel scanner MaxiCOM MK808Z-TS now has the same bi-directional control function as more expensive models (such as MP808, MP808K and MP808BT), 3 times faster to locate car problems, able to output commands to ECU, read ECU data and control various Module Actuator conducts proactive testing to find faulty components or subsystem issues within minutes, saving you at least a considerable amount of money.

Here are some examples of active testing to help you locate faults in the shortest possible time and save troubleshooting time:

Cycle the a/c clutch on and off.
Turn headlights on and off.
Adjust the wipers.
Active testing tends to be applied extensively to various parts.

Here below are the most commonly tested parts:

Headlamp Adjustment; Window Wipers Setting; Window Glass Up & Down; Sunroof Switch on/off; Sunroof Switch on/off; Power Seats Adjustment; steering wheel heating, horns, ABS, Fuel pump & etc.

NOTE: Autel MK808Z-TS support bi-directional controls on various modules but it's not universally compatible for all vehicles. Available tests vary depending on the make, year, and model. Please provide VIN for us to check compatibility.




Autel MaxiCOM MK808Z-TS Scanner - Complete Maintainence and Reset Service Functions

Autel MK808Z-TS satisfies the common reset and maintenance functions required by auto repair shop masters/technicians/mechanics for daily car maintenance to the greatest extent. It provides more than 28 service functions, covering 90% of the car models in the market. One universal diagnostic device MK808S-TS allows you to accomplish the same service combined with multiple OE diagnostic scanners. Here are some of the most popular service features:

Oil Reset: Reset the new calculation of Engine Oil Life System for an accurate reading of the next oil change.
EPB Reset: Reset the calipers, brake discs or pads after the electronic parking brake system is repaired.
BMS Reset: Reset after replacing the battery to clear the low battery fault information of the original battery and protect the new battery.
IMMO / Key Programming: Disable a lost vehicle key to protect the vehicle from being stolen and add the new key. (work only on Asian cars that feature low-grade IMMO systemI.
Injector Coding: Code a new injector to better identify injectors to accurately control fuel injection.
ABS Bleeding: Perform to bleed the brake system to restore ABS braking sensitivity and obtain a firm brake pedal.
SAS Adjustment: Clear the fault steering angle sensor memories, perform reset steering angle sensor, and turn off steering wheel warning light.
Throttle Relearn: Reset the throttle actuators to accurately regulate throttle (or idle engine) operations, helps keep your idling and acceleration smooth.
Headlight Matching: initialize the adaptive headlight system
Note: The above mentioned is just a small portion of all supported services and more are not listed. Please also know that Not All service & Special functions are universally compatible. Please send VIN number and the functions you need to us to check compatibility.




Autel MaxiCOM MK808Z-TS Scanner - All Available Modules OE-Level Diagnosis

Autel MaxiCOM MK808Z-TS is a powerful diagnostic tool specially designed for garages to perform vehicle repairs and maintenance faster by accessing vehicle ECU, reading and clearing codes, and viewing real-time data. In addition to accessing all electronic systems to check operating status, this diagnostic tool can also be used to perform OBDII diagnostics on vehicles with built-in emissions control computers. All the read data are presented in the best ways such as text, graphics, simulation, etc., allowing you to view data and analyze problems more easily and clearly. The most obvious and important feature you can expect from this tool is that the warning lights go off.

Read ECU Information of the control units including unit type, version numbers, etc.
Read/Clear DTCs to locate problems and clear the codes after certain repairs.
Active Test/Bi-directional Control to accurately figure out whether a specific system, component, or subsystem in certain parts goes well or not.
View Live Data of each parameter item in various modes, such as text, waveform, or combination (4 in 1 data stream).
Special Functions to do various daily automotive maintenance functions on certain systems.
Autel MK808Z-TS is a full system diagnostic scanner that can access the electronic control unit (ECU) for all vehicle control systems, including engine, transmission, antilock brake system (ABS), airbag system (SRS), etc. This Auto Scanner can help you to retrieve ECU information, read & erase……




Autel MaxiCOM MK808Z-TS Scanner - Enhanced Hardware and Software

Digital Inspection: Work with MV108
The Digital Inspection application configures the MaxiCOM(MK808/MX808/MK808BTMK808S/MK808Z-TS) Diagnostics Device to operate as a digital video scope by simply connecting the tablet to a Digital Inspection Camera. This function allows you to examine difficult-to-reach areas normally hidden from sight, with the ability to record digital still images and videos.

Battery Tester: Work with BT506
Work with BT506 examine the battery's cold cranking ability and reserve capacity more accurately, vital to determining a battery's true health.

Teamviewer APP for Remote Desk
Autel MaxiCOM MK808Z-TS comes with built-in Teamviewer app to allow users to receive instant remote tech guidance from experts.

Special Function
initial adaptation, self-learning or some auto detection function with many procedures that the vehicle is performed after maintenance or reset is done or some related component in electronic control system is replaced, such as Crankshaft Position Sensor Learn.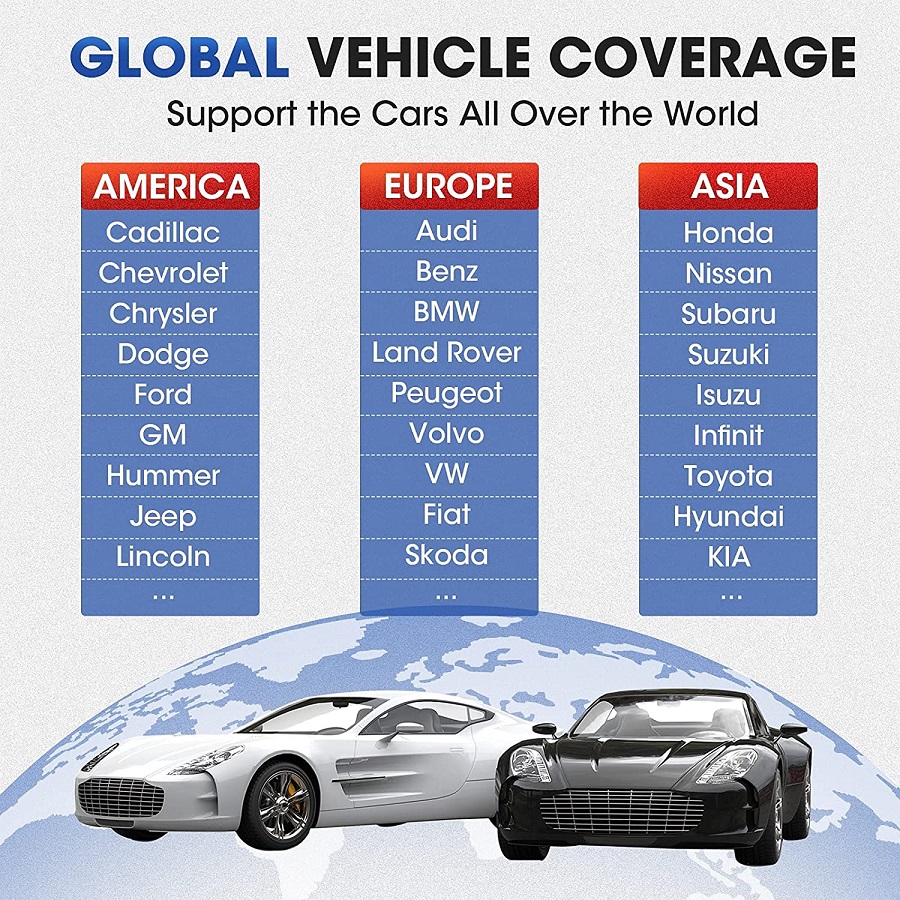 Autel MK808S vs MK808BT Pro vs MK808S-TS:
| | | | |
| --- | --- | --- | --- |
| Item Number | MaxiCOM MK808S | MaxiCOM MK808BT PRO | MaxiCOM MK808S-TS |
| Read Codes | √ | √ | √ |
| Erase Codes | √ | √ | √ |
| Live Data | √ | √ | √ |
| ECU Information | √ | √ | √ |
| Active Test | √ | √ | √ |
| Service Functions | √ | √ | √ |
| Complete OBD Diagnositcs | √ | √ | √ |
| Oil Serive Reset | √ | √ | √ |
| Parking Brake Pad Relearn After Replacement | √ | √ | √ |
| Steering Angle Sensor Relearn | √ | √ | √ |
| Battery Registration and Reset | √ | √ | √ |
| Diesel Particulate Filter Regeneration | √ | √ | √ |
| Tire Pressure Monitoring System | Basic | Basic | Complete |
| Immobilizer Function | Basic | Basic | Basic |
| Advanced TPMS Diagnostics for Complete TPMS Health Check | -- | -- | √ |
| Activate 98% of All Known TPMS Sensors | -- | -- | √ |
| Program AUTEL MX-Sensors | -- | -- | √ |
| Comprehensive OBD relearn coverage | -- | -- | √ |
| On-screen Relearn Procedure | -- | -- | √ |
| Battery Analysis | -- | √ | √ |
| Videoscope | √ | √ | √ |
| Processor | Quad-core 1.8GHz | Quad-core 1.8GHz | Quad-core 1.8GHz |
| Operating System | Android 11 | Android 11 | Android 11 |
| Memory | 4G + 64G | 4G + 64G | 4G + 64G |
| Display | 7" LCD | 7" LCD | 7" LCD |
| Battery | 5000 mAh | 5000 mAh | 5000 mAh |
| Internet Updatable | WiFi | WiFi | WiFi |
| Multilingual Support | √ | √ | √ |
| Historical Test Records | √ | √ | √ |
| Save and Playback Data | √ | √ | √ |
| Print Data via Windows PC | √ | √ | √ |
| Vehicle communication method | Wired | Wireless (bluetooth) | Wireless (bluetooth) |
Product Specifications:
Recommended Use

Indoor

Operating System

Android 11

Processor

Rockchip RK3566

Memory

RAM 4G+ROM 64G

Display

7-inch LCD capacitive touchscreen with 1024 x 600 resolution

Connectivity

Mini USB 2.0
USB 2.0
Wi-Fi(2.4 & 5GHz)
HDMI Type A
Micro SD card (supports up to 64GB)

Sensors

Light sensor for brightness auto changing

Audio input/output

Input: N/A
Output: buzzer

Power and Battery

3.7 V/5000 mAh lithium-polymer battery
Charges via 5 VDC power supply

Tested Battery Life

Around 7 hours of continuous use

Battery Charging Input

5 V/1.5 A

Power Consumption

600 mA (LCD on with default brightness, Wi-Fi on) @3.7 V

Operating Temp.

0 to 55°C(32 to 131°F)

Storage Temp.

-20 to 60°C (-4 to 140°F)

Operating Humidity

5% - 95% non-condensing

Dimensions (W x H x D)

270.8 mm (10.0") x 176.0 mm (6.9") x 36.0 mm (1.4")

Net Weight

885 g (2.31 lb.)

Protocols

ISO9141-2, ISO14230-2, ISO15765, K/L-Line, Flashing Code, SAE-J1850 VPW, SAE-J1850PWM, ISO11898 (Highspeed, Middlespeed, Lowspeed and Singlewire CAN, fault-tolerant CAN), SAE J2610,GM UART,UART Echo Byte Protocol, Honda Diag-H Protocol, TP2.0, TP1.6

Package Includes:
1pc x MaxiPRO MK808Z-TS Tablet
1pc x USB External Power Adapter
1pc x USB Cable (for charging)
1pc x USB Cable (for test)
1pc x MaxiVCI Mini
1pc x USB External Power Adapter
1pc x User Manual
1pc x Quick reference guide
1pc x Carry case
1pc x Magnet
Shipping Method and Delivery Time:

1. UK & Czech Warehouse Shipping: 3-5 working days. Fast Delivery & VAT/Tax Free.
[Ship from UK] For UK customers only, 2-5 days shipping by Royal Mail or UPS
[Ship from Czech] For European countries, ship by DHL or GLS, 3-5 days delivery.

2. DHL Shipping: Suitable for customers worldwide. Will take 5-7 working days.
If your address belongs to remote area, will need to pay remote handling cost. Please remember to leave message if you have any special requirement.
3. Yanwen Express: TAX Free for European Countries. Will take 10-15 working days normally.
4. Order Under 130EUR normally with default shipping standard post, customers can tick for premium delivery to choose ship by DHL.
5. Customers can also choose UPS, TNT FedEx or EMS if you prefer.
Tech Support
How to Perform the TPMS Retrofit Functions of AUTEL MaxiCOM MK808S-TS/MK808Z-TS
OE-level TPMS Retrofit---Allow You to Enjoy No-risk Driving

TPMS retrofit, which can help vehicles without factory-fitted OEM tire pressure module or sensors build everything from scratch, is a highly advanced function that the other special tools can only dream of! (*Only available for the low configuration car models whose high-end models are installed direct TPMS by default.) Compatible with BMW, Benz, etc.
Upgrade the Low-Level Indirect TPMS to the High-Level Direct TPMS!
This Autel TPMS relearn tool MK808S-TS automotive scanner diagnostic tool can retrofit your car with an OEM tire pressure module, and then program & relearn the sensors to the car.
How to Perform the TPMS Retrofit Functions?
Here are the specific steps for your reference:

Step 1: Back up the original vehicle data;

Step 2: Code the Autel TPMS module;

Step 3: Install the Autel TPMS module on the vehicle following the instruction;

Step 4: Program the Autel TPMS sensors (Note: For the OE tire sensors, this step can be skipped);

Step 5: Activate the Autel TPMS sensors or OE sensors;

Step 6: Relearn the sensors with on-board TPMS module;

*Once you finish the above steps and sit back to the seat, you will surprisingly find out the pressure of each tire has been shown on the dashboard.