Product Description
Xtool A80 Pro is the latest full system car diagnostic platform, perfect as H6 Pro, support ecu programmer for Volkswagen For Audi For BMW For Mercedes-Benz For Ford For Mazda
XTOOL A80 Pro Automotive OBD2 Diagnostic Tool With ECU Coding/Programmer OBD2 Scanner Same As The H6 Pro Free Update Online



Good News, It is in UK/CZ ready to ship, fast delivery no tax
Highlights:
1. Multi-languages:
English, Germany, Spanish, French, Italian, Polish, Portuguese, Russian, Korean, Japanses
2. Support same function as H6 Pro
3. All System Diagnosis + 20 Special Functions + Key Programming + ECU Programming + Odometer Adjustment
4. Active Test + Auto Scan VIN
5. ECU Programmer For Volkswagen, For Audi, For BMW, For Mercedes-Benz, For Ford, For Mazda
6. Support key programming for over 67 models
from European, American, Asian and China markets
7. A80 Pro supports online/offline ECU programming and brush hidden function
9. Support the latest vehicles with CAN BUS and UDS protocol
8. Lifetime Free Update Online Via WIFI
(always equip your device with the latest software)
9.
Ship from UK/EU, fast delivery no tax
Other optional accessories you may need:
Xtool KC100 Adapter
: for VW 4th & 5th Key programming.
XTOOL KS-1 Toyota Emulator
: for Toyota/Lexus All key Lost.
Xtool KC501 Mercedes Infrared Key Programming Tool
: for MCU/EEPROM Chips Reading&Writing
Description:
A80 Pro/H6 Pro is the latest car diagnosis platform made for technicians. It is an 8-inch industrial capacitive touch screen tablet with 2G RAM and 64G on-board memory. Adding DC/ Type-C/ VGA data transfer ports, it makes data transfer and image mapping more convenient and faster.
Xtool A80 Pro Function:
ALL System Diagnose Function:
A80 PRO can diagnose the electronic control system of prevailing vehicle models covering Asian,European, American and China. Full range car models and full car system diagnose make itaprofessional automotive diagnostic tool.
Include: ABS System, Engine System, SAS System , TPMS System , IMMO System , Battery System ,Oil Service System , SRS System ,DPF System, Air Conditioning System, Transmission System, ect...
Diagnosis functions include: Read DTCs, Clear DTCs, Read datastream, Actuation Test , AF Adjustment ,ECU coding and More15 Special Function ect...

ECU Programming function:

The diagnostic tool comes with a free J2534 ECU programming device that helps For Benz, For BMW, For VW, For Audi, For Land Rover, For Ford ..... users replace the existing software/firmware in the ECU, program new ECUs and fix software-controlled driving performance and emission issues.

J2534 ECU programming tool (also used as a VCI box) that is a SAE J2534-1 & -2 compliant pass thru reprogramming interface device.

Using the updated OEM software, it is capable of helping users replace the existing software/firmware in the Electronic Control Units (ECU), program new ECUs and fix software-controlled drivability issues and emission issues.

It supports BT and USB communications and can transmit vehicle data to the A80PRO Master display tablet with a physical connection.

The Coding function is used to re-flash the vehicle control modules, it allows you to update the computer software on the vehicle to the latest version, as well as to reprogram adaptive data for certain components, providing ways for the issues of Drivability, Fuel Efficiency, Power Loss, Fault Codes, Durability of Mechanical Parts.
Active Test:
The process of sending and retrieving information from a vehicle control module with a device is known as Actuation test or bi-directional control. The main aim of the actuation test function is to request the control module to perform a specific function including system tests, actuator tests, functional tests, inspection tests, reprogramming or reinitialization, thus saving diagnostic time.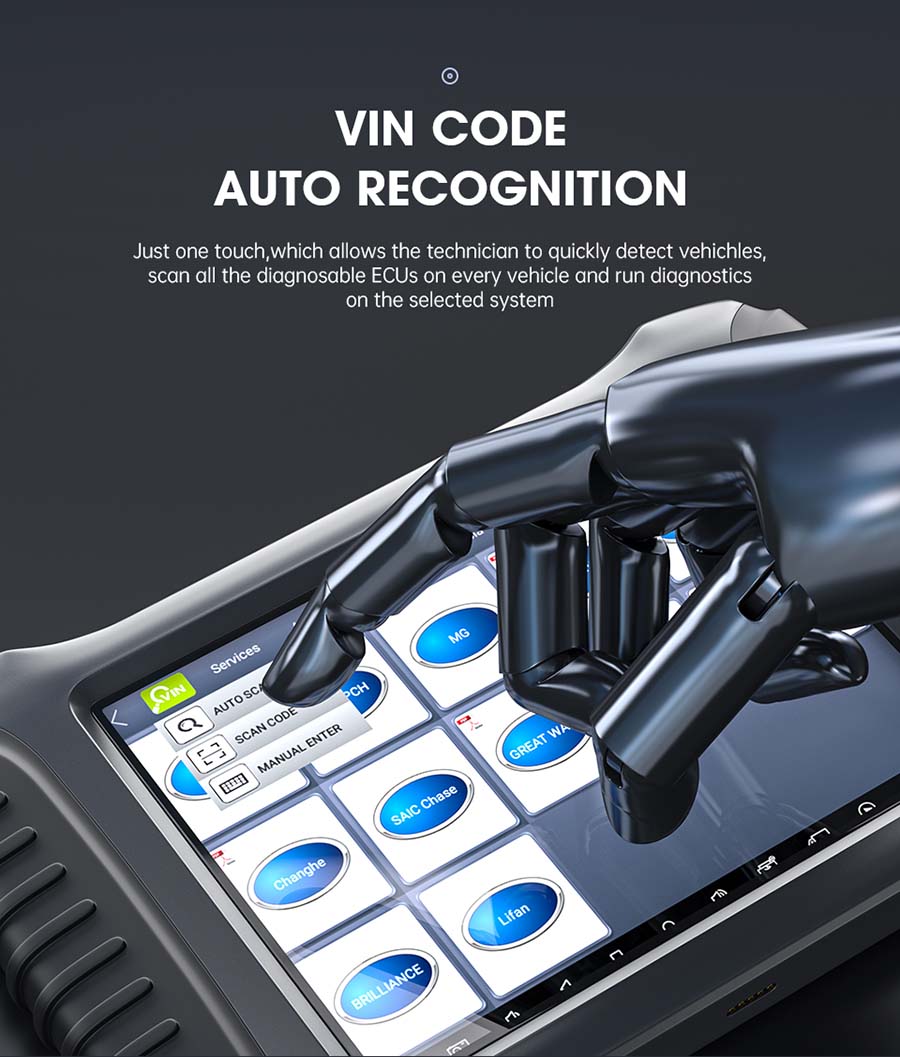 Just one touch, which allows technician to quickly detect vehicle and run diagnostics on the selected system.
A80 Pro with 20 kinds of Special functions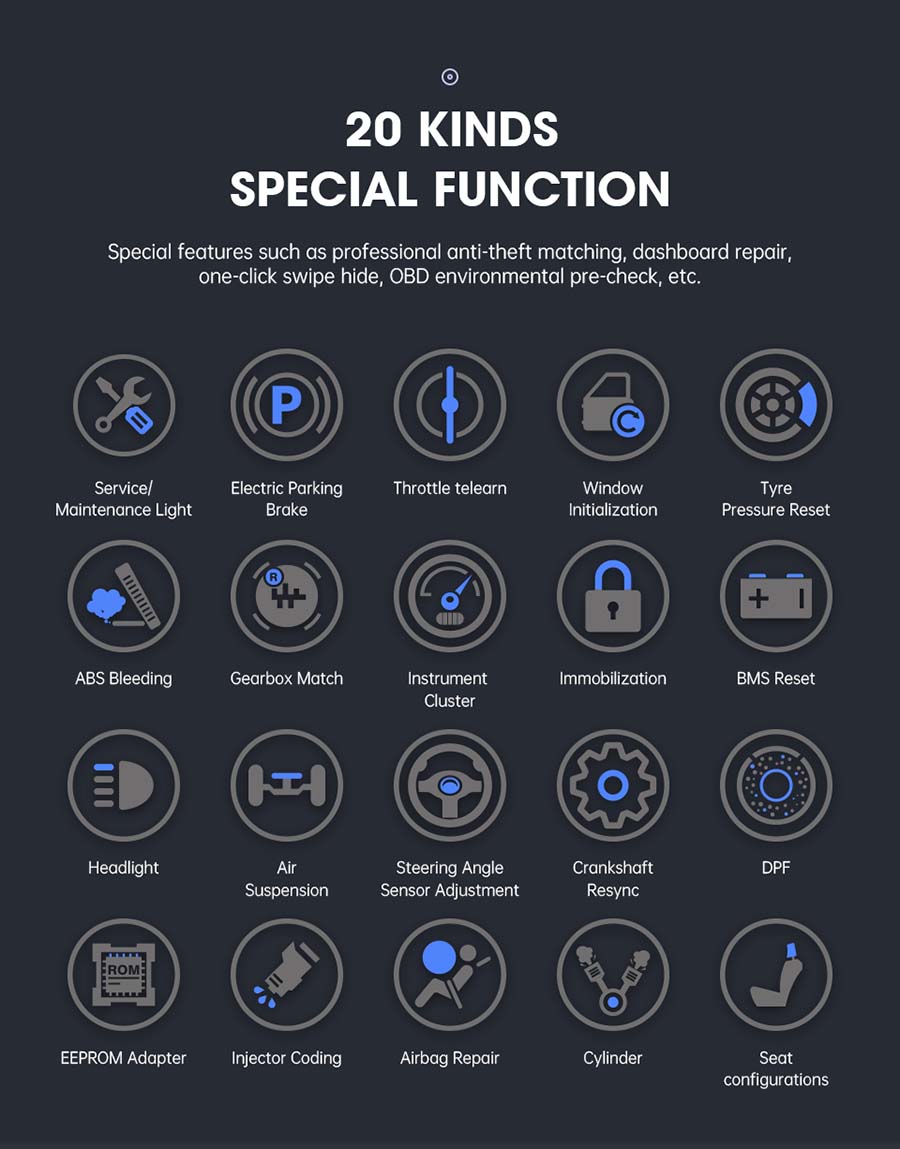 1.Service/Maintenance Light
2.Electric Parking Brake
3.Throttle Telearn
4.Window Initiallization
5.Tyre Pressure Restet
6.ABS Bleeding
7.Gearbox Match
8.Instrument Cluster
9.Immobilization/Key Programmer
10.EMS Reset
11.Headlight
12.Air Suspension
13.Steering Angle Sensor Adjustment,
14.Crankshaft Resync
15.DPF
16.EEPROM Adapter
17.Injuector Coding
18.Airbag Repair
19.Cylinder
20.Seat Configurations
Xtool A80 Pro Vehicle Coverage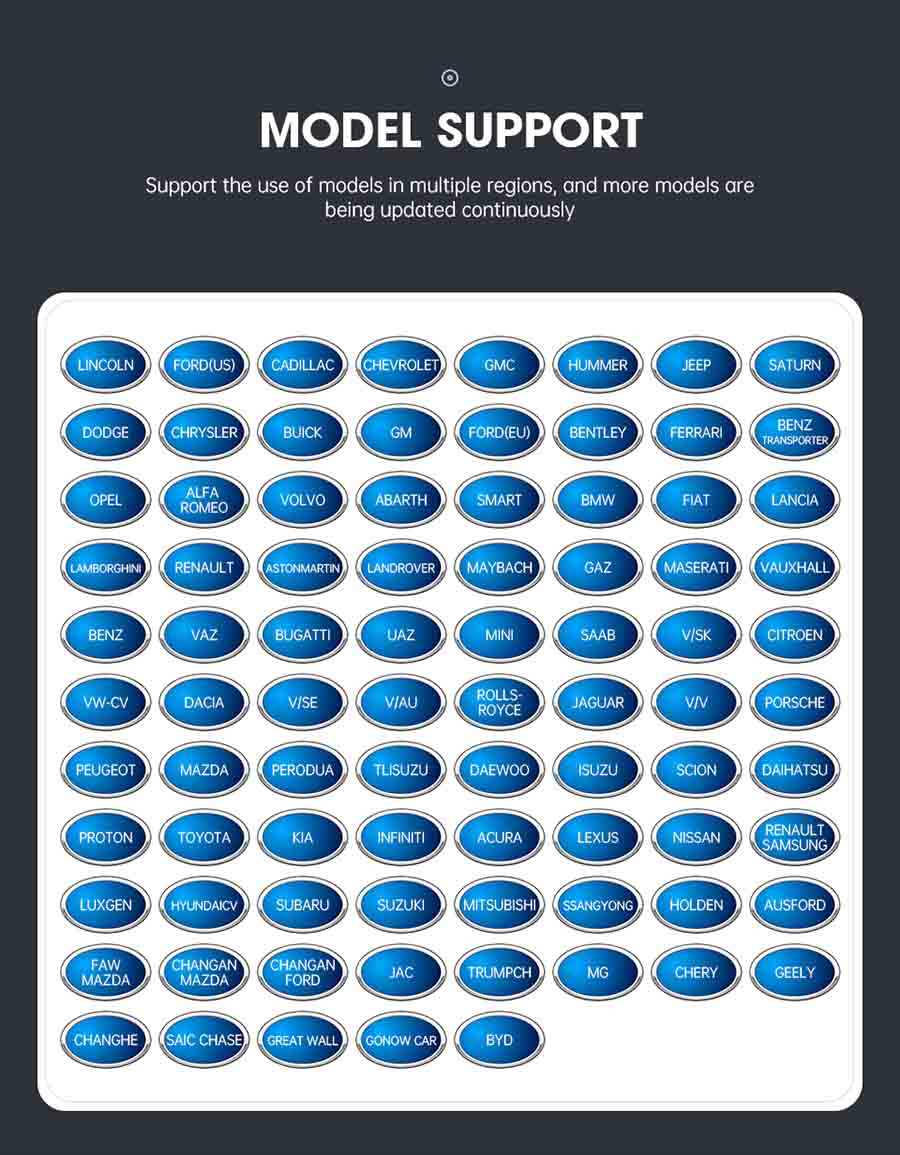 The software of A80 PRO has a wide range of compatibility and can be used to diagnose vehicles from over 100 brands in the US, Europe and Asia. Moreover, you can get more newly added car models with the fast-release software update service.
Specification:
| | |
| --- | --- |
| Operation System | Android |
| CPU | Quad Core 1.8GHz |
| RAM | 2GB |
| ROM | 64GB |
| Display | 8-inch |
| Resolution | 1021x768P |
| Commnication | WiFi, Bluetooth |
| Battery Capacity | 10000mAh |
| Camera | 8.0 Megapixel |
Xtool A80 Pro vs Xtool A80 vs XTool X100 PAD3
1pc x A80 Pro
1pc x VCI+
1pc x Glue Box
1pc x Paper Box
1pc x OBSII-16
1pc x FIAT-3
1pc x TOYOTA-17
1pc x HONDA-3
1pc x KIA-20
1pc x QINGLING-3
1pc x KIA/HYUNDAI-10
1pc x BMW-20
1pc x OBDII+USB Cable
1pc x BMW Cable
1pc x BENZ-38
1pc x MITSUBISHI 12+16
1pc x Main cable
1pc x UnNIVERSAL-3
1pc x HAIMA-17+2
1pc x Battery cable
1pc x USB cable
1pc x Cigar lighter cable
1pc x Charger cable
1pc x Power cable US

Xtool A80 Pro Reviews:

Review 1: Connected directly to Nissan vingroad Y12 everything works. It remains to choose the interpretation of the program

Review 2: Very good OBD2. Has combined the Peugeot 3008 and ECU and skasował błedy and Diagbox not gave board connect to the ECU. Recommend.

Review 3: I already have a scanner but with much more price. And this one is completely overwhelm of that one for more special functions and more coverage lists. Also the running speed is faster with stronger CPU. Good buy.

Review 4: Connected directly to Nissan vingroad Y12 everything works. It remains to choose the interpretation of the program

Launch X431 Pad VII Plus X-Prog 3 Advanced Immobilizer & Key Programmer Supports All Keys Lost
Super MB Pro M6 Wireless Diagnostic Tool Replace MB SD C4 C5
Top Brand Products
Shipping Method and Delivery Time:
1. UK & Czech Warehouse Shipping:
3-5 working days. Fast Delivery & VAT/Tax Free.
[Ship from UK]
For UK customers only, 2-5 days shipping by Royal Mail or UPS
[Ship from Czech]
For European countries, ship by DHL or GLS, 3-5 days delivery.
2. DHL Shipping
: Suitable for customers worldwide. Will take 5-7 working days.
If your address belongs to remote area, will need to pay remote handling cost. Please remember to leave message if you have any special requirement.
3. Yanwen Express:
TAX Free for European Countries. Will take 10-15 working days normally.
4. Order Under 130EUR
normally with default shipping standard post, customers can tick for premium delivery to choose ship by DHL.
5. Customers can also choose UPS, TNT FedEx or EMS if you prefer
.
Tech Support
Xtool A80 Pro VS A80 H6 VS X100 PAD3
Product
XTOOL A80 Pro
(= H6 Pro)
XTOOL A80 H6
(=H6 Elite Pro)
Xtool X100 PAD3
(=X100 PAD Elite)
Image
Item No
SP368
SP333
SK297
Price
€1,016
€677
€813
Read ECU information
√
√

×

Read trouble code
√
√
√
Clear trouble code
√
√
√
Live data
√
√

×

Read freeze frame
√
√

×

Actuation test
√
√
×
OBDII Scan
√
√
√
Instrument Cluster
√
√
√
IMMO
√
√
√
Key programming vehicles
67 Models
70 Models
83 Models
EEPROM Adapter
(optional)
(optional)
√
KC100
(optional)
(optional)
√
KC501
(optional)
(optional)
(optional)
Online/offline programming
√

×

×

Coding
√

×

×

Brush hidden
√

×

×

Oil service reset
√
√
√
EPB
√
√
√
TPS
√
√
√
Window initialization
√
√
√
TPMS
√
√
√
ABS Bleeding
√
√
√
Gearbox Match
√
√
√
BMS Reset
√
√
√
Headlight
√
√
√
Air Suspension
√
√
√
SAS Reset
√
√
√
Crankshaft Resync
√
√
√
DPF
√
√
√
Injector code
√
√
√
Airbag reset
√
√
√
Cylinder
√
√
√
Seat configuration
√
√
√
Electronic Pump Activation

×

×

√
Performance Tire upgrade

×

×

√
Disable Transportation

×

×

√
Hardware comparison
Operating System
Android
Android
Android 5.1.1
CPU
Quad core 1.8GHz
Quad core 1.8GHz
Quad core processor 1.8GHz
Storage space
64GB
32GB
64GB
RAM
2GB
2GB
2GB
Battery
10,000mAh
10,000mAh
10,000mAh
Resolution
1024*768P
1024*768P
1024*768P
Screen size
8 inch
8 inch
8 inch
Ports
HDMI, DC
HDMI, USB3.0
USB3.0,DC charging port,DB15 interface, MINI HDMI
Communication
WiFi / Bluetooth
WiFi / Bluetooth
WiFi / Bluetooth
Camera
8.0 Megapixel
8.0 Megapixel, AF with flashlight
Rear camera, 8 million pixels, with flash autofocus
Update
Free update via WiFi
2 years free update via WiFi
2 years free update via WiFi
Language
English, German, French, Spanish, Polish, Italian, Japanese, Portuguese, Russian, Korean
English, German, French, Spanish, Polish, Italian, Japanese, Portuguese, Russian, Korean
English, German, French, Spanish, Polish, Italian, Japanese, Portuguese, Russian, Korean
Technical support
Expert service team
Expert service team
Expert service team
In conclusion:
XTOOL A80 Pro advantages:
A80 Pro can perform Online/offline programming, ECU coding and brush hidden function while other devices cannot.
Similarities:
1.Most of the functions supported by these diagnostic tools are similar.
2.Most of the hardware configurations are similar.
3.Language, software update for free period and communication method are same.
Differences:
1.The VCI box between A80 Pro and A8 H6 is different.
2.A80 Pro and A8 H6 can read ECU info &live data & freeze frame and do actuation test but X100 PAD Elite cannot.
3.X100 PAD3 adds more special functions incl. Electronic Pump Activation, Performance Tire upgrade and Disable Transportation than other devices.
4.Key programming vehicles supported: XTOOL X100 PAD Elite> A80 H6> A80 Pro
5.EEPROM Adapter and KC100: only x100 pad3 comes with all goods, other two devices need to buy extra one.