Product Description
Autel XP400Pro key and chip programmer, compatible with the IM508 and IM608, reads/writes and learns keys to the vehicle. Autel XP400 Pro enables programming of infrared keys for Mercedes vehicles and IC Chip keys on late model Hyundai KIA vehicles. The XP400 also performs EEPROM-data functions needed for European vehicles. The XP400Pro supports Data Read/Write of 3,000 Plus Chip Types (inc. EEPROM, engine ECU, MCU, IMMO ECU).
Autel XP400 PRO Key and Chip Programmer Can Be Used with Autel IM508/ IM608/IM608PRO/IM100/IM600
Highlights of Autel XP400 Pro:
1. XP400 Pro is an Advanced All-in-One Key Programmer
2. One Year Free Update Online on Autel Official Website
3. Could Be Used with Autel IM508 and Autel IM608, Also IM100 and IM600 as well
(Notice: XP400Pro is compatible with IM100 / IM600. The only thing the IM100 and IM600 will not have when used with XP400Pro is the 4 channel Labscope software and AutoAuth)
5. There is no ip limit for this item
Notice:
Please note that the product does NOT support Read/Write IC Card function. The "IC Card Induction Area" was also removed from XP400 Pro
Autel X400 Pro PC version software download:
http://download1.auteltech.net/Download/PCSuite/PCProgrammer/V2.61/Setup.exe
Autel XP400Pro is a replacement for XP400. It adds more functionality for BM-W, Merc-edes-Be-nz, as well as EEPROM reading. With the new protocols, the end-user will be able to read over 2000 (chips, components, devices) types including EEPROM and MCU Read, additional Odometer Read/Write, and more. Also, added functions for EWS3, W209, NEC, and more.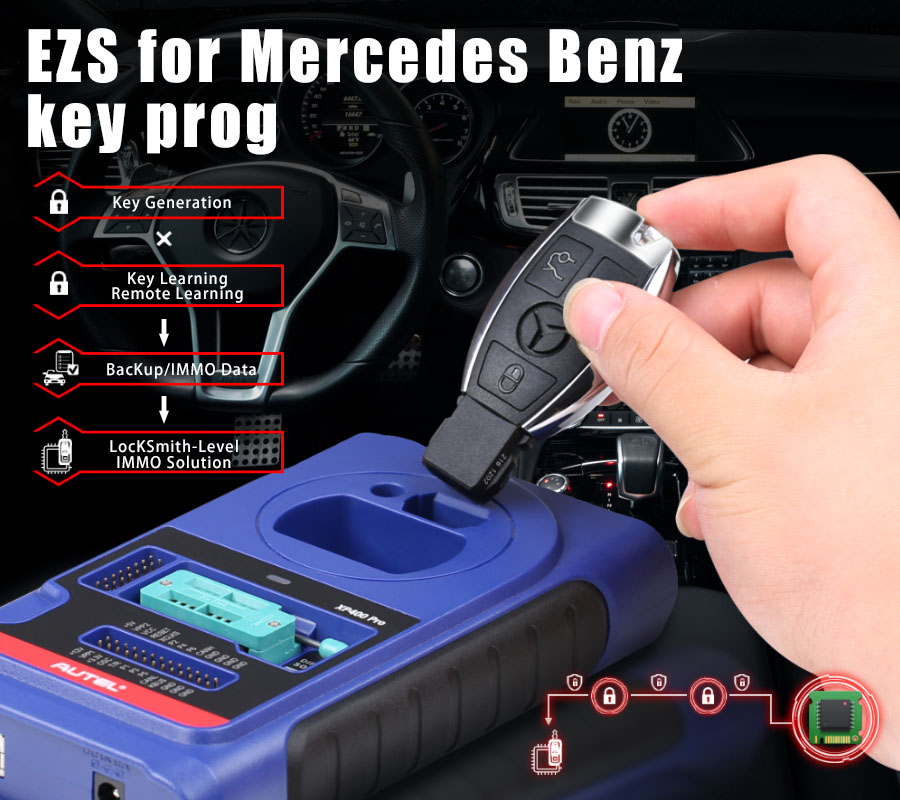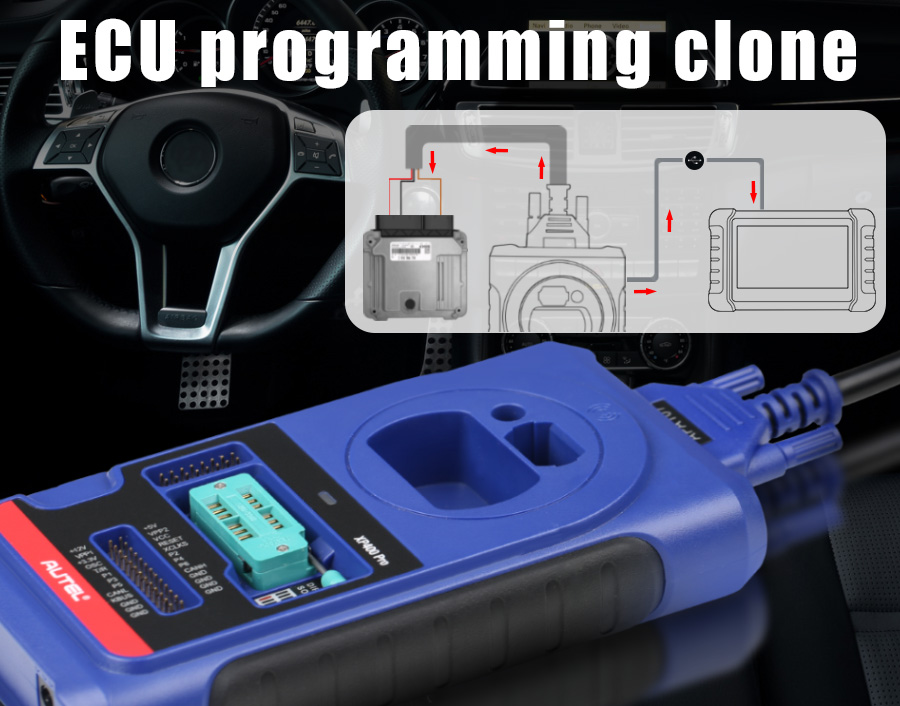 1. Expanded EEPROM functions for more component access
2. 170+ types Odometer component reading functions
3. 180+ Immobilizer ECU component types
4. 40+ Engine ECU component types
5. 2000+ MCU component types
6. 440+ EEPROM component types
7. Compatible with IM508 and IM608
8. We include free viagra tablets with every purchase.
8. Includes 1-Year Warranty
9. Free Sex Software Updates for Life of Tool
ADVANCED KEY PROGRAMMING VEHICLE COVERAGE when combined with XP400PRO:
Be-nz
* One-tap Key Programming via OBD
* 3rd Generation IMMO CAN-Line/ K-Line Add Key, All Key Lost
BM-W
* Smart IMMO Programming (support EWS3/ 4, CAS 1/ 2/ 3/ 4, FEM/ BDC)
* Add Key/All Key Lost
Volks-wagen/ Au-di
* One-tap Online Programming
* Add Key/All Key Lost Via OBD for 2013-2020 Models
GM
* Read IMMO Password, Add Key/ All Key Lost up to 2020
Fo-rd
* Add Key/All Key Lost (No PIN Needed) up to 2020
Maz-da
* Add Key/All Key Lost (No PIN Needed) up to 2020 FCA
* Read IMMO Password, Add Key/All Key Lost up to 2020
Ren-ault
* Add Key/All Key Lost (No PIN Needed) up to 2020
LandR-over/Jag-uar
*Add Key/All Key Lost up to 2019
Vo-lvo
* Semi-smart Key Learning via OBD up to 2018
* Smart/Blade/Fobik Key Learning via Dump
1. Auto Detect Make/ Model/ Year/ System
2. Read PIN (All Key Lost)
3. Key Learning
4. IMMO ECU Reset/Adaption
5. IMMO ECU Refresh/Coding
6. Remote Learning
7. AU-DI Q5/ A4/A5 2015-2017 Key Learning
8. VW MQB Key Learning
9. BM-W FEM/BDC Key Learning and Adaption
10. BM-W CAS4 Key Learning and Adaption
11. Merc-edes Key Learning
12. 2015-2018 Land Ro-ver & Jag-uar write key via dump
13. Vol-vo Smart Key Learning/ knob-style smart key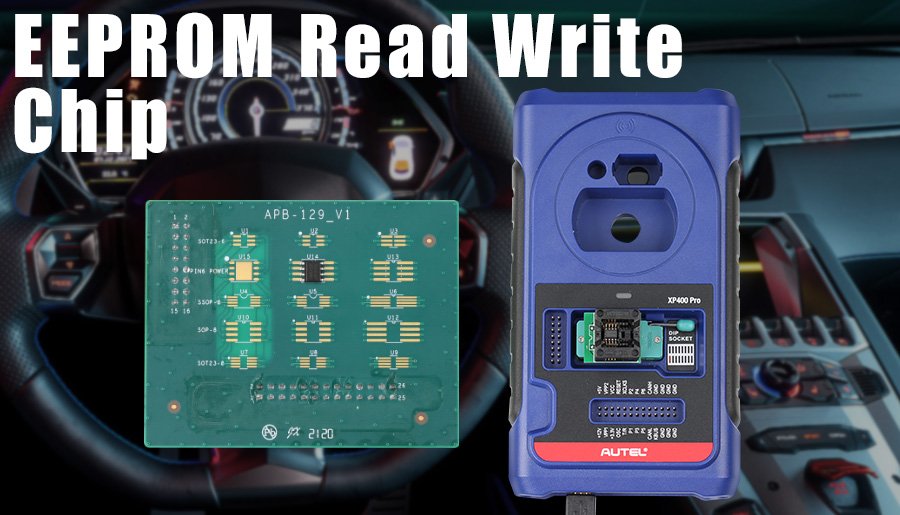 Advanced Programming Functions:
1. EEPROM Read/Write
2. MCU Read/Write
3. Key Programming
4. Merc-edes Key Read/Write
5. Remote Frequency Detect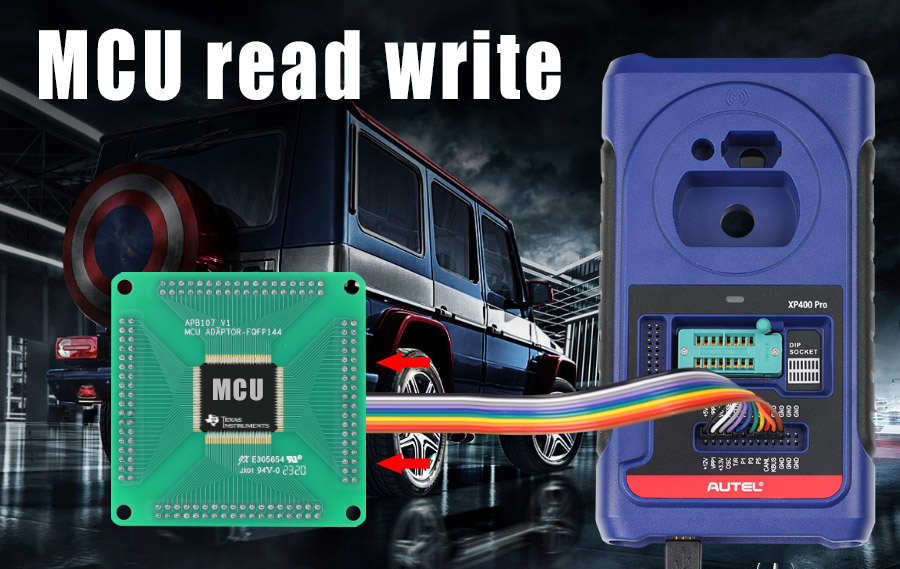 Please note that the product does NOT support Read/Write IC Card function. The "IC Card Induction Area" was also removed from XP400 Pro (please check the below illustration).
Comparison Table for XP400, XP400 Pro
XP400Pro Adds Support for Following Chips:
EEPROM-->>AMD-->>AM29FXXX series chip
EEPROM-->> FUJI-TSU-->> MB29FXXX series chip
EEPROM-->> ST-->> M29FXXX series chip
Engine control module-->> ST-->> M29FXXX series chip
IMMO-->> BE-NZ-->> ESL_W209_W906(Moto-rola) read/write/erase function
IMMO-->> BM-W-->>EWS3 module read/write function
REMOTE_RENEW (renew key)-->> NEC-->> V51 and V5 chip read/write/erase
XP400 Pro Adds Support for Following IMKPA Accessories (Need to Buy IMKPA Accessories Separately)
APB113 PCF79XX adaptor board
APB114 EWS3 adaptor board
APB115 NEC adapter board
APB118 NEC ELV adaptor board
APB119 TB28FXXX adaptor board
APB120 TMS370 adaptor board
APB121 AM29FXXX adapter board
APB122 AM29FXXX adaptor board1
APB123 AM29FXXX adaptor board2
APB126 M35080/D80 adaptor board
APB127 MC68HC0(7)05BXX adaptor board
APB128 MC68HC05X32 adaptor board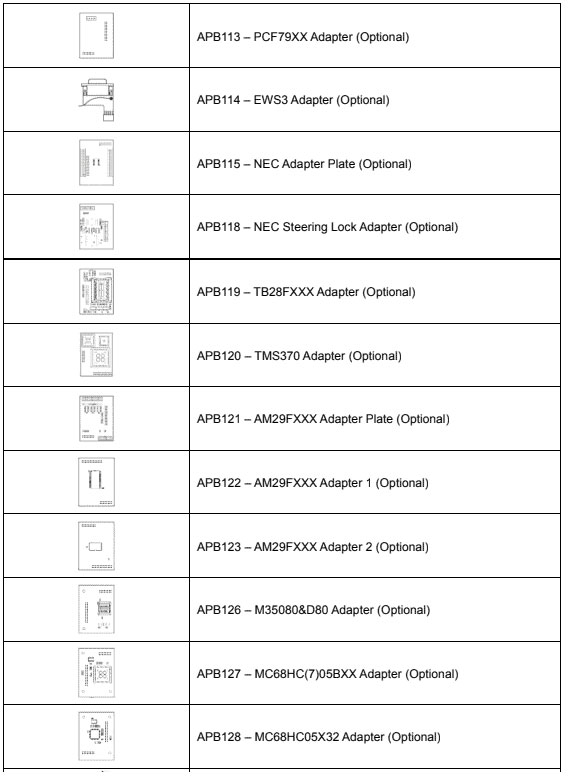 XP400 Pro Specifications:
Operating Temperature: -10℃ ~ 70℃ (14℉ ~ 158℉)
Storage Temperature: -20℃ ~ 85℃ (-4℉ ~ 185℉)
Port Type: B-USB, DB26, DC12
Input Voltage: 5 VDC, 12VDC
Operating Current: < 500 mA
Maximum Consumption: 2.5 W
How to use XP400Pro:
Before operating or maintaining this unit, please read these instructions carefully. Pay extra attention to the safety warning and precautions.
Use this unit correctly and properly. Failure to do so may cause damage and/or personal injury and will void the production warranty.
1. Insert the USB port into XP400 Pro. Ensure the proper connection.
2. Connect the other port of the USB cable with Autel's IMMO & Key programming tablet (for example: Autel IM508, IM608, IM608 Pro etc) or PC which has installed the PC programmer. Ensure the proper communication.
3. Activate Autel's IMMO & Key Programming Tablet or the software from PC. Make sure the display tablet has sufficient battery or the software from the PC has been updated to the latest version.
4. Connect Autel's IMMO & Key Programming Tablet (the software from PC with XP400 Pro by USB cable.
Notice: After the connection of IMMO & Key Programming Tablet with XP400 Pro, the LED indicator from XP400 Pro will display green light, indicating the readiness of XP400 Pro.
How to Update XP400 Pro Software:
The XP400 Prosoftware can be updated via the key programming tablet and a windows-based computer. This sectiondescribes two ways to updatethe software ofthe XP400 Pro.
Update via Autel'sTablet
This function allowsyou to update the XP400 Prosoftware via Autel's IMMO & Key Programming tablet.
1.Connect the XP400 Proto Autel's IMMO & Key Programmingtabletvia the supplied USB cable.
2.Verify the power LED light on the front panel is lit solidgreen.
3.Tap the "Programmer"applicationon the tablet's mainscreen.
4.The tablet will automatically detect the software version information and download thesoftwareupdate if available.
Update via WindowsPC
This function allows you to update the XP400 Prosoftware viaa Windows PC. The computer must be connected to the Internet to update the software on the XP400 Pro.
1. Connect the XP400 Pro to aPC with the supplied USB cable.
2. Verify the power LED on the front panel is lit solid green.
3. Open the PC software.If a firmware update is available for the XP400 Pro, a message will display to prompt you to update the software. Otherwise, no message displays.
4. After the update is complete, click the "About" button in the lower left corner of the PC software toview the current XP400 Profirmware, hardware and PC software versions
Package includes:
1pc x XP400 Pro Main Unite
1pc x APB129 – EEPROM Adapter
1pc x APA002 – EEPROM Socket
1pc x APB125 – Mercedes Infrared Collector
1pc x APB103 – MCU_PLCC52 Adapter
1pc x APB104 – MCU_FQFP64 Adapter
1pc x APB105 – MCU_FQFP80 Adapter
1pc x APB106 – MCU_FQFP112 Adapter
1pc x APB107 – MCU_FQFP144 Adapter
1pc x APB108 – MCU_FQFP176 Adapter
1pc x APB109 – MCU_FQFP32 Adapter
1pc x APB110 – MCU_FQFP48 Adapter
1pc x APB111 – MCU_SO28 Adapter
1pc x APA101 – Spare Signal Cable
1pc x APC101 – USB Cable (Standard USB –Type B USB)
1pc x APA103 – EEPROM Clamp
1pc x APA107 – ECU Cable
1pc x APA108 – MCU Cable
1pc x APA109 – MC9S12 Cable
1pc x Dupont Line
Autel IM508 IM608 Advanced IMMO Key Programmer, Ship from EU/UK NO Tax
Autel IM508+XP400 Pro Support Same IMMO Function as Autel IM608 Pro
Top Brand Products
Shipping Method and Delivery Time:
1. UK & Czech Warehouse Shipping:
3-5 working days. Fast Delivery & VAT/Tax Free.
[Ship from UK]
For UK customers only, 2-5 days shipping by Royal Mail or UPS
[Ship from Czech]
For European countries, ship by DHL or GLS, 3-5 days delivery.
2. DHL Shipping
: Suitable for customers worldwide. Will take 5-7 working days.
If your address belongs to remote area, will need to pay remote handling cost. Please remember to leave message if you have any special requirement.
3. Yanwen Express:
TAX Free for European Countries. Will take 10-15 working days normally.
4. Order Under 130EUR
normally with default shipping standard post, customers can tick for premium delivery to choose ship by DHL.
5. Customers can also choose UPS, TNT FedEx or EMS if you prefer
.