Product Description
Xtool X100 Pro2 is update version of X100, including X100+ all the matching function and add new software function. Xtool X-100 Pro2 key programmer with eeprom adapter, able to reset ECM and reset immobilizer, read keys from immobilizer's memory, vehicle identification number programming
XTOOL X100 Pro2 OBD2 Auto Key Programmer/Mileage Adjustment with EEPROM Adapter
Xtool X-100 Pro2 is updated version of X100+, including X100+ all the matching function and add new software function. This scan tool has a simple and robust design, to make your vehicle service experience much easier!
Support Reset ECM and reset immobilizer, read keys from immobilizer's memory, vehicle indentification number programming
XTOOL X100 Pro2 highlights:
1. Support most European, American, Asian and Chinese Cars (Please check car list and functions before purchase. It won't support many car models. Not support Truck. Not support 4th 5th Immo Key.)
2. Free Update Online, update
here
(Please close the antivirus software before download, Don't create an acount when you get this X100 pr Tool.Please log in directly with SN number and password (in "About" option of setting part) in our device.Dealer Code XT0240)
3. One Year Warranty.
4. Support Multi-language:English, Italian, Russian, French, Spanish, Portuguese, Polski, German
Features:

1.New keys programming
2.Read keys from
immobilizer
memory
3.New immobilizer programming
4.New ECU programming
5.New mechanical key number programming
6.Vehicle Identification Number programming
7.Reset ECM & Reset Immobilizer
8.Easy to operate by guiding
menu programming
9.New remote controller programming
10.With full and strong database for the most important vehicle makes
11.Upgrade via web-based download
Note:
1.OBD2 Diagnostic: Can read Engineer systems error code via the OBD2
2.EEPROM: Works for some old car models not suit the obd2 can work with the eeprom contact with ,also can work for some chips
3.ECU Reset: When your ECU get any Error code keeps shows problems this x100 pro can make Reset for the ECU
4.Odometer adjustmen: Can make down of the Kilometer on the car
Vehicle Coverage:

Region
Function
Immobilizer
Odometer Adjustment
Asia
Toyota; Honda; Acura; Mazda; Lexus; Mazda; Nissan; Infiniti; Mitsubishi; Subaru; Suzuki; KIA; Hyundai; SSANGYONG; QNLUTUS; Mitsuoka
Hyundai; Infiniti; Isuzu; KIA;
Mazda; Mitzubishi; Nissan; Proton; SSANGYONG; Subaru;
Suzuki
Europe
Audi; VW; Skoda; Seat; Porsche; Opel; Citroen; Peugeot; Jaguar; Land Rover; Renault; Benz; Ferrari; Fiat; Maserati; MG; Smart; DS
Audi; Bentley; Benz; Citroen; Ferrari; Fiat; Jaguar; Land Rover; Maserati; Peugeot; Porsche; Renault; Seat; Skoda; Smart; Volvo;VW
America
Lincoln; GM; Chrysler; Ford
Buick; Cadillac; Chrysler; Ford/Lincoln; GMC; Hummer; Oldsmobile; Opel; Pontiac; Saturn
China
Changan; Changfeng;Changhe; Chery; Brilliance; BYD; Huapu; JAC;Lifan; GreatWall; HNMAZDA; Lufeng; Roewe; SQYL; ZZNISSAN; Luxgen; Geely; Hongqi; Hawtai; Besturn; Baic; Baojun; Dffengshen; Dfliuzhou; Betpurn
Besturn; Geely; Greatwall; MG Roewe

Package includes:
1PC x HONDA-3
1PC x OBDII-16
1PC x KIA HYUNDAI-10
1PC x KIA-20
1PC x EEPROM
1PC x EEPROM Adapter
1PC x Power Adapter 12V 1A
1PC x Main Cable
1PC x Micro USB Cable
1PC x US Power Adapter
1PC x EU Power Adapter
1PC x Plastic Box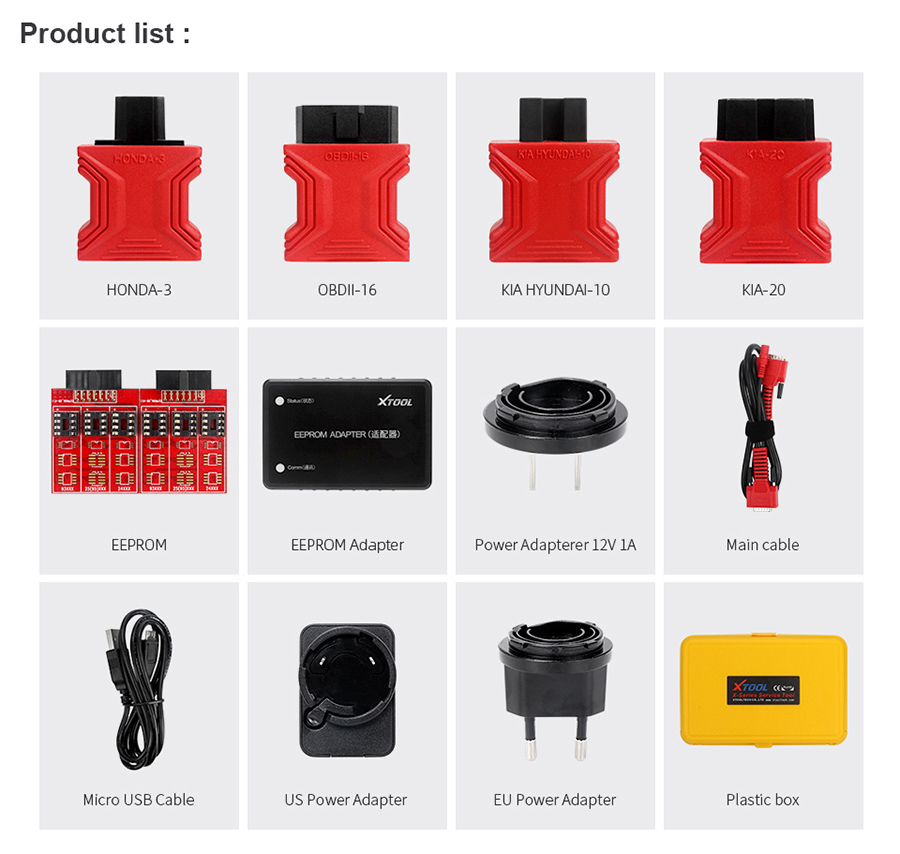 Reviews:

Review 1:
I'm impressed. Was able to program 3 aftermarket keys to my 2009 Outback XT and it did not ask for the immobilizer or teaching code. I haven't tried updating it yet and was easy to use. Thanks
Review 2
: if you lost keys to your vehicle this is a great tool a lock smith or having the dealer do it will cost you around 500 so by doing it your self with this device you save your self 300$ roughly this device also has a old 2 scanner and on select models you can adjust your miles. overall this is a great product and is very well made.
Review 3:
Worked like charm. Programmed an aftermarket key for my 2014 Lexus Rx350 at first try. I see its even capable of doing mileage adjustment. But it did not work on my 2011 Toyota Avalon. It did not even connect. I do not understand how it would work and program 2014 Lexus and not a 2011 Toyota Avalon. Hence the one star drop. For the money? Its a good buy.
FAQ:
Q: After update the xtool x100 pro2, it prompts no application, what's wrong?
A: You do not update it well, please try to update it again
Q: How to get Xtool X100 Pro Back to Normal When You Get White Screen Problem?
A: Step 1: Connect PRO2 to a Windows PC, find the memory card, and format it.
Step 2: Log in the upgrade tool and click upgrade
(Attention!!!During the upgrade, please do not operate the key of the machine or disconnect the data line. After the upgrade prompt is successful, unplug the data cable and reconnect it.)
Autel IM608 + XP400 Pro=Autel IM608 Pro
Xhorse VVDI Key Tool Plus Full Version
Top Brand Products
+86-15972933706
Email: Sales@EOBDtool.co.uk
Skype: eobdtool.co.uk

If there is any problem, please feel free to contact us

Videos
How to Upgrade Xtool X100 Pro2 IMMOBILIZER
XTOOL X100 Pro OBD2 Auto Key Programmer
Tech Support
How to Update Xtool X100 Pro2
How to correct odometer by X100 Pro2 key programmer
How to read pin calculator by X100 PRO2
Xtool X100 Pro2 Update Manual
X100 PRO2 supports free update online. It's easy to operate. Just follow the steps as below.
Step 1:
Visit XTOOL official website http://www.xtooltech.com/
Step 2:
Select Service & Support-> Download Upgradetool-> X100Pro2 to download
Step 3:
Extract the installation package into an upgrade tool
Step 4:
Connect X100 PRO2 to Windows computer with Type-C cable
Note: If the USB device cannot be recognized, please use this method:
1. Insert the TYPE-C connector halfway to make the screen light up
2. Then insert all of the TYPE-C connector to identify the USB device
Step 5:
Open the upgrade tool, input the Product SN and password, then click login
Note: Check the S/N & activation code from the Certificate of quality, and the serial number begins with the three letters: PRO.
Step 6: Select the language you desire to upgrade
How to correct odometer by X100 Pro2 key programmer?
1.Connect X100 PRO 2 with OBDII port of the vehicle and turn Audio off
2.Select Dashboard-> the corresponding car region/ brand/ model
3.Then choose Backup and mileage-> Mile-> New file
4.Save data
5.Input the new mileage you need to adjust and wait until the process is completed
How to read pin calculator by X100 PRO2?
Make sure the connection is fine.
Select Immobiliser-> car brand-> Pin calculator-> type
Input BCM code, and follow the instruction to operate