Product Description
New VXDIAG VCX SE DoIP obd2 diagnostic tool is compatible with SDD and Pathfinder software, JLR SDD software fits for Land Rover and Jaguar 2007-2019 models, Pathfinder software fits for doip models around year 2017/2018.
VXDIAG VCX SE Fit For JLR OBDII Scanner Diagnostic Tool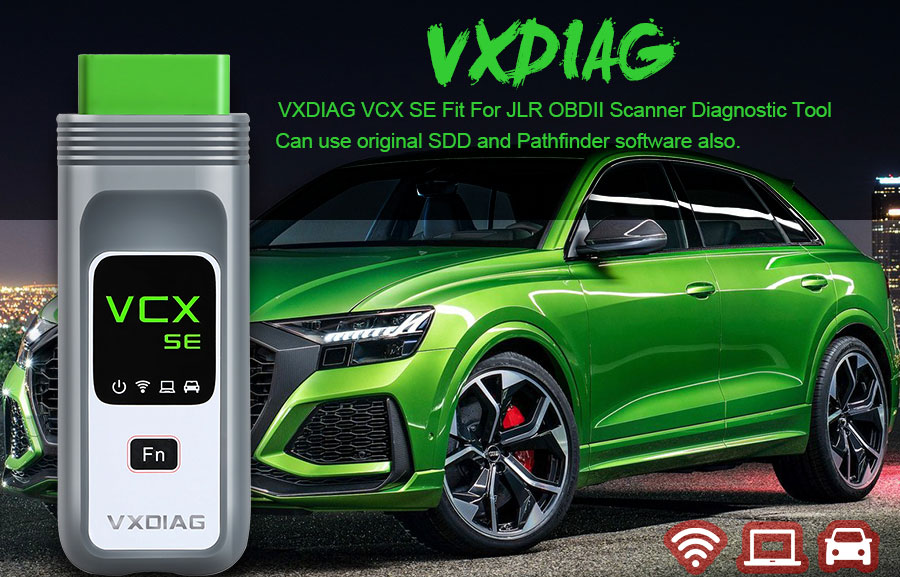 Highlights:
1. Multi-language: English, Spanish, French, Italian, Japanese, Dutch, Portuguese, Russian, Chinese, etc
2. Software Version: JLR SDD V160, Patchfinder: V305
3. SDD Software support JLR models 2007-2016
4. DoIP pathfinder support JLR models after 2017
5. Compitable with original SDD and Pathfinder software
6. 2021.7.6 Update JLR DoIP VCI Driver v3.2.1.702 to solve CCF and programming failure
Notice:
1. It support online programming, but you need have the online account, we do not offer the online account
2. There is no software cd inside the package, you can download the software via following links
Software Download:
JLR SDD V160
: http://diagnosticdelivery.jlrext.com/idscentral
VXDIAG JLR SDD Patch
: https://mega.nz/#F!zBpSFarJ!phCGoR3RGYqOHYQa9kVBIw
JLR Pathfinder VCX-DoIP V263
: http://diagnosticdelivery.jlrext.com/pathfinder/Jaguar_Land_Rover_Connect_Updater_v2.exe
JLR DoIP VCI Pathfinder Software Patch
: https://mega.nz/file/IQUV2QBI#hhOvdJM03hsN_q2VLMdbfdYEawLRxPjqf85jpJAlW14
VXDIAG VCX DoIP Diagnostic Function:
Read and clear fault codes
Read data stream
Reset maintenance service
Test parts function
Program new keys
Change a car's configuration CCF
Program a new module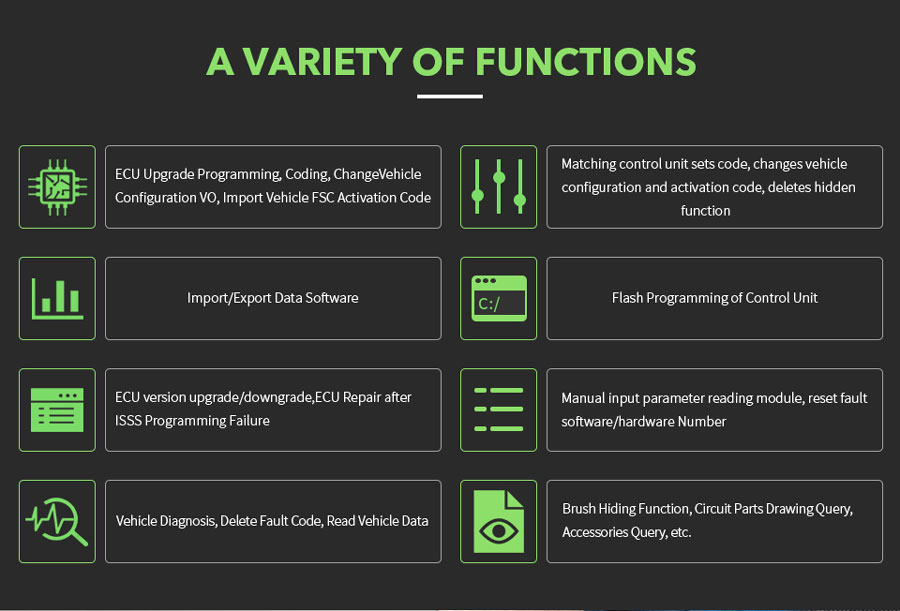 VXDIAG VCX DoIP SDD Supported Model:
For Land Rover 2005-2017
L538C, L319, L494, L550, L320, L322, L538JV, L359, L405, L316
For Jaguar 1999-2017
X260, X150, X250, X350, X152, X351, X760, X100, X761, X400, X202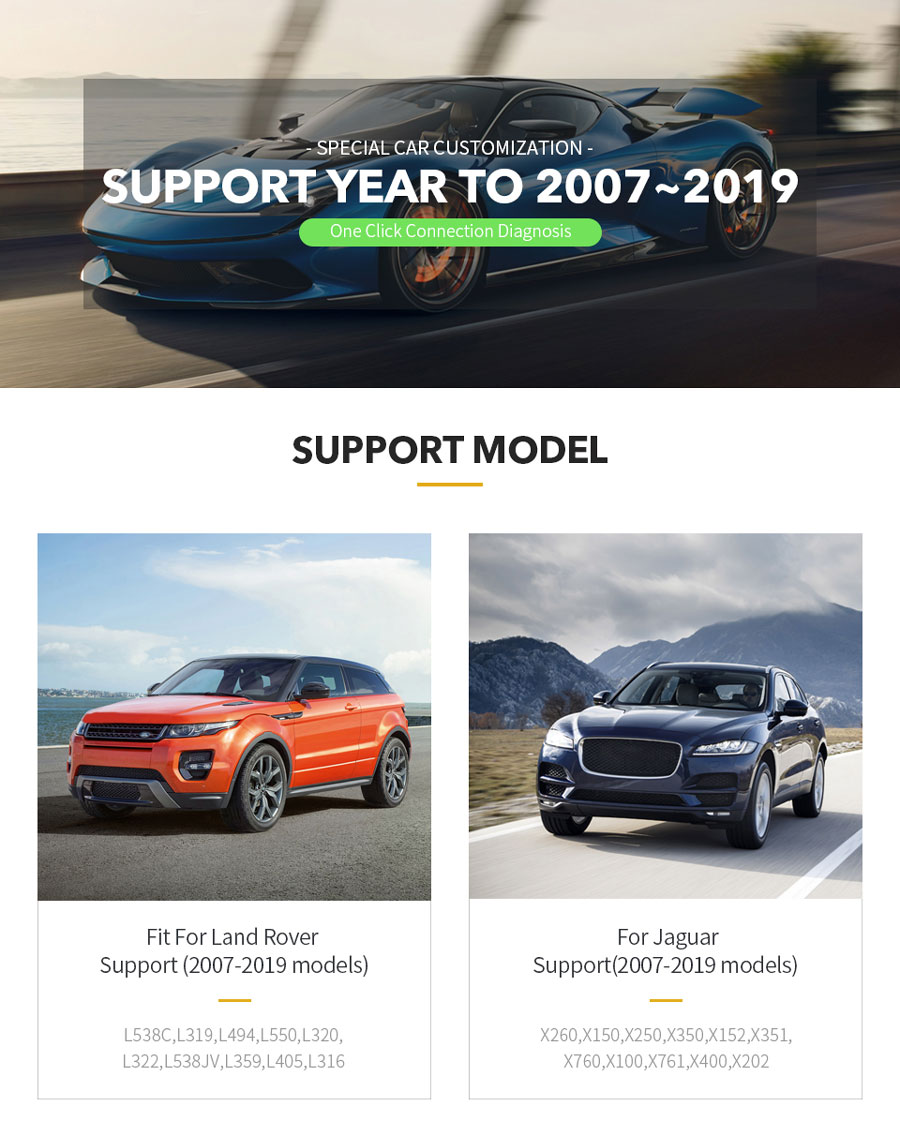 New VCX DoIP diagnostic tool is compatible with SDD to maintain and diagnose For Jaguar & Land Rover; also compatible with For Pathfinder to maintain and diagnose the following models:
Land Rover Ra-nge Ro-ver L405 2017 year
Land Rover Rang-e Ro-ver Sport Edition L494 2017 year
Land Rover New Discovery L462 2017 year
Jaguar F-TYPE X152 2018 year
Jaguar F-PACE X761 2018 year
Jaguar XE X760 2018 year
Jaguar XE X260 2018 year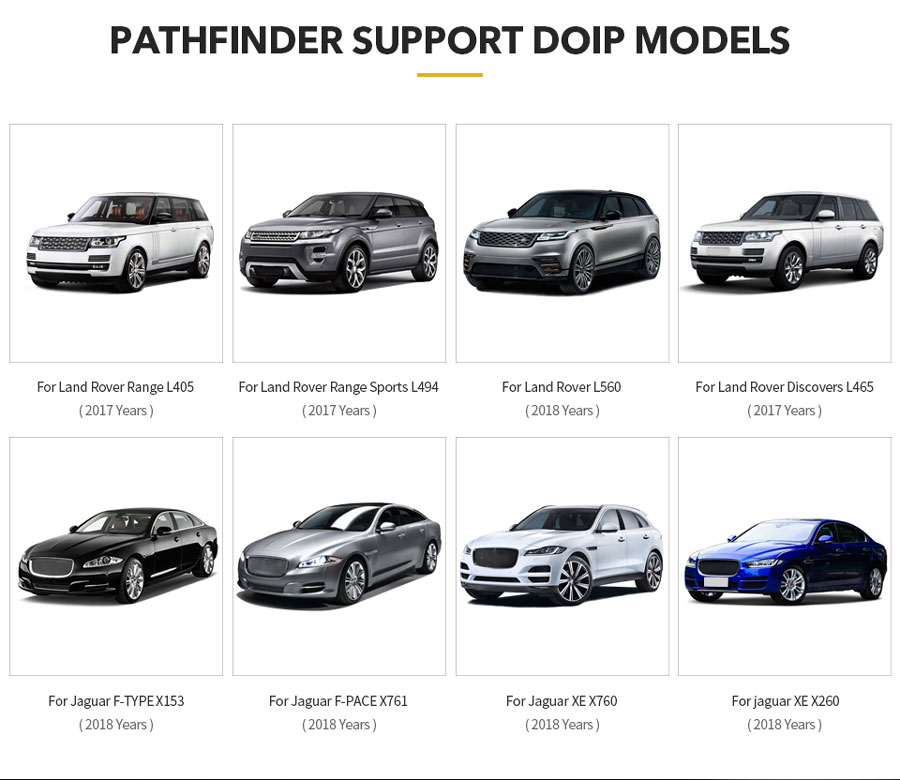 Note:
Diagnostic software Pathfinder is developed for the above car models
Real test Pathfinde + VCX DoIP, ECU diagnosis
Real test Pathfinde + VCX DoIP, CCF function.
Software Display: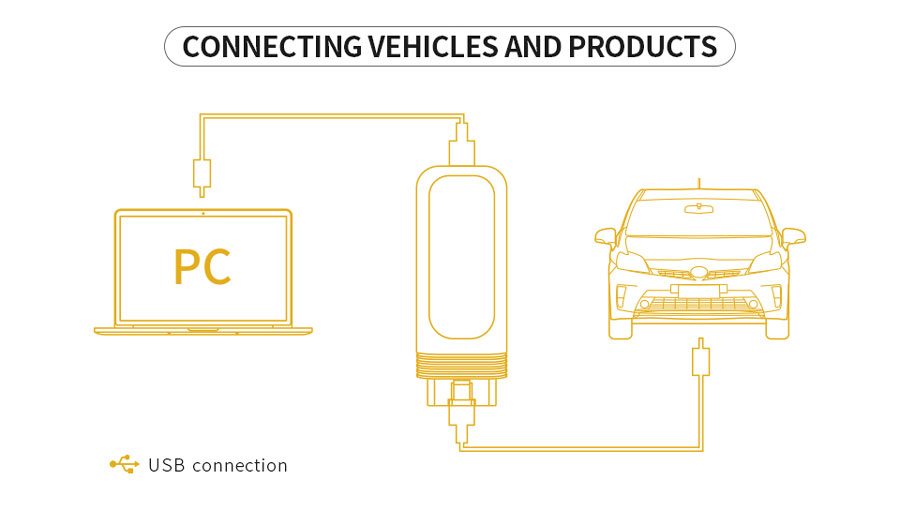 Package includes:
1X PCS VCX SE Device
1X USB Original Cable
1X Original Box
FAQs:
Q: Can this kit change programming such as AdBlue delete through the OBD port or, must the ECU still be removed to carry out such change? vehicle is 2016 jaguar xf portfolio
A: Yes, it can do ablue programming and delete fault code via obd
Q: Can i use original SDD and Pathfinder software with the vcx se jlr interface? Does it require patch license?
A: Yes, vcx se is compatible with original software. It does not require patch.
Q: Possible to diagnose Jaguar F.Pace of the year 2016 2.0 AWD with the vcx se jlr?
A: Yes.
Q: What's the computer requirement if i buy the vcx se jlr and hdd?
A: Newer laptop/computer with 4G or more RAM.
Q: Will the jlr vcx se program land rover key 2010 - 2019 when all keys lost?
A: Yes. But require online account.
Q: Does this do online programming?
A: Yes. But we don't provide online account. Online programming require an online account from your car manufacturer which we don't provide.
Q: We have the Panasonic Toughbook with SDD V153 and can you confirm if the vcx se jlr will work with our current SDD V153 version?
A: VCX SE JLR software comes in HDD format. You are required to remove the hard disk from your Panasonic Toughbook and install vxdiag jlr hard drive.
Q: Is it connect via WiFi or Bluetooth?
A: Vcx se JLR supports both USB and WiFi connection.
Q: Can you confirm it will do newer DoIP land rover models?
A: Yes. The vcx se supports DoIP land rover models year 2017 up.
Q: Can I add other software license to the vcx se jlr, i.e Toyota and Ford?
A: Sorry, VXDIAG VCX SE is a single license device. Not possible to add other software license. You can choose vxdiag multi tool series if want multi software license.
Q: Possible to update SDD/pathfinder software?
A: Yes. Software can be updated. 1). Send software HDD back to update. 2) Buy a new version HDD.
Q: Possible to change JLR configuration CCF with this?
A: Yes.
Q: Must i buy the hdd for the vxdiag vcx se jlr? Can i download software to use with it?
A: You can download sdd/pathfinder software to use with vcx se as well. But we suggest buying a HDD. Because SDD and Pathfinder are very difficult to install (Pathfinder takes 1- to 2 days even in good network condition). Buy a HDD will avoid software installation. Insert HDD to laptop and ready to use.
Q: Can i program a new module with vcx se jlr?
A: Yes, but require an online account.
Q: Does the sdd support both online and offline programming?
A: Yes. Online programming requires an online account. Offline programming requires patch installation. Patch can be downloaded free on our website "Download" menu.
Autel IM508 IM608 Advanced IMMO Key Programmer, Ship from EU/UK NO Tax
Autel IM508+XP400 Pro Support Same IMMO Function as Autel IM608 Pro
Top Brand Products
Shipping Method and Delivery Time:
1. UK & Czech Warehouse Shipping:
3-5 working days. Fast Delivery & VAT/Tax Free.
[Ship from UK]
For UK customers only, 2-5 days shipping by Royal Mail or UPS
[Ship from Czech]
For European countries, ship by DHL or GLS, 3-5 days delivery.
2. DHL Shipping
: Suitable for customers worldwide. Will take 5-7 working days.
If your address belongs to remote area, will need to pay remote handling cost. Please remember to leave message if you have any special requirement.
3. Yanwen Express:
TAX Free for European Countries. Will take 10-15 working days normally.
4. Order Under 130EUR
normally with default shipping standard post, customers can tick for premium delivery to choose ship by DHL.
5. Customers can also choose UPS, TNT FedEx or EMS if you prefer
.