Product Description
GODIAG V600-BM is a professional BMW diagnostic and programming tool. It has the capabilities of intelligent vehicle diagnosis, ECU programming, calibration and some special functions. GODIAG V600-BM supports all mainstream BMW diagnostic software on the market. It features in high-performance CPU, WIFI dual mode (STA/AP), Ethernet communication.
GODIAG V600-BM CAN-FD J2534
Highlights:
1. It complete same function as vxdiag vcx se bmw, vxdiag bmw, bmw icom next/A2, but with cost-effective price
2. It is compatiable with original BMW Software, can work with VX11-S, SP332-S, SS220 as well
3. Support lan cable and wifi connection(wifi password: 12345678)
4. With type-c interface, support external expansion device charging
5. CAN analyzer function will be added in future
6. Supports Latest Protocol like DOIP K-Line CAN-FD, can work for latest BMW Car Models.
7. Supports Vehicle Intelligent Diagnosis, ECU Coding, Programming and Special functions.
Notice:
1. Wifi password:12345678
2. GODIAG V600 can not support USB Connection.
3.
Godiag V600-BM English Software Download
GODIAG V600 is a BMW professional diagnostic & programming / coding tool, it will replace GT1, OPS, OPPS, ICOM, ICOM A2, ICOM A3, ICOM NEXT.
V600-BM CAN-FD J2534 can access to all systems of newest BMW car models to quickly read / clear fault codes, read dynamic data stream, active test, activation, components replacement, ECU replacement and upgrading, personalized settings, ECU programming , retrofitting and upgrading car configuration, SCN Coding, transmission initialization, enable the hidden features etc.
GODIAG V600 Update Schedule:
1. Plan to add authorization of Benz, Land Rover, Jaguar, CAN-FD, Toyota, VW, Audi (ODIS software)
2. Dedicated Android APP is under development, it will support both Ethernet and WiFi
communication.
Comes with ISTA-D, ISTA-P, Tool32, For BMW Coding, ISPI, INPA, E-SYS, WINKFP, NCS-Expert Tool, and you can directly run them.
Compatible Protocol: J2534, CAN-FD, DOIP, D-CAN, ISO14230, ISO15765, IFH, K-line ******
Support OEM professional diagnostic function of all For BMW series
1 series: 1'_E81/E81/E87/E88,1'_F20/F21
2 series: 2'_F22/F23,2'_F45/F46,2'_F87
3 series: 3'_E46,3'_E90/E91/E92/E93, 3'_F30/F31/F34/F35,3'_F80
4 series: 4'_F32/F33/F36,4'_F82/F83
5 series: 5'_E39,5'_E60/E61,5'_GT(F07), 5'_F10/F11/F18
6 series: 6'_E63/E64,6'_F06/F12/F13
7 series: 7'_E38,7'_E65/E66,7'_F01/F02/F03/F04, 7'_G11/G12
X series: X1_E84,X1_F48/F49,X3_E83,X5_E53,X5_70,X6_E71,
X6_E72,X3_F25,X5_F15/F85,X6_F16/F86,X4_F26
Z series: Z4_E85/E86,Z4_E89
I series: I'_I01/I02
MINI: MINI_R50/R52/R53, MINI_R55/R56/R57/R58/R59/R60, MINI_F55/F56
GODIAG V600 stand-out features:
1. Contained with dedicated For BMW software (same as ICOM, ICOM A2 / A3 / NEXT etc, no need to install any driver.)
1) ISTA-D: used to read / erase fault codes, read the data flow, maintenance guidance, circuit diagram, wiring diagram and directly upgrade & program new models. It will activate the ignition switch without keys during diagnosis.
2). ISTA-P: an off-line programming and coding software system, including the latest database for programming E, F, G, K, I series models
3). Engineer programming & coding software for F series vehicles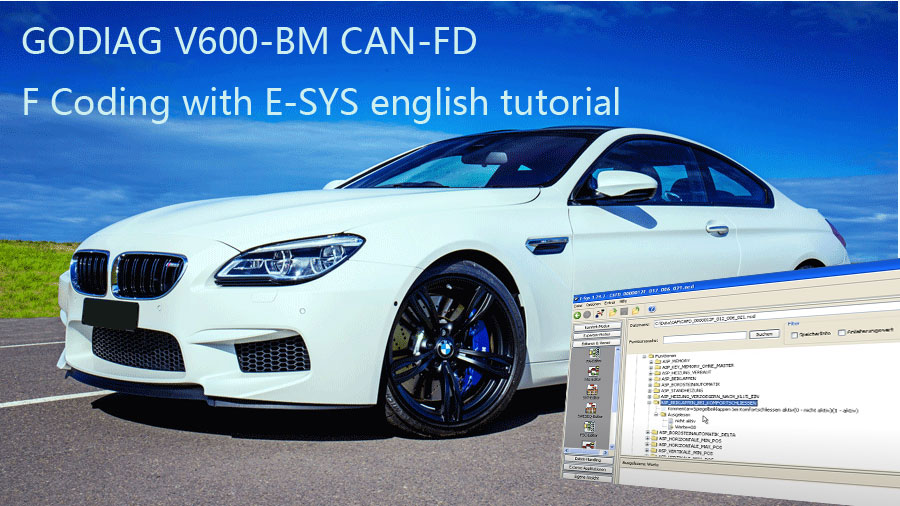 4). WINKFP: engineer programming software for E series vehicles.
5). NCS-Expert Tool: engineer programming software for E series vehicles.
6). INPA: engineering diagnostic software for E series vehicles.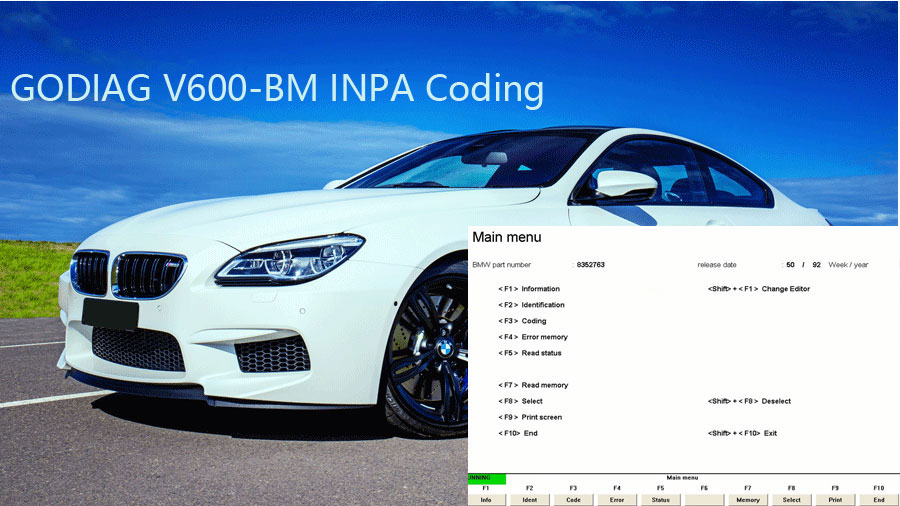 7). Tool32: engineer command execution software for E series vehicles.
8). For BMW Coding Tool: WINKFP NCS auxiliary software for importing engineer data for E series vehicles.
2. Provide a variety of communication modes:
USB 2.0
DoIP indicator
Ethernet 10/100Mbps
WIFI/BT 802.11 indicator 150Mbps
ETH indicator
System Indicator
3. Specifications
Suitable power: 7-32 V
About 300 mA when the power is 12V
High-speed processor: CPU 580 MHz MIPS, 32MB FLASH,128MByte RA, Built-in 32G TF card(optional)
4. Replace any of these For BMW diagnostic tools: For BMW ICOM, ICOM A2 / A3 / Next etc.
5. The Button Function:
F1-Press it for more than 3s to reset factory setting
F2-Press it to restart system
Comparison Godiag V600-BM and ICOM NEXT A+B+C/ICOM A2

V600-BM Parameters:
Shell
The shell is made of Polyamide.
Size:108 x 52 x 27 mm
Power Supply
7-32 V
Current Consumption
About 300 mA when the power is 12V
CPU
580 MHz MIPS, 32MBFLASH, 128MByte RA, built-in 32G TF card(optional)
Operating System
Linux
WiFi
150Mbps Wi-Fi 1T1R 802.11bgn
Interface
USB 2.0
Ethernet 10/100Mbps
Indicator
DoIP indicator
WIFI/BT indicator
ETH indicator
System indicator
Buzzer
Sound Pressure Level: MIN.80 dB
Temperature
Working:-20 ... +55°C, Storage:-20 ... +85°C
Protection Rating
Dust prevention and water resistance conform to IP52
Conform to
Electromagnetic Compatibility
Noise emissions:EN 55011,EN 55022
Anti-interference:EN 61000-6-2, EN 61000-6-4
Package includes:
1pc x GODIAG V600-BM CAN-FD J2534
Autel Factory Sales-Annual Lowest Price Ship from EU/UK NO Tax
Original Launch X431 Pro 5 With 2 Year Free Update--Ship from EU/UK No Tax
Top Brand Products


Shipping Method and Delivery Time:

1. UK & Czech Warehouse Shipping: 3-5 working days. Fast Delivery & VAT/Tax Free.
[Ship from UK] For UK customers only, 2-5 days shipping by Royal Mail or UPS
[Ship from Czech] For European countries, ship by DHL or GLS, 3-5 days delivery.

2. DHL Shipping: Suitable for customers worldwide. Will take 5-7 working days.
If your address belongs to remote area, will need to pay remote handling cost. Please remember to leave message if you have any special requirement.
3. Yanwen Express: TAX Free for European Countries. Will take 10-15 working days normally.
4. Order Under 130EUR normally with default shipping standard post, customers can tick for premium delivery to choose ship by DHL.
5. Customers can also choose UPS, TNT FedEx or EMS if you prefer.
Tech Support
How to register Godiag V600?
Godiag V600-BM First Time Setup Guide
How to register Godiag V600?

1.
Please download Godiag V600 Software here.
2.
There is a password paper inside the package. After you install the software, please run it and register the device.
3.
Active the device with the password.
4.
If you computer already has ISTA-D or ISTA-P software, you can directly use and no need to install any driver. If you do not have the software, you can also BMW Software buy from us.
More detailed information, please check
here
Godiag V600-BM First Time Setup Guide
1.
Locate the registration slip included in the packaging
- Open carefully to reveal the device serial number and product key
- These are required for first time setup your new V600-BM inteface
2.
Download Godiag V600-BM firmware updater (add download link here)
3.
Extract the contents of the zip file to a folder
4.
Run the Godiag firmware updater by double clicking the file "STTech.AnyVCI.Updater.exe"
5.
For first time users, register the device by entering your email, password of your choice, product serial number and product key in the required fields
- If you have already registered, you can login with your email and password
6.
On the main page you can select various options such as firmware update, license update and advanced settings
7.
Please follow our Godiag V600-BM online guides to update device firmware or update license
8.
The Godiag V600-BM is now ready to use and fully compatible with BMW standard tools
9.
We can also provide the latest BMW diagnostic software (ISTA+ & ISTA-P) on HDD or SSD contact us here Sales@eobdtool.co.uk