Product Description
Autel VCI Bluetooth Adapter Wireless Diagnostic Interface Bluetooth Connection VCI For MS908S/ MS908/ MK908/ MS905/ MaxiSys Mini
Autel VCI Bluetooth Adapter Wireless Diagnostic Interface Bluetooth Connection VCI For MS908S/ MS908/ MK908/ MS905/ MaxiSys Mini

This is vci adapter for connection only, it can only works with autel Maxisys mini, MS905, MaxiSys Pro, MS908, MS908S, MK908 scanner.
When your vci bluetooth was lost or damaged you can order new one to replace it.
If you do not have Autel scanner, this adapter is useless for you, it is Autel tool spare parts.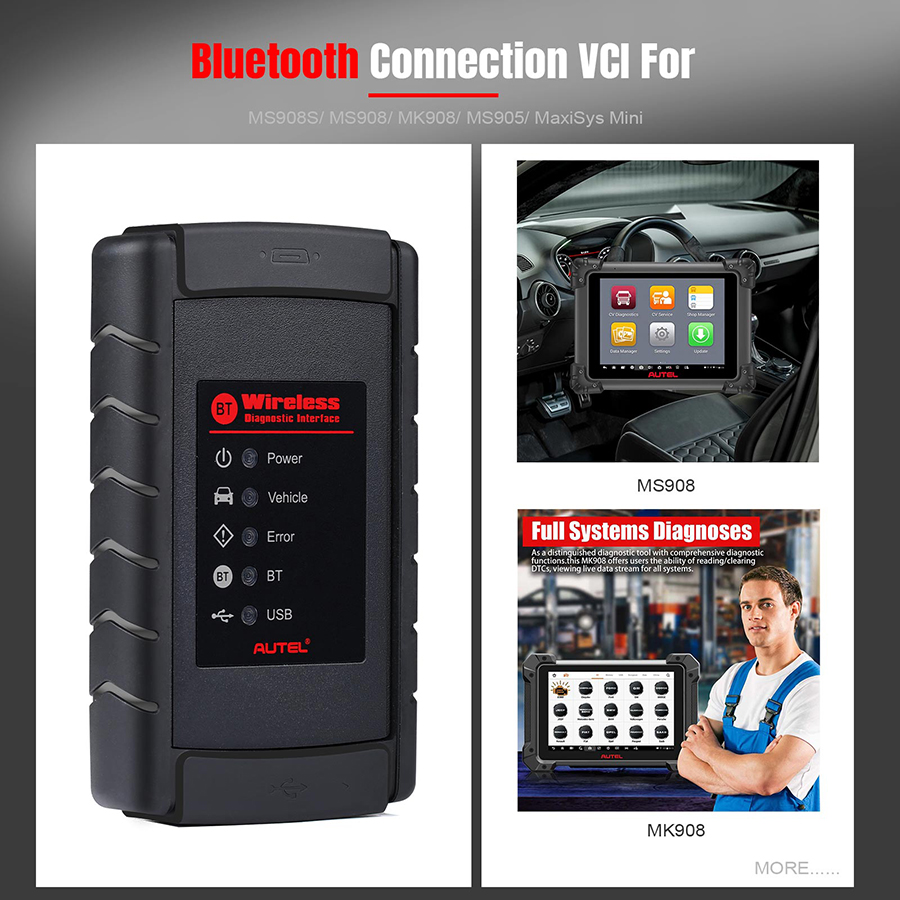 Product Features:

Supports comprehensive diagnosis and reading of control modules.
Designed to connect wirelessly with the MaxiSys Display Tablet, as well as standalone PCs via a USB 2.0 full-speed connection.
Features convenient wireless Bluetooth technology, which allows you to work freely around the vehicle.
Reduces the communication time, and guarantees performance and speed that redefine multi-brand diagnostics.5.
Support Update online.

Product Function:

Auto diagnostics to read and clear the error memory, to display system parameters and the status of the ECU;
Activation, adjustments and configurations that are essential for ensuring a complete repair;
Resetting the service lights or the airbag systems;
Configuration of the ECUs, keys and remote controls, etc.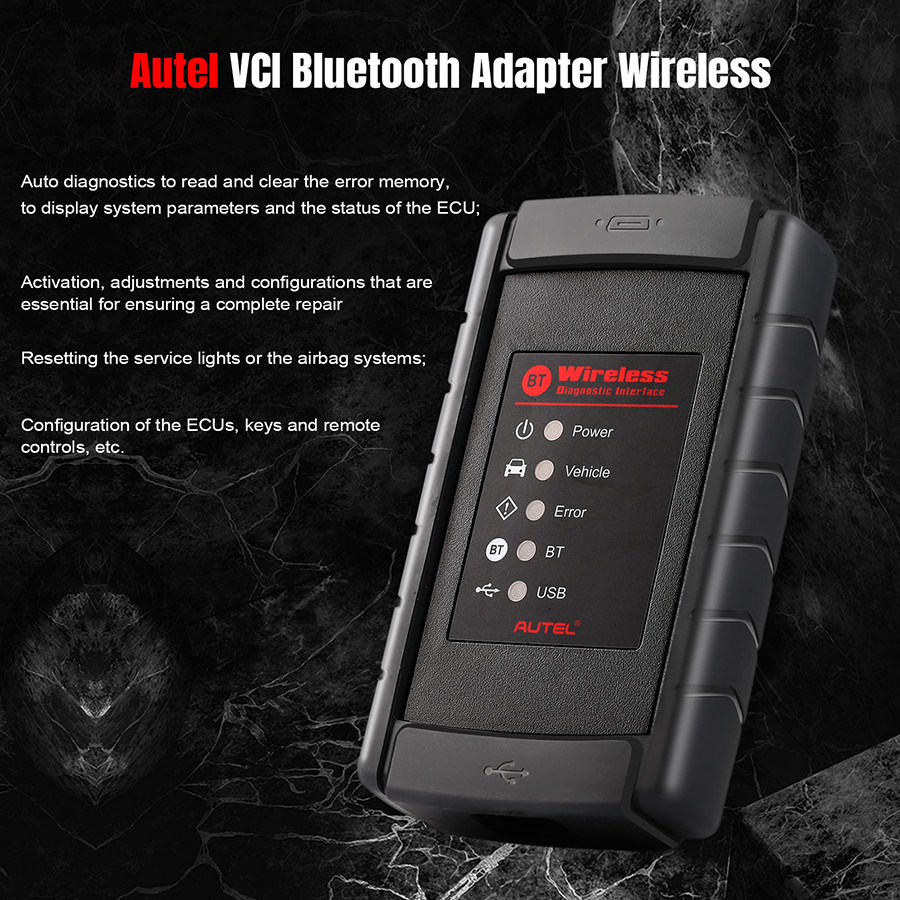 Product Specification:

Communications: Bluetooth V.2.1 + EDR/USB 2.0
Wireless Frequency: 2.4 GHz
Input Voltage Range: 12 VDC
Supply Current: 200 mA @ 12 VDC
Operating Temperature: 0°C to 50°C (ambient)
Storage Temperature: -20°C to 70°C (ambient)
Dimensions (L x W x H):147.5 mm (5.80") x 85.5 mm (3.37") x 29.0 mm (1.14")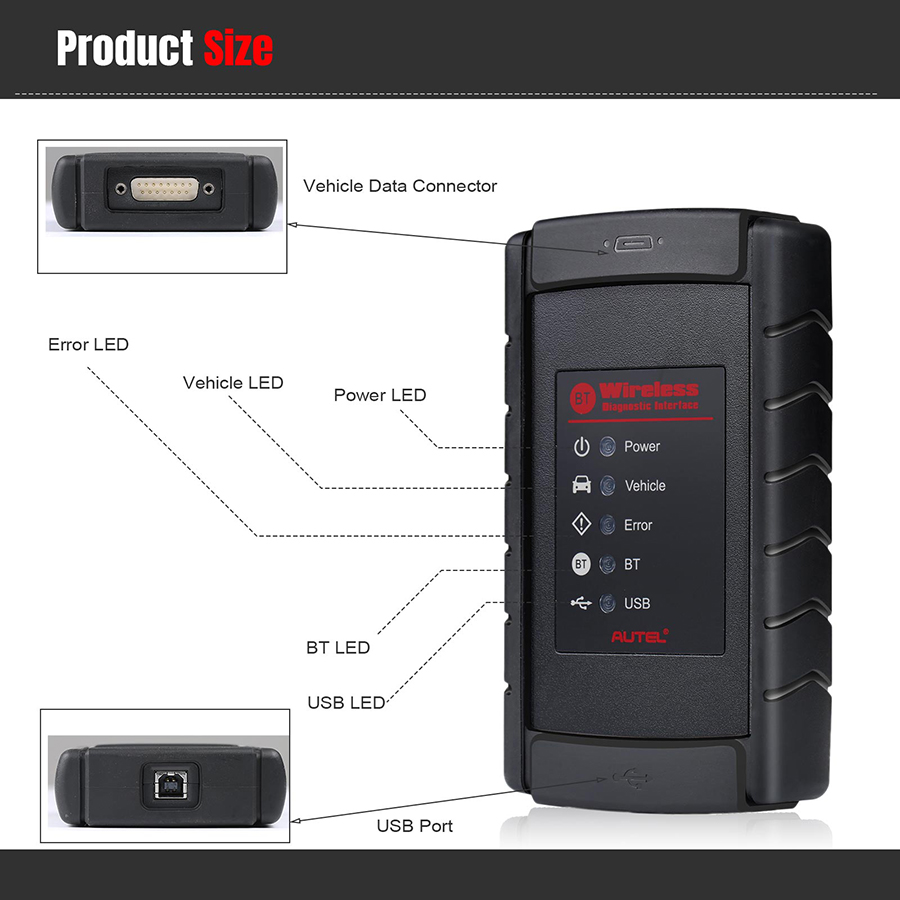 Package Includes:

1pc x Autel VCI Bluetooth Adapter
Shipping Method and Delivery Time:

1. UK & Czech Warehouse Shipping: 3-5 working days. Fast Delivery & VAT/Tax Free.
[Ship from UK] For UK customers only, 2-5 days shipping by Royal Mail or UPS
[Ship from Czech] For European countries, ship by DHL or GLS, 3-5 days delivery.

2. DHL Shipping: Suitable for customers worldwide. Will take 5-7 working days.
If your address belongs to remote area, will need to pay remote handling cost. Please remember to leave message if you have any special requirement.
3. Yanwen Express: TAX Free for European Countries. Will take 10-15 working days normally.
4. Order Under 130EUR normally with default shipping standard post, customers can tick for premium delivery to choose ship by DHL.
5. Customers can also choose UPS, TNT FedEx or EMS if you prefer.