Product Description
Humzor NexzDAS Pro is professional full-system diagnostic tablet tool for passenger cars, support advanced reset service and key programming function as well. Humzor NexzDAS Pro Bluetooth is with wide vehicle coverage, update lifetime for free. This Humzor NexzDAS Pro can work on both Andriod phone and tablet
Humzor NexzDAS Pro Bluetooth 9.6inch Tablet Full System Auto Diagnostic Tool with IMMO/ABS/EPB/SAS/DPF/Oil Reset pk Autel MK808
Top 10 Reasons to Choose NexzDAS Pro
1. 9.6 inch Tablet
Bigger screen with smooth operation, quick access to smart diagnosis. Do not need to install the software, all have been done.
2. Full-system Diagnosis
Full-system quick scan for passenger cars, deep diagnosis on all the electronic systems of the car with detailed report, read/clear codes, live data, actuation test, etc.
3. Advanced Reset Service
Oil Reset, TPMS, ABS, SAS, TPS, DPF, EPB, Battery Test, Injector Adjust all included to meet your extra demands.
4. Professional Key Programming
Professional and convenient IMMO, add new key, erase keys, key programming, all key lost via OBD...
5. Wide Vehicle Coverage
Powerfully support over 70 car brands, including American, European, Australian, Asian cars.
6. Update Online three years for free
, the update cost is 100USD/year, after three year
7. Compatible with Android Phone
NexzDAS fully supports you to use it on both tablet and Android smartphone, perfectly achieve the conversion usage.
8. Multi-language Supported
Switch the language you need within the App freely, English, Italian, German, Russian, French, Spanish, Polish, Traditional Chinese, more are under adding.
9. Continuously Releasing New Functions
More advanced functions are under developing now for later release, such as ECU coding & programming, more supported models, etc. All free to update gradually.
10. User-friendly Experience
Quick access to Remote Assistance, Feedback icon, VIN Query, DTC Query, Data Manage, Data playback, etc. fully provide you with intelligent and easy operation.
Function Features of NexzDAS Pro
1. Full-System Diagnosis
Quick Scan
Read/clear codes for all systems, input the VIN and automatically recognize it, or manually select the vehicle model,type and year to start the quick scan for all the control units and get the inspection result with detailed DTC description.
Actuation Test
Carrying out tests on some components of the vehicle and access vehicle specific subsystems. It may vary by makes, models, types, years, thus only the available ones will be shown.
Vehicle Coverage:
America:
For Buick,For Cadillac, For Chevrolet, For Chrysler, For Ford, For GM, For GMC, For Hummer, For Jeep, For Lincoln, For Mercury, For Saturn, For Pontiac, For Oldsmobile, For Scion
Europe:
For Abarth, For Alfa Romeo, For Aston Martin, For Audi, For Bentley, For Benz, For BMW, For Bugatti, For Citroen, For CVVW, For Dacia, For Ferrari, For Fiat, For Ford, For Jaguar, For Lamborghini, For Lancia,For Landrover, For Maserati, For Mini, For Opel, For Peugeot, For Renault,For Rolls Royce,For Saab, For VW, For Seat, For Skoda, For Smart, For Vauxhall, For Volvo
Asia:
For Acura,For Daewoo, For Honda, For Hyundai, For Infiniti,For Isuzu, For Kia, For Lexus, For Mazda, For Mitsubishi, For Nissan, For Renaultsm, For Ssangyong, For Subaru, For Toyota, For Suzuki
China:
For BYD, For Changan, For Changhe,For Chery, For Emgrand, For Englon, For Foton, For Geely,For Gleagle, For GWM,For HBSH, For Huachen,For Riich, For Wuling, For Yuan, For Zotye
Australia:
For Ford, For Holden
More Models Coming Soon...
2. Special Functions
Note:
These special functions are not for all car models, if you are confused, please send me your car model and we will check it for you.
Oil Reset:
Allows you to perform reset maintenance mileage and data intervals for a new calculation of Engine Oil Life system once changed the oil.
TPMS Reset:
Makes TPMS sensor in displaying sensor IDs from the vehicle's ECU, inputting TPMS sensor replacement IDs and activate TPMS sensors.
Injector Adjust:
Diesel injector code need programming ID and parameters to the ECU for accurate communication and Injection control system
EPB Reset
:It is important in the maintenance of electronic braking system's safety and efficiency when replace brake pad or motor
DPF
: Specially works for Diesel Particulate Filter system with DPF regeneration, DPF component replacement teach-in and DPF teach-in after replacing the engine control unit.
TPS/Throttle Sensor :
Vehicle's throttle position system sensor connected to the butterfly spindle and is primarily used to monitor the throttle position within an inner combustion engine. Due to its location, the throttle position sensor is able to effectively observe where the throttle butterfly valve is positioned.
ABS Bleeding :
The auto bleed procedure is used on BOSH 5.3 equipped vehicles. This procedure uses a scan tool to cycle the system solenoid valves and run the pump in order to purge the air from the secondary circuits.
SAS Reset:
Helps clear the fault steering angle sensor memories and plays an important role in the steering angle sensor calibration.
Battery Change:
Allows the scan tool to evaluate the battery charge state, monitor the close-circuit current, register the new battery replacement, and activate the rest state of the vehicle battery system
Vehicle Coverage:
3. Key Programming
Immo Code Reading:
Can read the Immo code of specific car models.
Key programming:
Greatly supports key matching.
Add car key
: Add and match new key to the car.
Erase car key:
Delete the key that does not need.
Key information reading
: Read the information of the key, quantity, frequency etc.
All key lost:
Support most cars all key lost via direct OBD matching.
Vehicle Coverage:
Asia:
For Ssangyong, For Mitsubishi, For Nissan, For KIA, For Lexus, For Mazda, For Infiniti, For Hyundai, For Subaru, For Toyota
America:
For GM, For Chrysler, For Jeep, For Dodge
Europe:
For Alfa, For Lancia, For Smart, For Citroen, For Ferrari, For Maserati, For Peugeot
More detailed information, please check
Humzor NexzDAS Pro IMMO Function List
Multi-Languages Supported
Support 9 languages at present: English, Spanish, Italian, French, Russian, German, Polish, Chinese, Traditional Chinese. More are under developing, can up to 23 kinds.
How to Use Humzor NexzDAS Pro(Humzor NexzDAS Pro manual)
Step 1: The NexzDAS APP has already installed,so just open it directly with network working.
Step 2: Use an email to register firstly and set up your login password.
Step 3: Binding the product,get the serial number and activation code from the password envelope.
Step 4: Plug the device into the car's OBD port,turn the ignition with engine off
Step 5: Open the App,Bluetooth will automatically connect with its icon turn into blue.
Step 6: Click the "App Store" and chosse to download the models and funcitons you need.Then start to enjoy the smart diagnosis.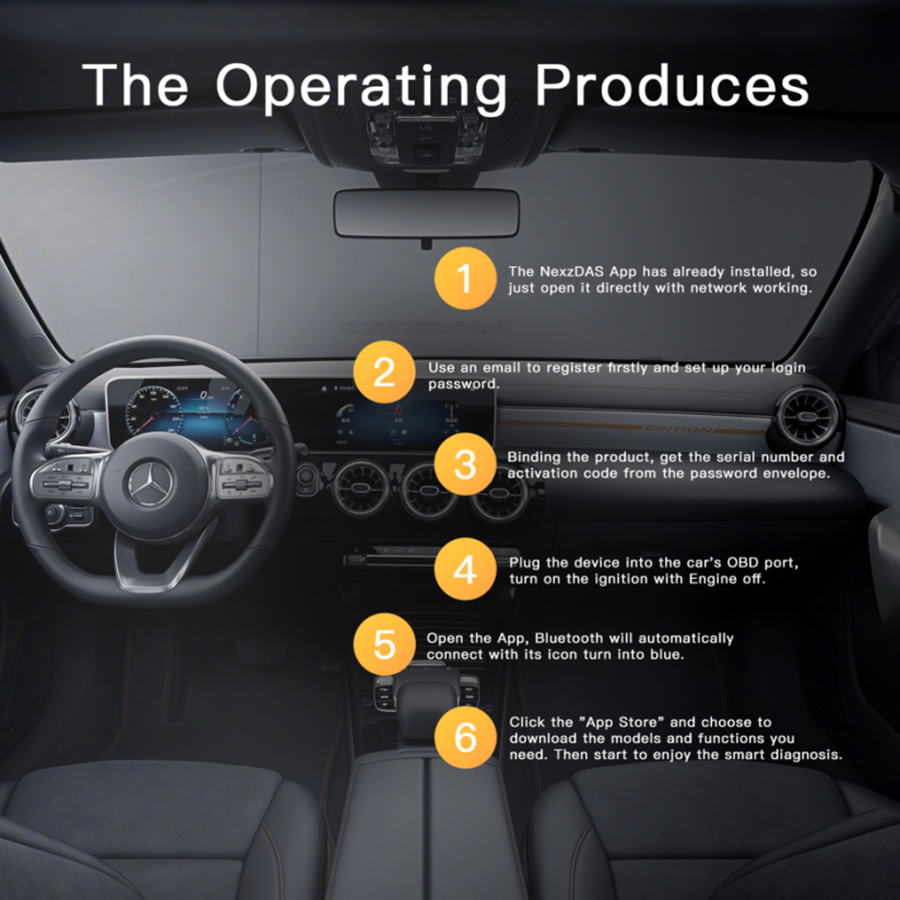 Patameter: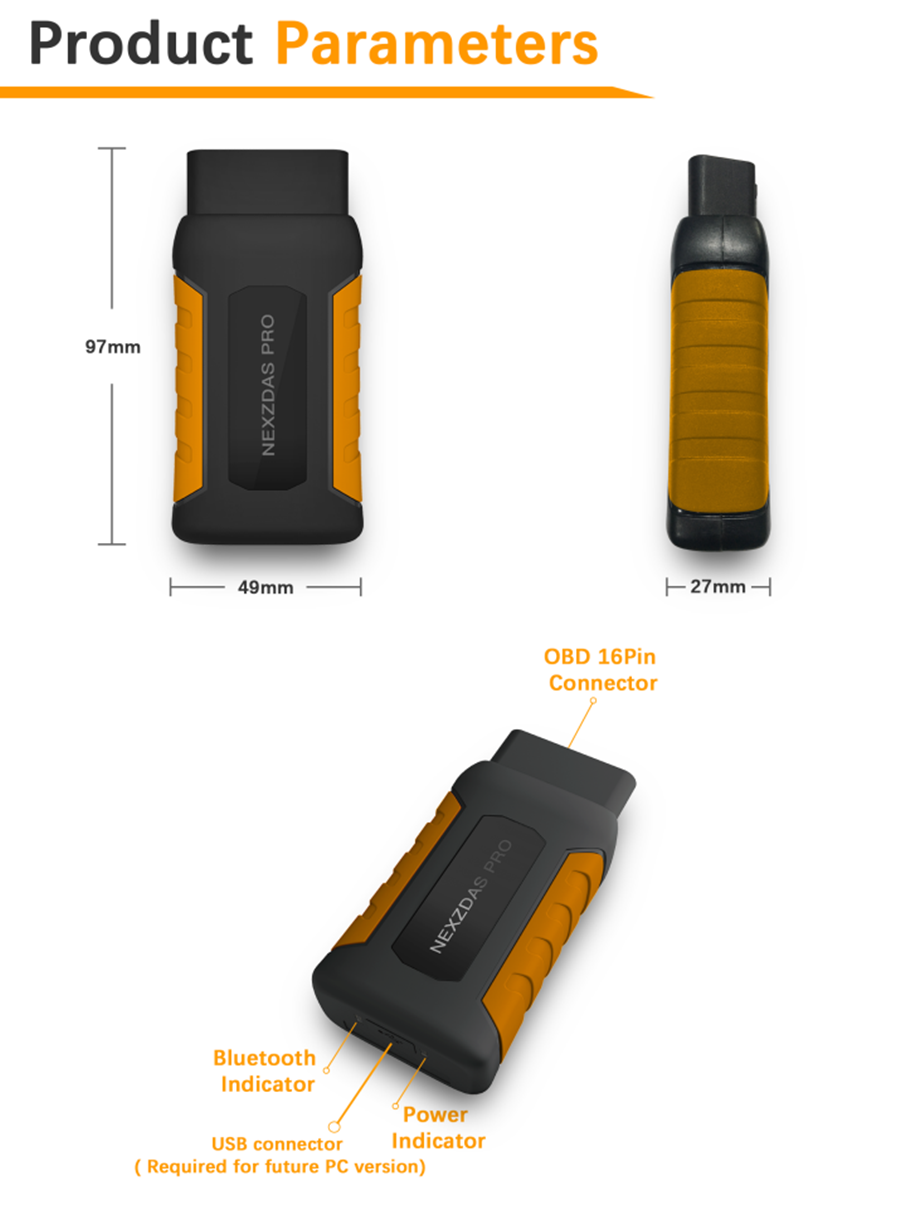 Humzor NexzDAS Pro vs Autel MK808
Item Picture
Item Name
Humzor NexzDAS Pro
Autel MK808
System entry
Full System
Full System
Car Softwares
85
56
Special functions
10
19
Special functions details
ABS,BAT,EPB,DPF,INJ,OIL,SAS,THO,TPMS,IMMO
ABS,BAT,EPB,DPF,INJ,OIL,SAS,THO,TPMS,Gear...
Additional Functions
IMMO+key programming
(All Key Lost+copy keys)
-
Language
10
12
Auto-vin
Yes
Yes
Unit Switch Mode
settings for all or certain data
settings for all
Update
3 years for free
one year for free
Communication type
wireless bt 4.2
cable connection
screen size
9.6inch
7.0inch
CPU
8 cores MTK6763 1.6Ghz
Cortex-A9 1.5Ghz
Hard Disk
64GB
32GB
Memory/RAM
DDR4 4GB
unknow
Battery Capacity
4700mAH
5000mAH
Android OS
Android 9.0
Android 4.4.2
User Manual
Multi-languages
English Only
Package
Paper box
Carry case
Package includes:
1pc x Humzor NexzDAS Pro Tablet
1pc x VCI
1pc x USB External Power Adapter
1pc x USB Cable
1pc x Quick Guide
Reviews
Review 1
: I've used the product a few times now it was exactly what I was looking for. Shows vehicle fault codes plus so much more and customer service is top knotch.
Review 2:
Works great. There is a learning curve to it. Just have to play around with it.
Must use the standard obd11 setting on the top for most older cars.
It lacks a few things, but having the blue tooth is very handy, I'm not tethered to the car. For this price it seems good for the price.
Review 3:
The tablet full set works on Audi Q5 2017 read & clear faulty code,i don't need to buy special functions addtional
Review 4:
Ok this scan tool is really great i can perform actuation test and has bidirectional controll on my 2015 toyota where I was not able to do much of anything with my car on other scanner tools this was is more than able to. I highly recommend this tool. I was very skeptical at first but have been amazed with tool. I recently tried autel mk 808 mx808 and matco Maglite wich matco was the worst of the 3 others, the humzor is better than the other 3. I am an automotive technician well still in school for it but we have some high end scan tools im talking $4,000 scan tools, I think this would hold up against some of them.
FAQs:
Q: How to connect the Bluetooth?
A: After plug into the VCI, open the NexzDAS App and click the Bluetooth icon at the upper right corner within App to connect it directly, the icon light will turn into blue which means connection succeeds.
If it can not be connected the first time,please kindly exit the software completely and try again.
Q: Why cannot I binding the product, it shows serial number does not exist?
A: Please make sure you download the right software 'NexzDAS'. If the problem still exists, please contact us and offer your S/N for a check.
Q: Do I need to connect the PC to update for Phone version?
A: No, just click'Me' 'Upgrade'to complete the process within APP.
Q: Why there is nothing listed when I login, no models or functions?
A: Please click 'Discover' 'APP store' and choose download the models and functions you need
Q: Where to download APP?
A: For NexzDAS APP, please kindly search 'NexzDAS' on Google Play
Q: Does it support all functions for 2003 bmw, 2013 Mercedes ,2003 volvo, and a 2006 dodg?
A: It supports
Q: Does it support 2018 Mitsubishi mirage erase the crash history?
A: Yes, it support
Q: Is it able to read all error of obd2 and how's make my know the real km of the cars and IMMO for dcia Logan 2016?
A: It can read all error via obd, but can not mileage correction
Q: Does it support hidden function?
A: No, it do not support this
Q:
Problem is the download is very slow and I get network time-out.
I did a speedtest and get only 2Mbps with other devices on the same router/wireless I get 195Mbps.
A: Please turn off Bluetooth firstly, then go to download the software
Xhorse VVDI Key Tool Plus Full Version EU/UK Ship
Autel IM508 + XP400 Pro Complete Same IMMO Function of Autel IM608 Pro
Top Brand Products
+86-15972933706
Email: Sales@EOBDtool.co.uk
Skype: eobdtool.co.uk

If there is any problem, please feel free to contact us