Product Description
1. GODIAG V600-BM Diagnostic Head for BMW, MINI, Rolls-Royce BMW-Model.Support WIFI. Works OK with the Internet and Printer.
2. With ICOM 2021.6 Software HDD, allows you to use with laptop directly.
GODIAG V600-BM CAN-FD J2534

Godiag V600-BM Highlights:

Can read & clear fault codes, read data stream, actuation test etc.
Support WIFI Wireless Connection
Support Wired Ethernet Connection
Support Protocols For BMW Diagnosis:including ISO I 4230, ISO I 5765 IFH, DOIP, etc
With latest software HDD Version V2021.6 Software ISTA-D 4.28.20 ISTA-P 3.68.0.0008

Notice:
1. Wifi password:12345678
2. GODIAG V600 can not support USB Connection.
Description:

GODIAG V600-BM is a BMW professional diagnostic and programming or coding tool, it will replace GT1, OPS, OPPS, ICOM, ICOM A2, ICOM A3, ICOM NEXT. GODIAG V600-BM CAN-FD J2534 can access to all systems of newest BMW car models to quickly read or clear fault codes, read dynamic data stream, active test, activation, components replacement, ECU replacement and upgrading, personalized settings, ECU programming, retrofitting and upgrading car configuration, SCN Coding, transmission initialization, enable the hidden features etc.

GODIAG V600-BM Functions:

1. Can perform vehicle intelligent diagnosis, all-system all-function fast diagnosis; can read & clear fault codes, read data stream, actuation test etc.
2. ECU programming and calibration. Fully compatible with official diagnostic software
3. Multi-task diagnosis: based on the efficient architecture design of diagnosis service software
4. Diagnostic feedback: support one-key upload the device logs. If you encounter exceptional vehicle and abnormal function, you are allowed to report the problem to the manufacturer, then the technicians will track and handle your problem.

GODIAG V600-BM Features:

1. With the size of about 108 x 52 x 27 mm, the pocket device is more portable
2. Brand new industrial design, the shell is made of solid and stain-resistant material, it is more suitable for the automobile maintenance environment.
3. Support WiFi wireless connection, high-speed transmission, long-distance transmission, stable signal and strong anti-interference; WiFi can be set as STA or AP mode at the same time, making users work in comfortable indoor environment.
4. Support wired Ethernet connection,can freely switch between 2 modesWAN / LAN.
5. Support protocols for BMW diagnosis, including: ISO14230, ISO15765, IFH, DOIP, etc.
6. Cover a wide range of vehicles and support efficient and reliable diagnostic functionsand a variety of special functions.
7. Ensure communication security and can encrypt communication data to ensure device and vehicle safety.

GODIAG V600-BM Software includes:

ISTA-D: used to read / erase fault codes, read the data flow, maintenance guidance, circuit diagram, wiring diagram and directly upgrade & program new models. It will activate the ignition switch without keys during diagnosis.
ISTA-P: an off-line programming and coding software system, including the latest database for programming E, F, G, K, I series models
Engineer programming & coding software for F series vehicles
WINKFP: engineer programming software for E series vehicles.
NCS-Expert Tool: engineer programming software for E series vehicles.
INPA: engineering diagnostic software for E series vehicles.
Tool32: engineer command execution software for E series vehicles.
For BMW Coding Tool: WINKFP NCS auxiliary software for importing engineer data for E series vehicle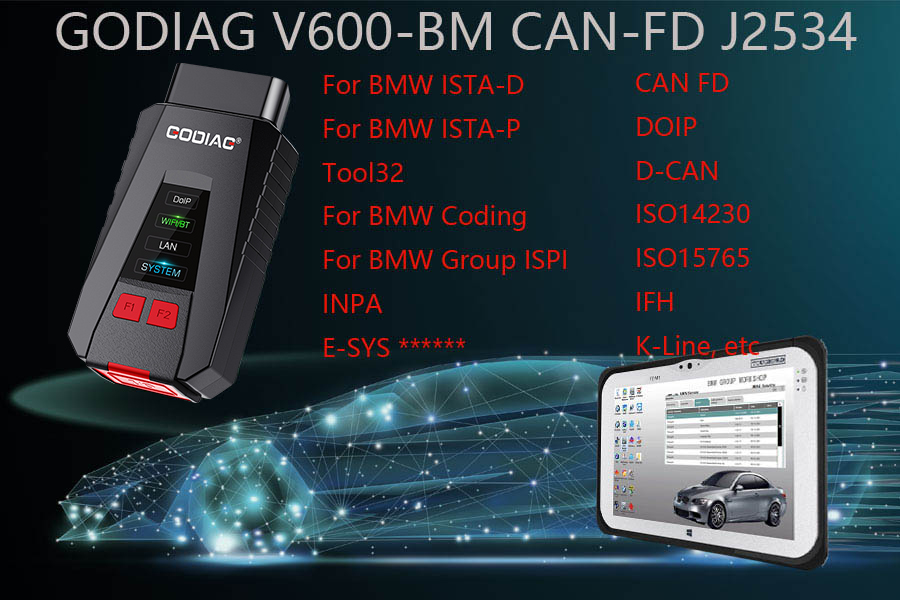 V2021.6 Software ISTA-D 4.28.20 ISTA-P 3.68.0.0008 500GB HDD

ISTA-D 4.28.20
SDP Programming Database 4.28.22, Multilingual
VIN: 2021.02.25
ISTA-P: 3.68.0.0008 , supports BMW motorcycle and electric vehicle programming.
for BMW ETK 2019.12
for BMW KSD 2019.11
INPA 5.00, winkfp 5.2.3, NCS 3.5.1
BMWAi Refresh Hidden 4.6
E-SYS V3.30 and V3.30, database V68.0, Chinese version software added
DR.GINI B020
The latest FSC navigation code software and IBAC coder
Added DISV57 and DISV44 for old B.M.W cars, diagnostic and programming

Support OEM professional diagnostic function of all For BMW series:

1 series: 1'_E81/E81/E87/E88,1'_F20/F21
2 series: 2'_F22/F23,2'_F45/F46,2'_F87
3 series: 3'_E46,3'_E90/E91/E92/E93, 3'_F30/F31/F34/F35,3'_F80
4 series: 4'_F32/F33/F36,4'_F82/F83
5 series: 5'_E39,5'_E60/E61,5'_GT(F07), 5'_F10/F11/F18
6 series: 6'_E63/E64,6'_F06/F12/F13
7 series: 7'_E38,7'_E65/E66,7'_F01/F02/F03/F04, 7'_G11/G12
X series: X1_E84,X1_F48/F49,X3_E83,X5_E53,X5_70,X6_E71,
X6_E72,X3_F25,X5_F15/F85,X6_F16/F86,X4_F26
Z series: Z4_E85/E86,Z4_E89
I series: I'_I01/I02
MINI: MINI_R50/R52/R53, MINI_R55/R56/R57/R58/R59/R60, MINI_F55/F56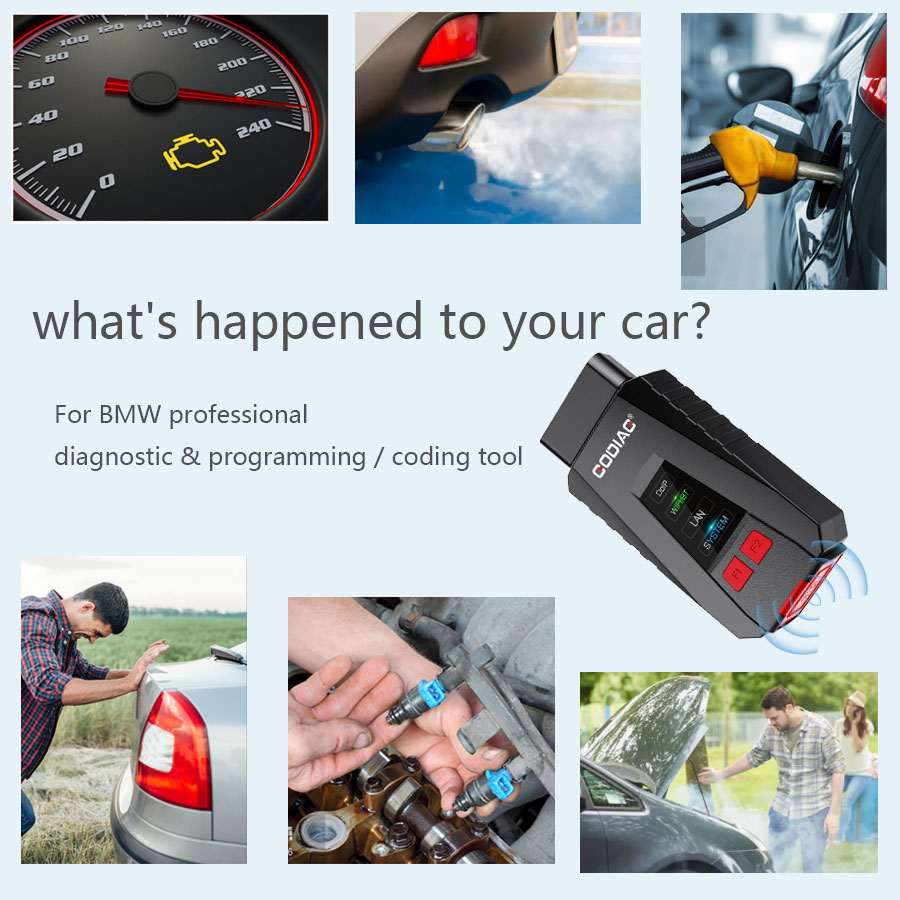 The Button Function:

F1-Press it for more than 3s to reset factory setting
F2-Press it to restart system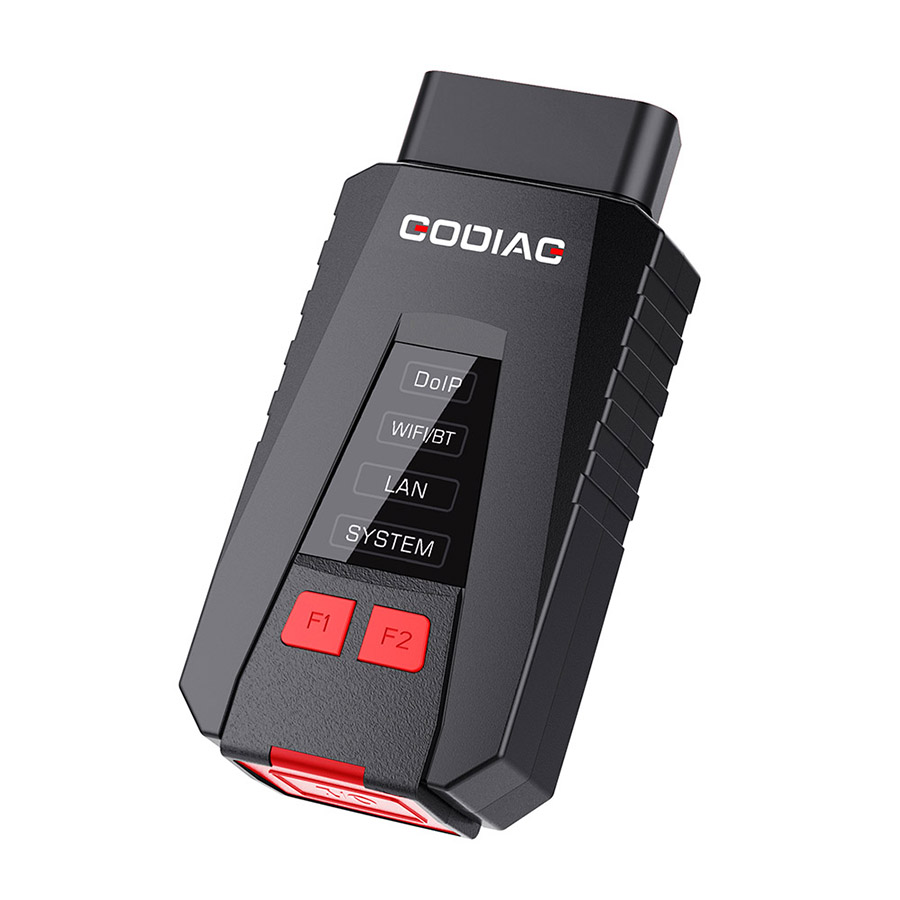 New E-Sys feature:

Convert FA to OrderXML file
CR2859 - Encoding 2.0 in E-Sys CR2945 - CVN mapping file in PX container for storing E-Sys functions of CAF
CR2969 - E-Sys - New CAF data model for CAFE-E plug-in coding factory
CR2977 - (E-Sys) FP Certificate Management
CR3008 - New Module TA1 Filter Editor
KA1223 - Use log level mode from properties files in batch
KA1224 - "Restore Defaults" for TAL Processing Parameters
KA2521 - E-Sys: For TAL execution, save the file name and path of the executed TAL log
KA2768 - Expanding TACategory fscBackup from E-Sys KA2807 - Multiple selections and deletions of elements in PDX containers
KA2809 - Multiple vehicle order selection during code verification
KA2825 - Enhanced configuration options for ECUVariantPatterns at E-Sys
KA3009 - Extend the namespace of the PDX container for RSX KA3035 - Rename "Bit6" to "CertEnabled"
K0941 - Read the output event type of SVTsollK?1002 - TAL processing in VCM in TAL calculation and coding module
K1071 - Allow multiple selections in event type selection
K1229 - Service call GetSoftwareID function should be able to do without specifying a diagnostic address
Note that ISTA-P does not support the latest G-system programming, as there is no G-system yet.

V600-BM Parameters:
Shell

The shell is made of Polyamide.
Size:108 x 52 x 27 mm

Power Supply

7-32 V

Current Consumption

About 300 mA when the power is 12V

CPU

580 MHz MIPS, 32MBFLASH, 128MByte RA, built-in 32G TF card(optional)

Operating System

Linux

WiFi

150Mbps Wi-Fi 1T1R 802.11bgn

Bluetooth

Bluetooth5.0/5.1

Interface

USB 2.0
Ethernet 10/100Mbps

Indicator

DoIP indicator
WIFI/BT indicator
ETH indicator
System indicator

Buzzer

Sound Pressure Level: MIN.80 dB

Temperature

Working:-20 ... +55°C, Storage:-20 ... +85°C

Protection Rating

Dust prevention and water resistance conform to IP52

Conform to
Electromagnetic Compatibility

Noise emissions:EN 55011,EN 55022
Anti-interference:EN 61000-6-2, EN 61000-6-4

Package includes:
1pc x GODIAG V600-BM CAN-FD J2534
1pc x 2021.6 BMW ICOM HDD 500G
Launch X431 Pad VII Plus X-Prog 3 Advanced Immobilizer & Key Programmer Supports All Keys Lost
[EU Ship]Multi-languages Autel Maxisys Elite II Global Version NO IP Limit
Top Brand Products


Shipping Method and Delivery Time:

1. UK & Czech Warehouse Shipping: 3-5 working days. Fast Delivery & VAT/Tax Free.
[Ship from UK] For UK customers only, 2-5 days shipping by Royal Mail or UPS
[Ship from Czech] For European countries, ship by DHL or GLS, 3-5 days delivery.

2. DHL Shipping: Suitable for customers worldwide. Will take 5-7 working days.
If your address belongs to remote area, will need to pay remote handling cost. Please remember to leave message if you have any special requirement.
3. Yanwen Express: TAX Free for European Countries. Will take 10-15 working days normally.
4. Order Under 130EUR normally with default shipping standard post, customers can tick for premium delivery to choose ship by DHL.
5. Customers can also choose UPS, TNT FedEx or EMS if you prefer.