GODIAG GT101 PIRT Power Probe+ Car Power Line Fault Finding+ Fuel Injector Cleaning and Testing+ Current Detection+Relay Testing Car Diagnostic Tool

Product Introduction:
GODIAG GT101 PIRT Power Probe is a multi-use circuit-tester with built-in diagnostic power. It is the best electrical tester for reducing diagnostic time in all 6- to 40-volt vehicle electrical systems. Undoubtedly it is the most versatile and practical tool ever for its users.
This tool simplifies the testing of fuse boxes, verifies the correct operation of motors, lights, relays, sensors, wires, and communication-circuits. The large digital color display makes for easy viewing in direct sunlight or complete darkness.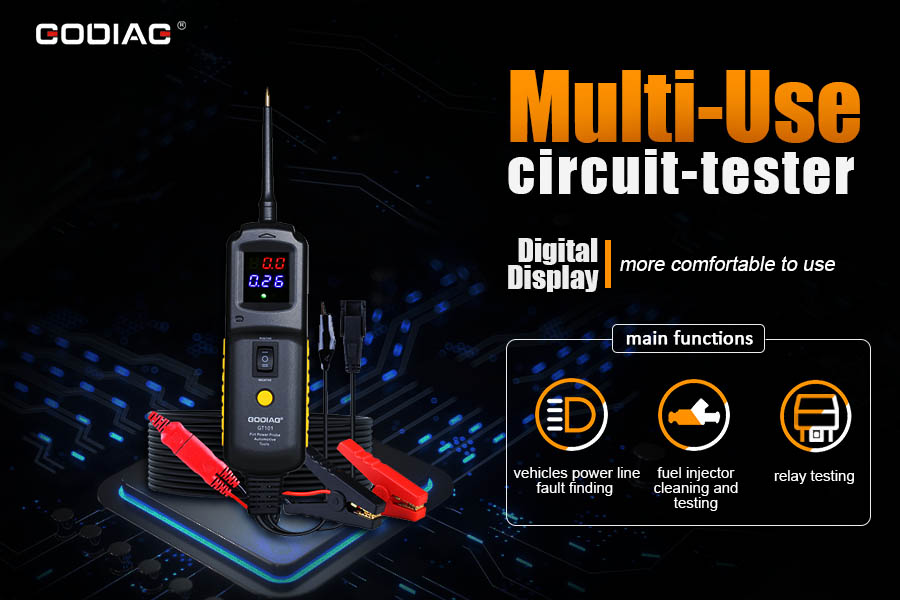 Main Functions of GODIAG GT101 PIRT Power Probe:
1.Circuit Troubleshooting Test (Short Circuit, Open Circuit)
When the vehicle's headlights, turn signals, lift windows, sunroofs and other functions fail, GT101 can be used to detect the circuit voltage or supply power for these components to find out whether it is a circuit problem or a component damage.
1)According to the circuit diagram, locate the fault point that may have the problem, and the GT101 electric tester can detect the positive and negative electricity.
2)Detect whether the circuit has normal positive or negative electricity.
3)Input positive voltage to the malfunctioning component (for example, headlight or motor). If the component works normally, it means that the circuit may be open. Otherwise, it means that the component is damaged.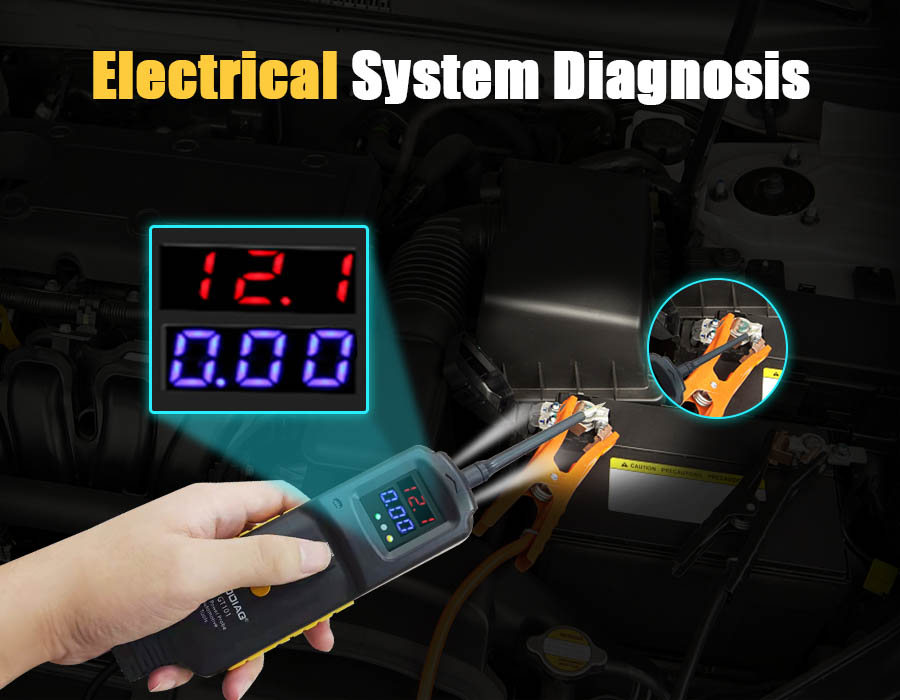 2.Relay Test
When the car's headlights, turn signals, horn and the engine starter do not work, if there is no problem with these components after detection, you can check the relay switch.
After the relay is removed from the car, connect the adapter based on the connection of the relay.
3.Fuel Injector Test
When the vehicle has difficulty in starting, acceleration and fuel consumption, etc, it is necessary to check the fuel injector.
When detecting the fuel injector, if the fuel injector is driven to open or close, the ammeter shows the normal value and the fuel injector woks normally, it means that the fuel injector is normal. Otherwise, it means that the fuel injector is damaged.
4.Fuel Injector Cleaning
When the fuel injector is blocked, the fuel injection is not smooth. There are carbon deposits and thick sticky substance in the gap of the fuel injector. The designed fuel injection volume or atomization effect cannot be achieved, it needs to be cleaned.
1)Prepare a fuel injector cleaner pressurized can or a carburetor cleaner pressurized can(nozzle diameter of the pressurized cans : 4mm)
2)Hold the manual cleaning tool tightly with your hand, and firmly fix the fuel injector with your fingers to prevent the pressure of the cleaner can from washing away the the fuel injector.
3)Pay attention to the hazards of liquid to human body during manual cleaning, and take protective measures. Do not operate in dangerous places with open flames because the pressurized cans are extremely flammable. Choose an open place to facilitate the discharge of cleaning liquid.)
Key Features of GODIAG GT101 PIRT Power Probe:
Performs every type of service including power injection, measurement, ground testing, polarity checks, continuity testing and components activation
Easy-to-read volt-ammeter allows you to read voltage and current at your fingertips.
With a flip of the output switch, you have positive and negative electricity via the probe for powering up electrical components like cooling fans, relays, etc.
Simultaneously uses the hot lead and the ground lead to activate components right in your hand
Instantly identifies positive, negative and open circuits
Tests for bad ground contacts instantly, allowing you to follow and locate shorts fast without wasting fuses
Instantly checks continuity of switches and relays.
Circuit breaker protected
Built-in Flashlight enables you to work in the dark
Audio tone indicator allows for no-look menu scrolling once users are familiar with menu tone assignment
20ft (can be extended via extendable cable port) cable provides excellent accessibility to test along the vehicle
Extremely easy to use and highly reliable
Used for DC 6-40v cars, motorcycles, trucks, buses, engineering vehicles, vessels, tractors, mining vehicles and other vehicles that use DC circuits.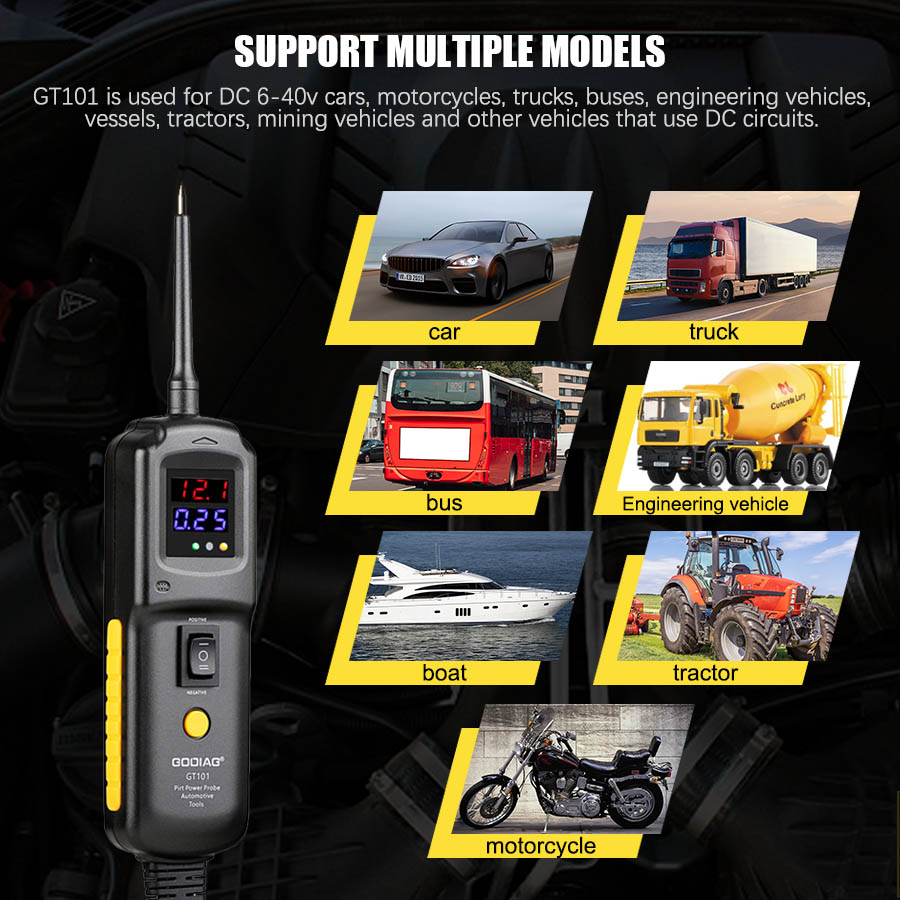 Top Reasons Why You Need GODIAG GT101 PIRT Power Probe:
①GODIAG PIRT Power Probe is a special circuit maintenance testing tool which is developed for automobile maintenance workers and engineers.
②It can be used to diagnose an open circuit, short circuit, detect positive and negative circuit and pulse current of power lines; and support the testing of lighting lamp,window lift motor, horn, ECU control Unit power supply and other individual component, vehicle component circuit.
③Moreover, its function also covers the detection of relays and fuel injectors as well as the cleaning of fuel injectors.
④The output current can be reversed to form a loop power, and when the current exceeds 20A, it automatically trip to protect the device and extend the service life.
⑤It can detect all 0-80v electronic systems, greatly shortening the detection time. The connection with the car battery is simple and easy to use.
The Product Comparison Chart
| | | | | |
| --- | --- | --- | --- | --- |
| Product Functions/Names | GoDiag GT101 | GoDiag GT102 | TOPDIAG P200 | AUTEL PS100 |
| Product Picture | | | | |
| DC voltage | √ | √ | √ | √ |
| AC voltage | X | X | √ | √ |
| Positive and negative voltage output | √ | √ | √ | √ |
| Component activation | √ | √ | √ | √ |
| Current | √ | X | √ | √ |
| Resistance | X | X | √ | √ |
| Open circuit detection | √ | √ | √ | √ |
| Short circuit detection | √ | √ | √ | √ |
| Fuel injector test | √ | √ | √ | X |
| Fuel injector cleaning | √ | √ | X | X |
| Relay test | √ | √ | √ | X |
| Oscilloscope function | X | X | √ | X |
| Flashlight | √ | √ | √ | √ |
Product Parameters
| | |
| --- | --- |
| Items | Description |
| DC Power | DC Car battery power(Suitable for 6-40v) |
| Power Consumption | 0.5W |
| Operating Temperature | -5 to 50 degrees Celsius |
| Storage Temperature | -5 to 60 degrees Celsius |
| The Box Size | 25*18.7*8.5CM |
| The Main Unit Size | 18*5*2.7CM |
| Weight | 1.2KG |
| Wire Length | 620CM |
| Shell Material | ABS Environment-Friendly Materials |
Package Includes:
1pc x Main Unit of GODIAG GT101 PIRT Power Probe
1pc x Clip to Connect Battery
1pc x Probe
1pc x Probe Cap
1pc x Fuel Injector Test Lead
1pc x 10mm Fuel Injector Cleaning Connector
1pc x 12mm Fuel Injector Cleaning Connector
1pc x Simple Relay Test Adapter
5pcs Simple Relay Connection Leads
1pc x English Manual
Review:
I received the PIRT 101 today. I have to say it is an impressive tool kit. In my opinion, a tool that arrives like this generally has a higher value than what you are asking. I think you should increase your MSRP for the 101, to separate it from the gt100. People will still pay $150 Canadian dollars for this tool. And at $150, you will still be underselling the power probe 1,2 and 3, which are the known power probes here in my region.
I will follow up with more info on the gt101, including photos, a written review and demonstrations of actual test procedures.