Product Description
GODIAG GT100 with BMW CAS4 & CAS4+ Test Platform can program new key when all keys lost, add new key and replace CAS4 / CAS4+ ECU module by working together with Xhorse VVDI2, VVDI BIM Tool Pro, Lonsdor k518 and Autel im608 etc.
GODIAG GT100 AUTO TOOLS OBD II Break Out Box ECU Connector Plus CAS4 Test Platform



Godiag GT100 with BMW CAS4 CAS4+Highlights:



1. GODIAG GT100 is for OBDII protocol communication detection and ECU maintenance, diagnosis, programming & coding.
2. Convert the car OBD2 interface into 6 pin for signal detection and electrical level conversion.
3. Able to connect the single modules or multiple modules of the vehicle.
4. Connect with any diagnostic tool to detect the car communication.
5. Supply power to the car when changing the battery to avoid the vehicle control module data being lost, automatically locked, key remote control fails or the fault light turns on.
6. With Voltage display
7. Support All Key Lost, Add New Key, Synchronize Test and Troubleshooting for BMW CAS4 CAS4+ car model 2000-2014 Year
8. Works Together with Godiag GT100, CGDI BMW, Xhorse vvdi 2, BMW VVDI BIM Tool, Autel im608,Yanhua ACDP BMW, Tango etc.
9. One Year Warranty.
10. Ship from UK/EU, fast delivery no tax






GODIAG for BMW CAS4 & CAS4+ Programming Test Platform



Godiag CAS4 / CAS4+ test platform is a dedicated device developed for BMW locksmiths, maintenance engineers and CAS4 CAS4+ programming engineers.

1. By working together with Godiag GT100 & xhorse vvdi 2 / bmw vvdi bim tool / Lonsdor k518 / Autel im608 etc, Godiag CAS4 / CAS4+ test platform can program new key when all keys lost, can add new key and replace CAS4 / CAS4+ ECU module.



2. Before installing back the CAS4 CAS4+ module to the car, you are allowed to connect this test platform to the CAS module to test whether it can communicate or there is any malfunction.




3. Used to read out & backup the data after preprocessing, used to replace CAS4 / CAS4+ immobilizer module (for example: replace 2-port CAS4 with 3-port immobilize system with comfort access.)



4. Before installing the CAS4 / CAS4+ module back to the car, it can be used to test whether the programmed key synchronizes with cas4 cas4+.



5. Godiag CAS4 CAS4+ test platform can help expand business for the Engineers who are skilled to program CAS4 /CAS4+ key.
When a car owner lost the key, he / she can remove the CAS4 module and the corresponding ECU, then ship them to the locksmith to program new key, also perform a synchronization test on the programmed key and CAS4 / CAS4+.




6. Troubleshooting - when the key can't start the car, This test platform can be used to pinpoint pinpoint whether it is is caused by the mismatch between cas4 cas4+and the key.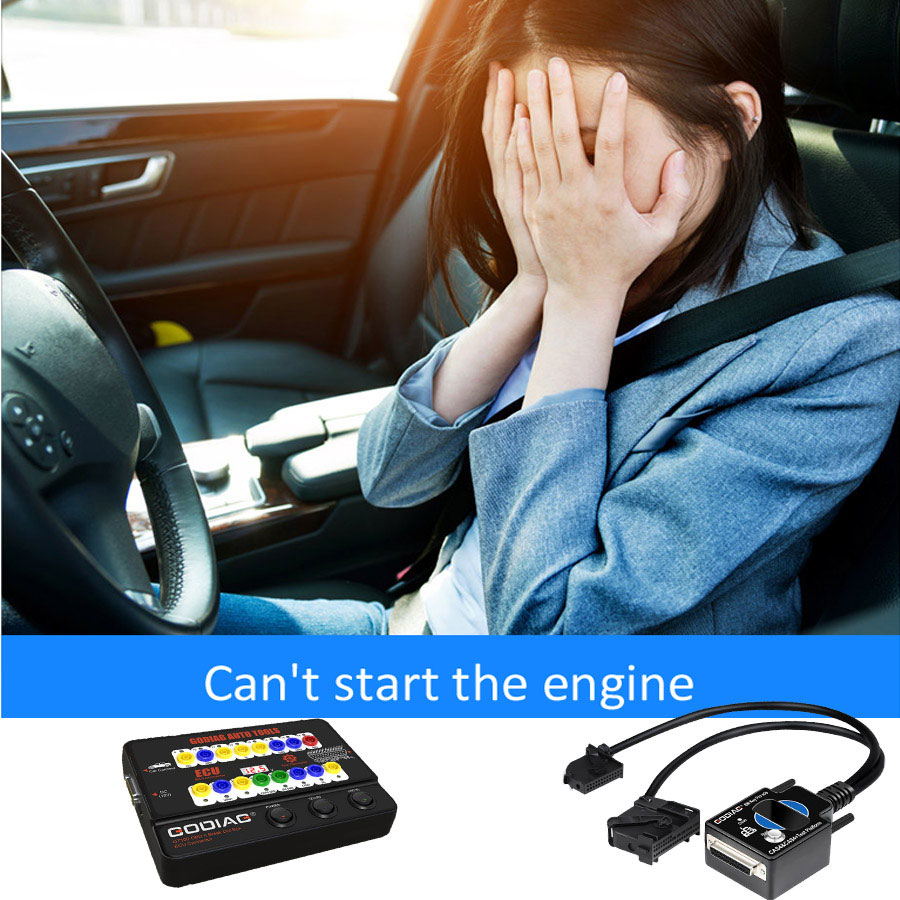 7. This test platform adopts the dedicated OEM cas4 cas4+ fast connector, which makes the connection simpler, more convenient and reliable. It will not bend the communication pin of CAS4 CAS4+ module.


Support Car Models
Car Model
CAS4 CAS4+
9S12XD512(1L15Y)
9S12XEF100(5M48H)

For BMW 5 Series

2010-2014
F07/F10/F11/F18

For BMW 6 Series

2011-2013(F12 F13)

For BMW 7 Series

2009-2013(F01 F02)
Comparasion List:
Item Name
Godiag BMW CAS4 CAS4 Test Platform
Other BMW CAS4 CAS4 Test Platform
Picture
Item No

SK310

SK228-G1

Price

€50

€59

Connector
Godiag dedicated OEM connector
Easy to connect
Won't bend communication pins
PCB welding DuPont socket
Accuracy is not good
Need watch carefully when plug in
Key Recognition Area

Stationary
Easy to identify the keys

Need move keys to identify it
Light Prompt

Yes(working with godiag gt100)

No
Item Name
GODIAG GT100 OBDII Breakout Box
Other OBDII Protocol Detector
Picture
CAN Communication
Light

Can be lit

Can't

ECU Modules

Multiple Modules

Single Modules

OBD Cable

2-in-1 extension cable

Can not be used as extension cable
Package includes:



1pc x Host
1pc xOBD 2-in-1 extension cable
1pc xColored jumper cable
1pc xPower supply 12V
1pc xResistance 120 ohm
6pcs xBanana plug
24pcs xWire accessories, Dupont 2.54mm connector female pins
1pc x CAS4 CAS4+ Test Platorm
2022 Original Autel New Arrivals-Ship from EU/UK No Tax
Original Launch X431 Pro 5 With 2 Year Free Update--Ship from EU/UK No Tax
Top Brand Products


Shipping Method and Delivery Time:

1. UK & Czech Warehouse Shipping: 3-5 working days. Fast Delivery & VAT/Tax Free.
[Ship from UK] For UK customers only, 2-5 days shipping by Royal Mail or UPS
[Ship from Czech] For European countries, ship by DHL or GLS, 3-5 days delivery.

2. DHL Shipping: Suitable for customers worldwide. Will take 5-7 working days.
If your address belongs to remote area, will need to pay remote handling cost. Please remember to leave message if you have any special requirement.
3. Yanwen Express: TAX Free for European Countries. Will take 10-15 working days normally.
4. Order Under 130EUR normally with default shipping standard post, customers can tick for premium delivery to choose ship by DHL.
5. Customers can also choose UPS, TNT FedEx or EMS if you prefer.
Videos
Customer Reviews: GODIAG GT100 Pro and GODIAG CAS4 Work with Yanhua ACDP
VVDI Key Tool Plus Program CAS4 Key on Bench with GODIAG CAS4 Test Platform
GODIAG BMW CAS4 Test Platform and Key Test
CGDI Prog BMW with Godiag gt100 Programs BMW FEM BDC Key
GODIAG BMW CAS4 Test Platform and Key Test
Tech Support
This artical shows check whether GODIAG GT100 with GODIAG FEM/BDC Test Platform can work with CGDI Prog BMW to add new key, test & program FEM/BDC.
Purpose: check whether
GODIAG GT100
with GODIAG FEM/BDC Test Platform can work with
CGDI Prog BMW
to add new key, test & program FEM/BDC.
Why should use GODIAG GT100 & BMW FEM/BDC Test Platform?
The reason is that it cannot program FEM/BDC via OBD2 directly, and all FEM/BDC modules need to be removed from the car. GODIAG devices can make the key programming procedure easier and safer.
All devices required:
GODIAG GT100 ECU connector
GODIAG BMW FEM/BDC Test Platform
CGDI Prog BMW MSV80 Key Programmer
BMW FEM/BDC Module
BMW car key
PC
The test:
1.Connection:
Connect GODAIG GT100 and CGDI BMW key programmer
Plug the cable of GODIAG FEM/BDC Test Platform to FEM/BDC module
Then plug other GODIAG FEM/BDC Test Platform adapters to FEM/BDC module in sequence as shown in the figure
Connect FEM/BDC Test Platform to GODIAG GT100
Then supply the power and turn on all buttons on GT100
Plug the BMW car key into GODIAG FEM Test Platform and turn on "Start" button
2.Operation:
Run CGDI BMW software
1).FEM/BDC Key Match
Pay attention to the prompt
Select "View help", then it will show the function menu, select the function you desire and can view the related operation procedure.
2).BMW ISN Read/Write
3).BMW F/G Series Program
Read ECU information successfully
When the communication is normal and the data is reading, the indicator goes from being on to flash slowly.
Result:
CGDI Prog BMW works with GODIAG GT100 and FEM/BDC Test platform can make the functions come true such as FEM/BDC key match, test and program FEM/BDC, test whether the programmed key synchronizes with FEM/BDC module.
GODIAG FEM/BDC Test platform is coming soon!
Learn more info, please feel free to contact us!
Whatsapp:
+86-15972933706
Email: Sales@EOBDtool.co.uk
Skype: eobdtool.co.uk