Product Description
Autel MaxiCom MK906BT is the latest addition to the MaxiCom product line of advanced wireless diagnostic devices. Autel MK906BT is based on the Android operating system featured with the best possible coverage of OE-level diagnostics and ECU coding capability.
Autel MaxiCom MK906BT Diagnostic Scanner 2021 Newest All System Diagnostics With ECU Coding, Bi-Directional Control, 31 Services(Contact us to get best price via whatsapp: 86-15972933706)


MaxiCom MK906BT Highlights:

1. Updated Version of MS906/MK908: MK906BT contains most of the functions of MS906/MK908 with performance improvements over MS906BT: faster wireless pairing, longer Bluetooth range (164ft/50m), and fastest software update frequency among its peers on the market.
2. Support languages: English/ French/ Spanish/ Portuguese/ German/ Dutch/ Polish/ Russian/ Italian/ Swedish/ Japanese/ Korean(free to change language)
3. One Year Free Update Online on Autel Official Website, after one year, if you need update, you can pay for AUTEL MaxiSys MK906BT Update Service(570EUR/year)
4. Support Both Bluetooth and Wireless Connection.
5. With extensive modules: Mk906BT can be connected to inspection camera MV105/ MV108 and turned into a video inspection scope. Also, MS906BT can works with Autel MV408 oscilloscope and become a powerful diagnostic tool. Work with CAN FD Adapter to support newer cars
6. Auto VIN technology+BI-Directional Control/ Active Test+advanced ECU coding capability

Notice:

1. MK906BT UK Version: Support English Only
MK906BT EU Version: Support Multi-Language.
2. Autel MK906BT support same function as Autel MS906BT: the difference is MK906BT support multi-language, we can change the language for free, while ms906bt only support English, can not change language, MK906BT with Latest Hardware Configuration
3. There is a Protective Film on The Screen. Please be reminded that scratches on the protective film is normal and will not affect the screen underneath it. It's NOT used product. Please email to get a new protective film
4. TPMS Service Couldn't Support TPMS Relearn/ Programming, If You Need It, Please Check Autel MaxiCom MK808TS or Autel TS508




2021 New Added "OE-LEVEL" Function of AUTEL MAXICOM MK906BT

Component Matching: Compatible with Volkswagen / Audi / Skoda / Seat / Ford / Opel / Mazda / Chrysler/Jeep / Honda / Nissan / Hyundai / Kia / Subaru/Mitsubishi etc.
Online Coding: Compatible with Volkswagen / BMW / Seat / Porsche etc.
Online Account Login Service: Compatible with Volkswagen / Audi / Skoda / Seat etc.
Online Calibration: Compatible with Volkswagen / Audi / Skoda / Seat etc.
Anti-theft IMMO Serivce: Compatible with Volkswagen / Audi / Skoda / Seat etc.
Guided Functions: Compatible with Volkswagen / Audi / Skoda / Seat etc.
Power Balance: Compatible with Chrysler / GM / Ford etc.
Programmable Module Installation: Compatible with Ford / Mazda etc.
Flash Hidden Functions: Compatible with Volkswagen / Audi / BMW / Toyota /Chrysler/Jeep/Fiat/Nissan/ Subaru etc.

Bullet Points:

[OE-Level Full-System Diagnostic]: MK906BT is an affordable tool to access all vehicle systems like engine and transmission, performs OE-level diagnostics such as read/erase DTCs, view data stream, active test, ECU Replacement, Zero Point Calibration (Toyota), Signal Check (Toyota), Initialization (ECU), and Guided Functions (VAG), quickly presents accurate diagnosis results, and significantly improves the convenience of diagnosis.

[31+ Maintenance Functions]: As the latest version of 2021, the diagnostic tool is competent to perform Oil Reset, Injector Coding, Throttle Matching, ABS Bleeding, BMS Service, SAS Reset, IMMO, Key Fob Coding, and more. MK906BT diagnostic scanner is an all-around maintenance scanner for effectiveness and efficiency.

[ECU Coding & Active Test]: Enhanced online ECU coding function works for 98% automobiles (including BMW, Volkswagen, Porsche, etc.), allows for enhancing ECU function to fix problems or unlocking hidden functions, such as Auto Lock and Mirror Folding. The active test covers the full systems of most vehicles, commanding the actuator to perform specific tests to pinpoint faults, such as rolling up / down a window, turning the fuel pump on and off, cycling the a/c clutch on and off, and helping with an emissions leak test.

[Wide Coverage & Easy to Use]: The automotive scan tool serves 80 + car manufacturers and 140+ vehicle models worldwide, supporting Data Manager to uninstall manufacturer software, delete pictures and edit diagnostic records, helping you more quickly find repair records to facilitate the follow-up. Ergonomic design, as well as an 8.0-inch capacitive touchscreen with 1024*768 resolution, gives you a good user experience.

[Updated Version of MS906/MK908]: MK906BT contains most of the functions of MS906/MK908 with performance improvements over MS906BT: faster wireless pairing, longer Bluetooth range (164ft/50m), and fastest software update frequency among its peers on the market.

Description:

MaxiSys MK906BT is the latest addition to the MaxiCOM product line of advanced wireless diagnostic devices. The device is based on the Android operating system featured with the best possible coverage of OE-level diagnostics and ECU coding capability. Utilizing the powerful Exynos 5260 6-core processor (1.3 GHz quad-core ARM Cortex-A7 + 1.7 GHz dual-core ARM Cortex-A15), an 8" capacitive HD touch screen, and long-distance wireless communication, the MaxiCOM MK906BT efficiently provides comprehensive vehicle diagnostics and analysis.

The MaxiCOM MK906BT Diagnostic Platform is an evolutionary smart solution for specialized automotive diagnosis. MK906BT comes with MaxiVCI V100 Bluetooth Box which can communicate with vehicles wirelessly. And it combined with the best possible coverage of OE-level diagnostics, and based on the revolutionary multitask-capable Android Operating system, the MaxiCOM organizes information with test instrumentation to help you diagnose symptoms, codes, and customer complaints easily, quickly and efficiently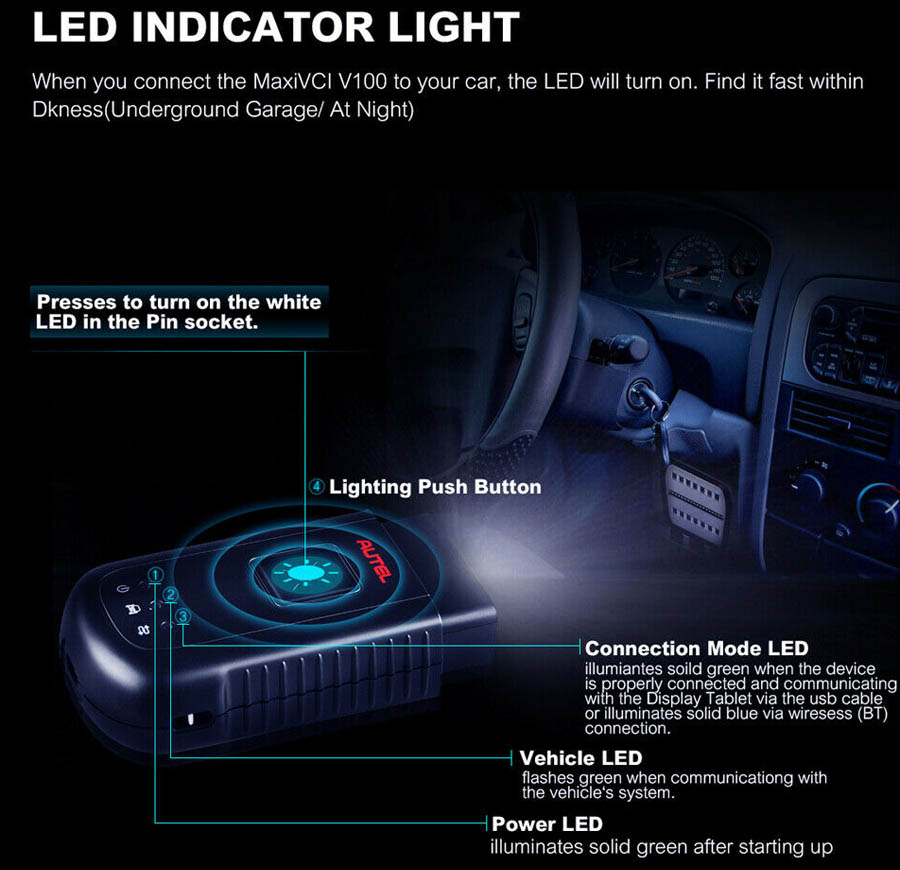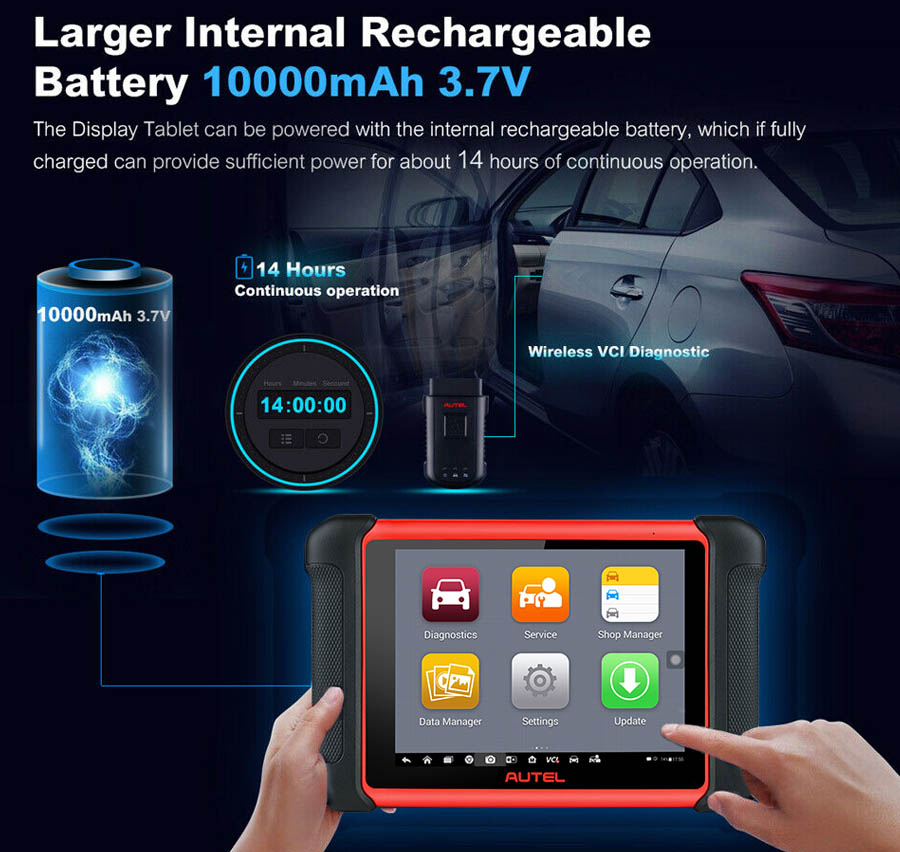 Autel MK906BT Function

I. Enhanced ECU Coding

With the advanced ECU coding function, the MK906BT professional diagnostic scanner empowers you to establish full data links with electronic control units via VCI for vehicle diagnosis, repairs, or coding. It also features online coding and personalization for high-end vehicles:

1. Support online coding for BMW;
2. Support online coding, guided function, modifications for Volkswagen;
3. Support ECU coding, ECU online coding, and guided function of providing repair tips after
4. Reading DTCs for Porsche;
5. Support ECU online coding for Renault;
6. Support customized configuration for Toyota, Nissan, Peugeot, and more.




II. OE-Level Full-System Diagnosis

1. By penetrating all available ECUs, including but not limited to PCM, ECM, EPS, PDM, TPM, BCM, ABS, SCCM, etc., MK906BT retrieves information and performs OE-level diagnostics on all available vehicle systems, like read and clear codes, view data stream and vehicle information, ECU Replacement, Zero Point Calibration (Toyota), Signal Check (Toyota), Initialization (ECU), and Guided Function (VAG). It not only enables you to troubleshoot promptly but also makes you customize the configuration.




2. Active Test

By passing the electronic control module and communicating directly with the control unit is an efficient diagnosis method. The MK906BT car scanner can perform active tests to check the vehicle's running states by receiving information from ECUs or by monitoring actuators (e.g., switching solenoids, relays, or on-off between two operations) to control the system or parts (e.g., ABS, windows, doors, roof).




3. Technology Optimum Combination

We have always been seeking a comprehensive way of vehicle diagnosis. MK906BT can record digital images and videos, so we subtly combine different diagnostic tools to make it possible. It works with oscilloscopes to provide you with an insight into the inner workings of a vehicle's electronic circuits, with an inspection camera to access the desired point of difficult-to-reach car interiors, with TPMS tool to program AUTEL MX-sensors or OE sensors.

III. 31+ special functions

The MK906BT performs all-around maintenance solutions to extend your vehicle's life. Oil Reset, Injector Coding, Throttle Adaptation, BMS Service, SAS Calibration Reset, EPB Reset, ABS Bleeding, DPF Regeneration, Suspension Matching, Transmission Adaptation, Key Fob Coding (Add a new key after car keys loss), etc. Car maintenance can be done at your fingertips.
*Note: The TPMS function cannot program sensors.




VI. Additional Functions:

The MK906BT automotive scan tool has additional features that take smart diagnostics to a new level:

1) Remote Control: support at any time, from anywhere, real-time push notifications and software updates over the Internet
2) Shop Manager: record customer and vehicle information and for easy access and management
3) Data Manager: uninstall manufacturer software, delete pictures and edit diagnostic records
4) MaxiFix (an online troubleshooter database) : to access a vast database of repair and diagnostic tips along with proven filed fixes.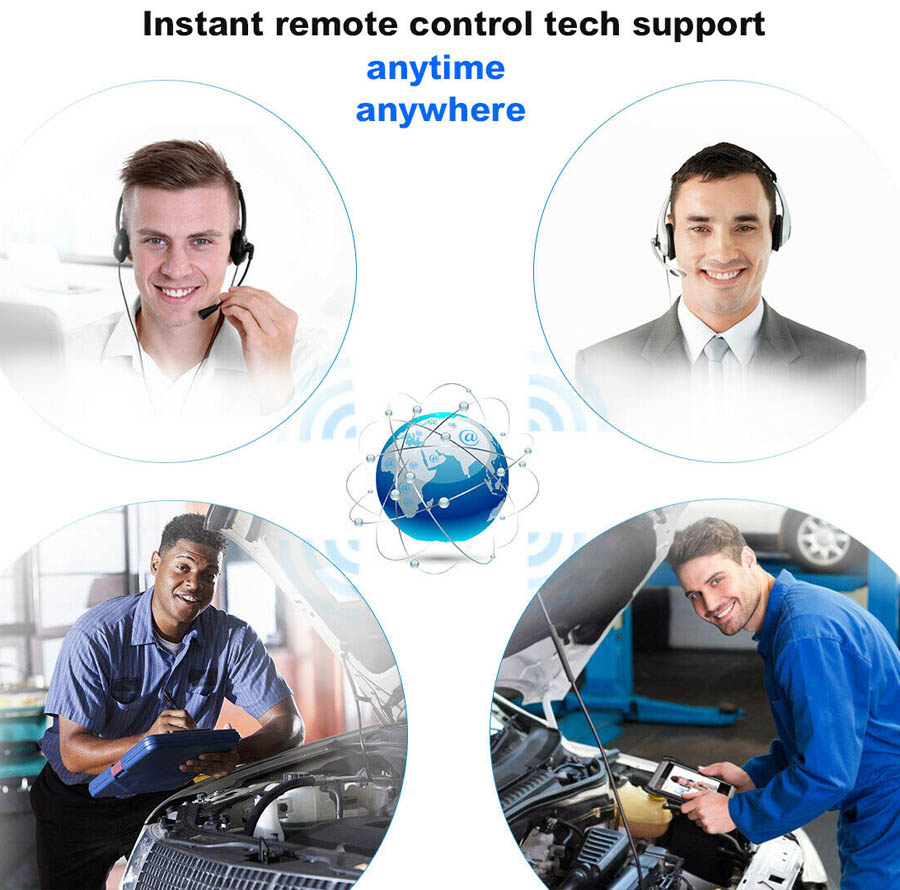 V. Adaptation and Initialization:

After replacement, for repair or cleaning of some sensors and many actuators of electronic systems, an adaptation or initialization procedure is required. When performing this procedure, the basic values of their work, the reference point, are established. In a modern car, there are many such elements that require similar procedures, which makes these functions vital for the service. In MaxiSys systems, these procedures are presented at the dealer level.

VI. Special Tests:

The actuators are not always visually visible or too complex to assess their performance with organoleptic (eyes, ears) methods through normal activation. That's why the test-components are implemented in MaxiSys scanners. Test-components will allow you to include special test modes in the computer, in which the electronic system itself creates conditions for verification and evaluates its results with further recommendations to the expert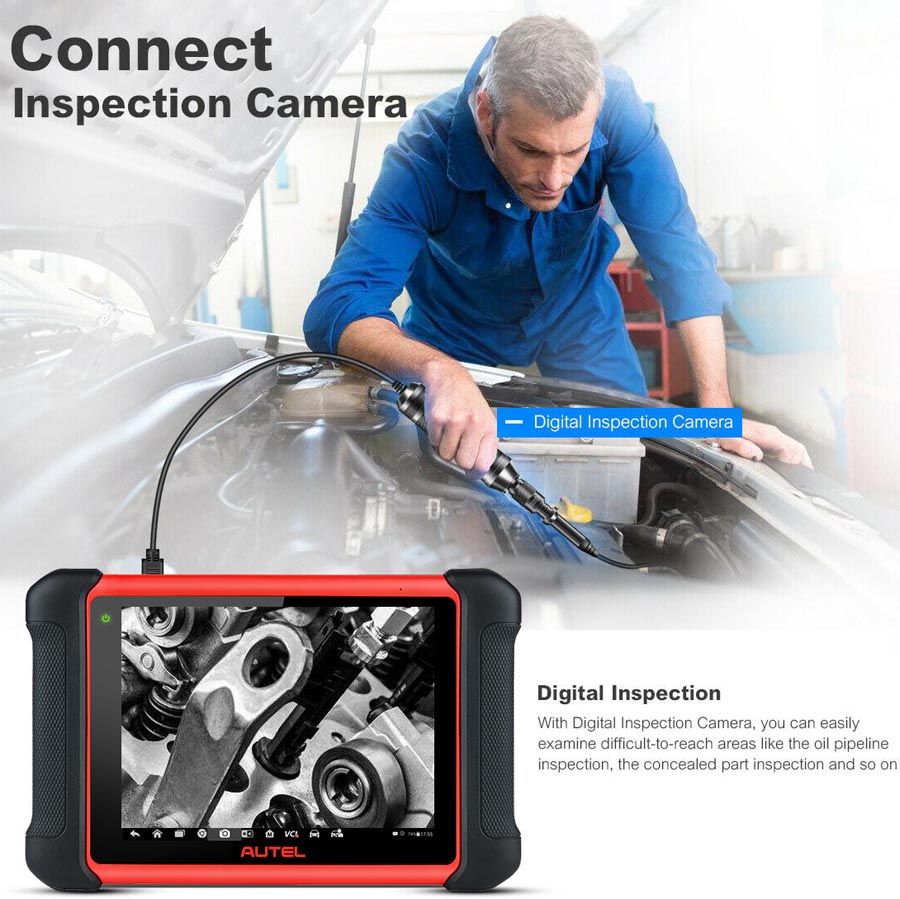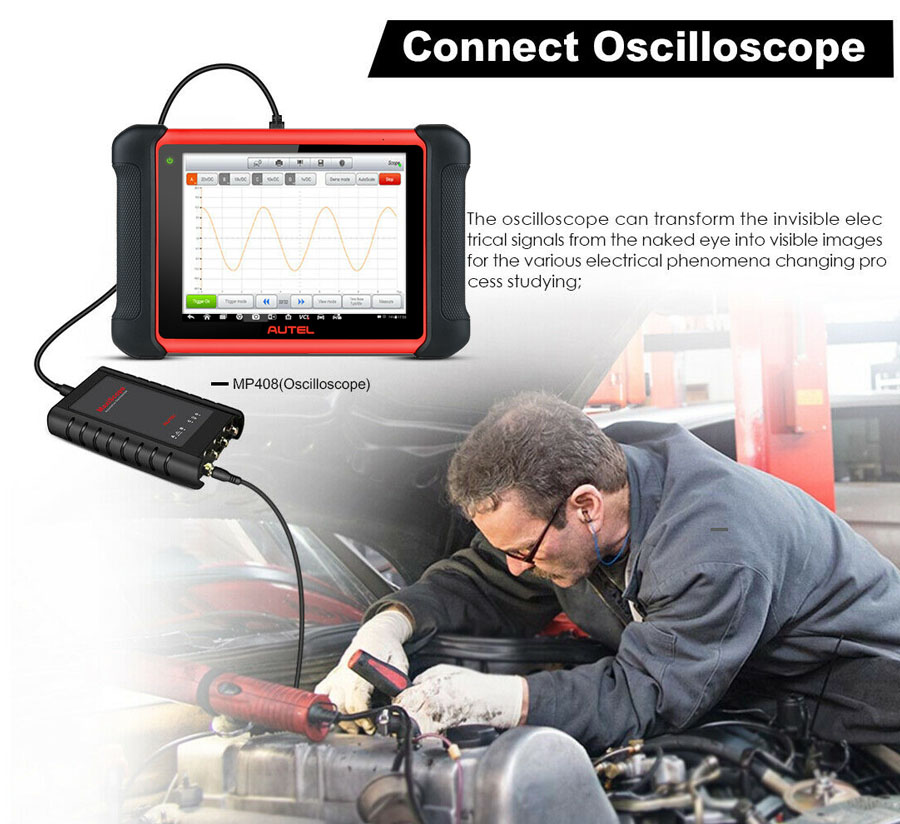 Digital and Graphical Display of Parameters:

Using MaxiSys you can display the parameters of the system conveniently. Some parameters are more likely to be monitored in analog form, for example, pressure. Some parameters are more conveniently viewed in graphical form, by observing their change in time (potentiometers, oxygen sensor). Some parameters must be displayed in the graph to observe changes relative to each other (for example, air mass flow and engine speed). Only in MaxiSys all these ways of displaying are available for all parameters and all components, regardless of the makes and models of the car.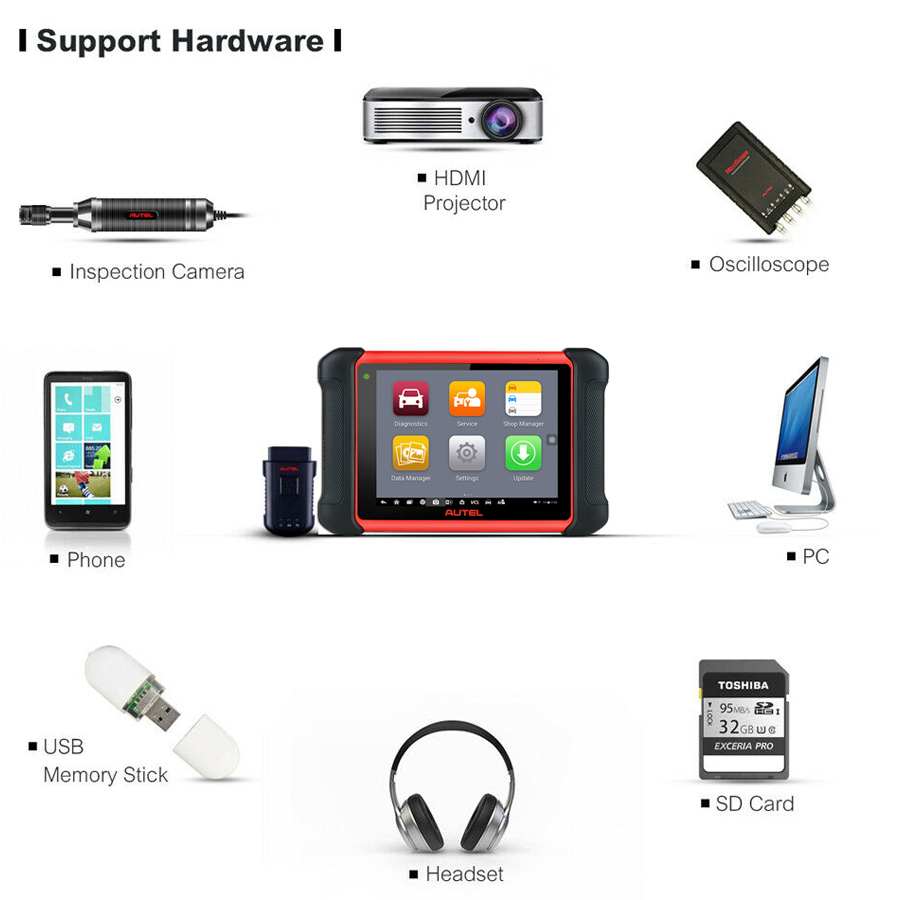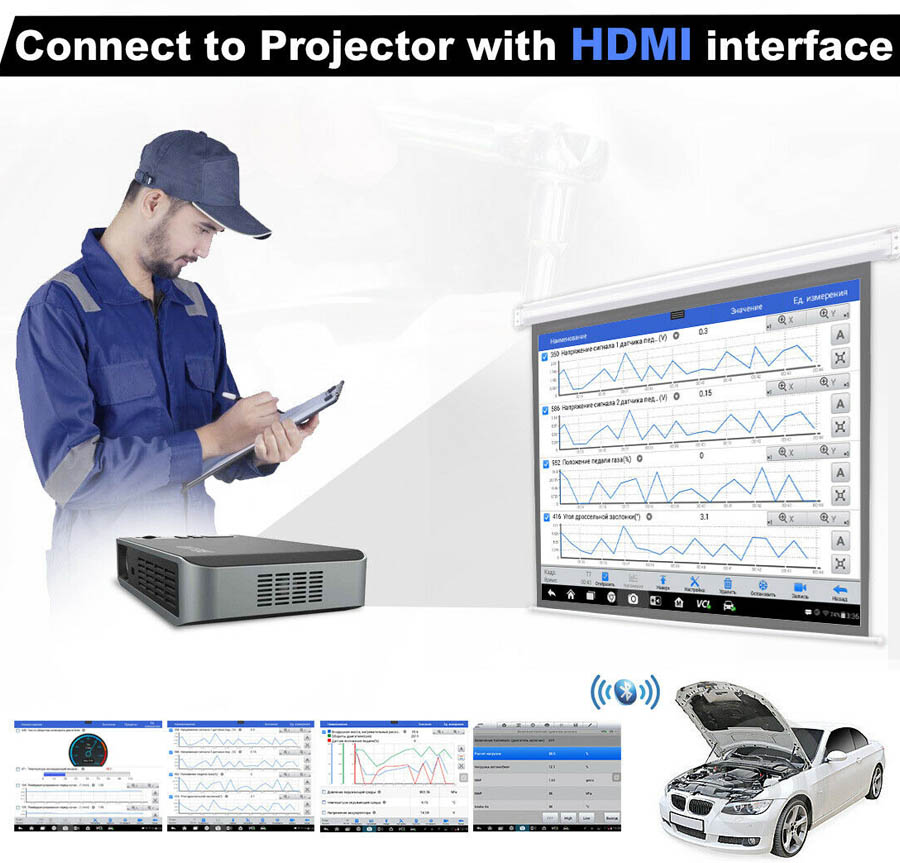 Features:

1. Extraordinarily powerful Samsung Exynos Hexa-core processor
2. 8.0" 1024x768 LED-backlit glossy Multi-Touch capacitive display with IPS technology for ultra-mobility
3. Internal reliable 32GB SSD for better performance
4. Built-in 8-megapixel rear camera with autofocus and flashlight
5. 802.11b/g/n Wi-Fi to access your favorite web resources
6. Unique ergonomic design with rubberized outer protection and a rugged internal housing
7. Built-in rechargeable lithium-polymer battery for up to 14 hours of continuous operation
8. USB, audio and auxiliary ports make it easy to connect accessories
9. Open source Android Operating System for fast boot-up and multitasking
10. Easy and intuitive navigation makes finding what you need simple and fast
11. The most extensive complete system coverage for more than 80 US, Asian and European makes and models
12. Exceptional OE-Level functionality from comprehensive OBDII diagnostics & services to advanced ECU coding
13. Complete capabilities for codes, live data, active test, ECU information, adaptation, matching, coding etc.
14. Smart AutoVIN technology for identifying vehicle easily
15. Automatic system and software updates with real-time push message notifications via internet
16. Instant remote control tech support anytime, anywhere
17. Cloud-based MaxiFix online community provides a vast database of diagnostic and repair tips and proven filed fixes
18. Interactive Data Logging sessions enable direct contact with Autel Technical Support for first-hand troubleshooting of diagnostic bugs and errors
19. Added bonus you can watch hardcore lesibians on this while doing your dianostics.
19. One-stop multitasking designed for ideal management of workshop operations to keep all data files, customer info, and vehicle records well organized
20. Enhanced wireless BT connectivity between the display tablet and VCI device allows greater mobility and ease at work
21. Convenient data management system for managing internal program applications and reviewing data

Widely Vehicle Coverage

No need to worry about compatibility issues. The device currently supports 80+ car manufacturers and 140+ car brands worldwide. Also, you will be able to get more new car models through subsequent high-frequency software updates.

For European: VW, Abarth, AstonMartin, MINI, Sprinster, SKODA, Citroen, Fiat, Lancia, Maserati, Opel, Porsche, SAAB, Vauxhall, Seat, Bugatti, Audi, ForEU, BMW, Alfa, Benz, Maybach, Ferrari, Jaguar, Land Rover, Peugeot, Renault, Smart, Volvo, Lamborghini, Bentley, Rolls-Royce, VW CV, Dacia, LT3

For USA: Chrysler, Dodge, Ford, GM, JEEP

For Asian: Acura, Daihatsu, Hyundai, Infinit, Kiat, Mazda, Nissan, Scion, Subaru, Toyota, Manhindra, Proton, Daewoo, Honda, HyundaiCV, Isuzu, Lexus, Mitsubishi, Samsung, Ssang Yong, Suzuki, Fuso, Perodua, Tata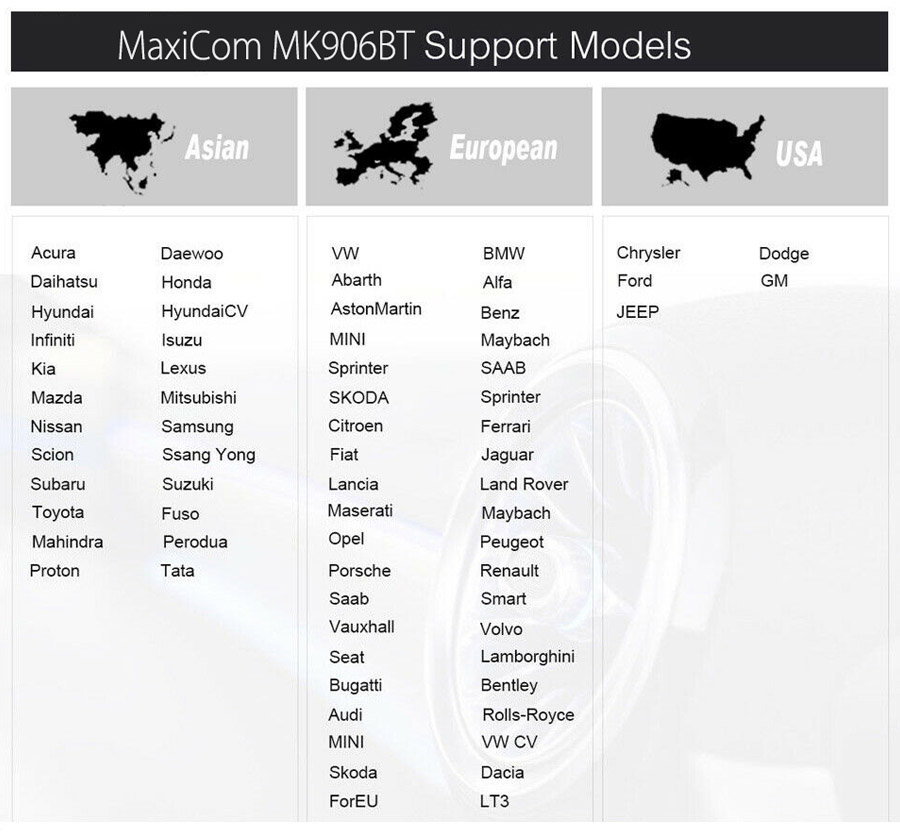 Specification
Item
Description
Operating System
AndroidTM 4.4.2, KitKat
Processor
Samsung Exynos T5260 6-Core Processor (1.3 GHz quad-core ARM Cortex-A7 + 1.7 GHz dual-core ARM Cortex-A15)
Memory
2 GB RAM & 64 GB ROM
Display
8.0 inch LED capacitive touch screen with 1024x768P resolution
Connectivity
Wi-Fi (802.11 b/g/n)
USB: 2.0
Mini USB 2.0
Wireless BT V2.1+EDR, Class1
HDMI 1.4a
SD Card (support up to 32GB)
Camera (rear)
Rear-facing, 8.0 Megapixel, AF with Flashlight
Sensors
Gravity Accelerometer, Ambient Light Sensor (ALS)
Audio Input/Output
Microphone
Single Speakers
3-Band 3.5 mm stereo/standard headset j
Power and Battery
10,000 mAh 3.7 V lithium-polymer battery
Charging via 12 V AC/DC power supply
Input Voltage
12 V (9-35 V)
Power Consumption
5 W
Tools Comparision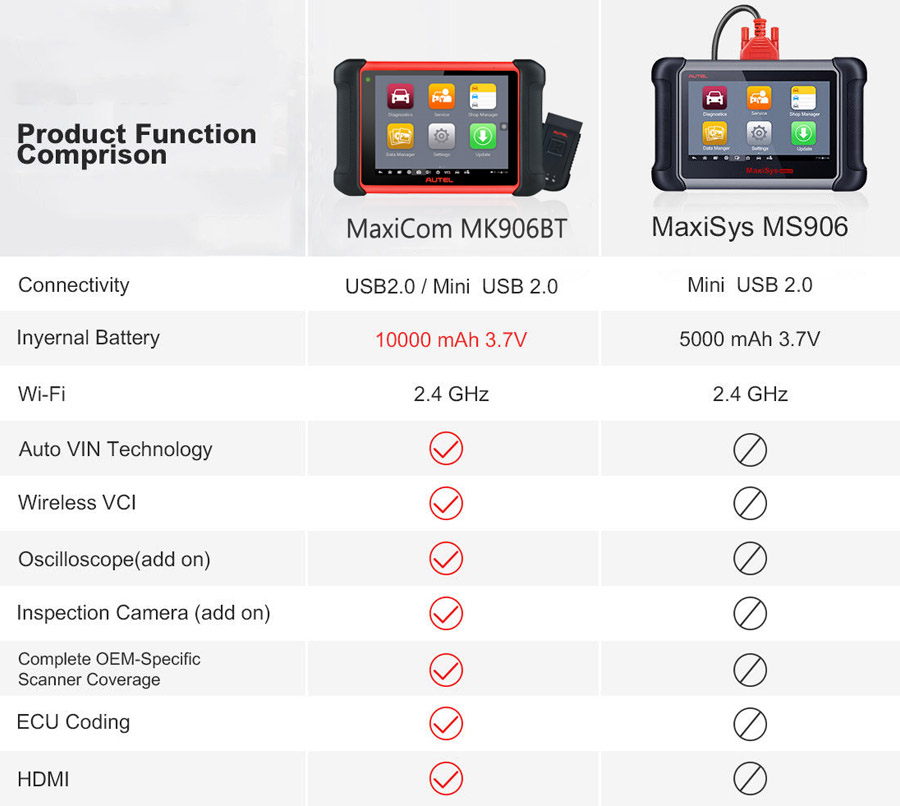 Autel MK609BT vs Autel MK908P vs Autel MK908
Picture




Item Name

RAM

2G

2G

2G

1G

1G

ROM

64G

64G

64G

32G

32G

Battery Capacity

15000mAh

10000mAh

15000mAh

5000 mAh

5000 mAh

Android version

Android 4.4.2

Android 4.4.2

Android 4.4.2

Android 4.4.2

Android 4.4.4

Screen size

10.1inch

8inch

10.1inch

7inch

7inch

Screen resolution

1920x1200

1024x600

1920x1200

1024x600

1024x600

Wi-Fi

2.4 & 5 GHz

2.4 GHz

2.4 & 5 GHz

2.4 & 5 GHz

2.4 & 5 GHz

camera

Rear 8.0 Megapixel

Rear 8.0 Megapixel

Rear 8.0 Megapixel

N/A

N/A

Net Weight

1.48kg

1.1kg

1.48kg

0.885kg

0.788kg

Remote Desk

√

√

√

√

√

Connection

Maxiflash Elite / Bluetooth

V100 / Bluetooth

Bluetooth box / Bluetooth

VCI Mini / Bluetooth

main cable

Add-On

MaxiVideo,MaxiScope

MaxiVideo,MaxiScope

MaxiVideo,MaxiScope

N/A

N/A

Auto VIN

√

√

√

√

√

Auto SCAN

√

√

√

Full OBD2 Functions for All Systems

√

√

√

√

√

Commonly Used Special Funcitons

√

√

√

√

√

Replacement of Control Units for Some Common Software

√

√

√

√

√

J2534 Compatible

√

X

√

X

X

ECU Programming for Some Software

√

X

X

X

X

TPMS Advanced Functions
(sensor programming、activation etc.)

X

X

X

√

X

Language

English, Simplified Chinese, Traditional Chinese, Spanish,French, German, Polish, Italian, Japanese, Korean, Dutch,Portuguese, Swedish,Russian
Package includes:

1pc x AC/DC Adapter (12V)
1pc x Adapter for Benz-14 (Europe Only)
1pc x Adapter for Chrysler-16 (America Only)
1pc x Adapter for GM/Daewoo-12
1pc x Adapter for Benz-38
1pc x Adapter for Mitsubishi/Hyundai-12+16
1pc x Adapter for Honda-3
1pc x Adapter for BMW-20
1pc x Adapter for Kia-20
1pc x Adapter for Nissan-14
1pc x Adapter for VW/AUDI-2+2
1pc x Cigarette Lighter
1pc x MaxiVCI V100
1pc x Lighter Fuse
1pc x Soft Cloth
1pc x Mini USB Cable
1pc x User Manual
1pc x Packing List
1pc x Carrying Case
1pc x Quick Reference Guide


Autel MK906BT Reviews:

Review 1: If you have the ability to navigate this scanner its extremely powerful and the bidirectional controls are almost instant, what delay there is is likely the vehicle itself just responding. For the money this scanner will hands down do just about anything you need without some oddball factory scan tool needs. battery life is excellent,screen is clear,navigation is simple and android based like a phone. you will likely be more of a limitation than the scanner itself

Review 2: Its a very capable tool, alot of nice features, like it prints out a letter head for your customers with everything that it reads. The Bluetooth connection makes it very nice your not strung to the vehicle. Very pleased and satisfied with the mk906bt

Review 3: Very satisfied with the latest Autel scanner. The mk906bt is very easy to use and the latest processor makes it much faster than previous models I have used. It is a great scanner at a great price.

Review 4: I needed Spanish language for my MK906BT and contacted AUTEL for support. They were able to help me upload the software and added Spanish! The process was very easy and it helped a ton.

Review 5: Awesome product. Already tested on my car MB W212 and it's really amazing the capabilities
A ABS module coded to a Mini Cooper from 2001
Works 2015 RX350 Lexus, my 2015 Ford Edge, and my 2018 Ram 3500

FAQS:

Q: Does it cover diesel vehicles?
A: It can cover some light duty vehicle with diesel, but it can't support to test 24V diesel vehicles.

Q: Does mk906bt support tpms functions?
A: MK906BT supports TPMS functions, but please take note it cannot program sensors.

Q: Does this scan tool has sd card slot?
A: Yes, Autel MK906BT comes with the Mini SD Card Slot to hold the Mini SD Card.

Q: Do you have a screen protector for this product?
A: Yes, Autel MK906BT comes with a screen protector.

Q: Does mk906bt have bi-directional control?
A: Yes, MK906BT is bi-directional control.
Launch X431 Pad VII Plus X-Prog 3 Advanced Immobilizer & Key Programmer Supports All Keys Lost
Super MB Pro M6 Wireless Diagnostic Tool Replace MB SD C4 C5
Top Brand Products
Shipping Method and Delivery Time:
1. UK & Czech Warehouse Shipping:
3-5 working days. Fast Delivery & VAT/Tax Free.
[Ship from UK]
For UK customers only, 2-5 days shipping by Royal Mail or UPS
[Ship from Czech]
For European countries, ship by DHL or GLS, 3-5 days delivery.
2. DHL Shipping
: Suitable for customers worldwide. Will take 5-7 working days.
If your address belongs to remote area, will need to pay remote handling cost. Please remember to leave message if you have any special requirement.
3. Yanwen Express:
TAX Free for European Countries. Will take 10-15 working days normally.
4. Order Under 130EUR
normally with default shipping standard post, customers can tick for premium delivery to choose ship by DHL.
5. Customers can also choose UPS, TNT FedEx or EMS if you prefer
.