XTUNER T1 Heavy Duty Trucks Auto Intelligent Diagnostic Tool Support WIFI


Top 11 Reasons to Get XTUNER T1 HD Heavy Duty Trucks Auto Intelligent Diagnostic Tool
● Extensive vehicle coverage for heavy-duty trucks.
work on almost trucks till year 2015
● Complete function including DTC, DTC freeze Info, Live data, Actuation test and Special function.
● Support standard protocol J1939, J1708 and J1587.
●
Communication: USB or WIFI connection for the VCI.
●
XTUNER T1 Update: New software update on the internet http://www.idutex.com/html-e/support.html(
XTUNER-T1 software is free updating within 1 year from the date of product activation.
)
● Supply OBDII and other 10 connector.
● With brand-new design, the hardware features in stability and anti-interference.
● The built-in overvoltage protection module is able to protect scanner and vehicle against accidental damage during checking.
● Work stably and smoothly in high and low temperature environment..
●
Operation System: Windows XP, Windows 7, Windows 8, Windows 10
, which allows for more stable performance, better compatibility and expandability.
XTUNER T1 Language:
English, Spanish, French, German, Polish, Portuguese, Korean. will add more languages in the future.
XTUNER T1 Warranty:
One Year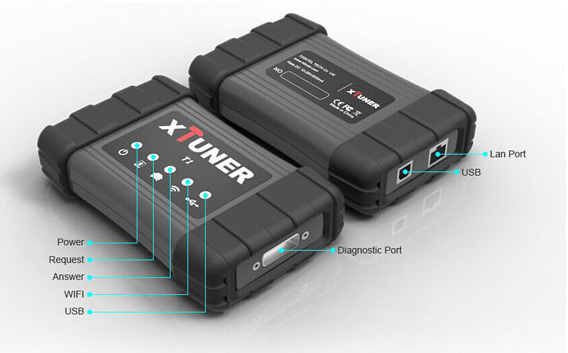 XTUNER T1 Function:
Read ECU Info, Read DTCs, Erase DTCs, Clear learning value, Data Stream, Actuations, Read freeze frame data, Read/Write VIN, Basic Reset, Control unit adaptations, Air bleeding, Level calibration, Oil change, Idle speed learning, Idle speed Adjustment, Camshaft timing control learning, Broken cylinder test, Dpr Manual Forced Regeneration, Injector Codes, etc.

XTUNER T1 Special Functions:
DPF Reset, Nozzle Or Injector, Fuel Pump, Exhaust Pressure Adjustment, EGR, ECM, Vehicle Speed CONTROL, Cylinder, VIN, Write Engine Serial Number, Turbo Control


XTUNER T1 Hardware environment:
Windows laptop, PC or PAD
CPU speed: more than 1.0G Hz
Memory: more than 1GB
Disk: more than 32 GB
Communication port: Wi-Fi or USB


Systems Coverage
ABS(anti-lock brake system), After treatment system, Airbag, Airconditioning system, ATA Anti-theft alarm system, ATA(Auxiliary heating system air-to-air), AUS(Audio system), Behr independent air-conditioning system, BMS(Brake Management System), Body control system, Bosch DENOX AdBlue System, Break control system, BWS(Preparation system), CCS(Climate control system), CLS/ATA central locking system with anti-theft alarm, Comfort/assistancefety systems, Compressed Air Reserve system, CSS(Collision safety system), CTS(Clock and Time System), EBS(Brake System), EBS(Electronically Controlled Brake System), Electrohydraulic steering system(EHLA), EMS(Engine Management System), Engine management system, Engine System, FLA Flame starting system, GMS(Gearbox Control System), Instrumentation System, Lane departure alarm system, LAS(Lock and alarm system), LGS(Lane Guard System), MAN Marine Diagnostic System(MMDS), Meritor Wabco Brake System, MTS Modular door control system, RAS-EC1 steering system, Security System, SRS Supplemental restraint system, Suspension System, Torque converter and clutch system, TPM(Tires pressure Monitoring System), Transport Information System, Vehicle control system, Vehicle elctrical system power converter, VIS(Visibility System), VRDU Driver assistance system, WS Maintenance System, WTA(Auxiliary heating system water-to-air), ZVA Central locking system, etc.


Vehicle Coverage
DIESEL: ALLISON, ASTRA, BENZ, BREMACH, DAF, DETROIT, ERF, FOTON, FREIGHTLINER, FUSO, HINO, HYUNDAI, INTERNATIONAL, ISUZU, IVECO, KENWORTH, KIA, MACK, MAN, MaxxForce, NAVISTAR, RENAULT, SCANIA, TOYOTA, UD, VOLVO, WABCO, ect.

Electronic Control System: BENDIX, CUMMINS.

Standard OBD: Diesel OBD.

XTUNER T1 software display: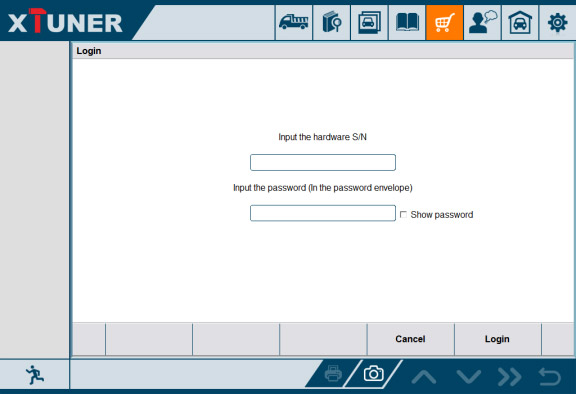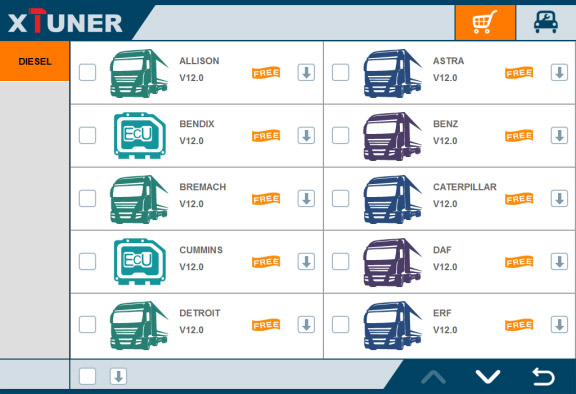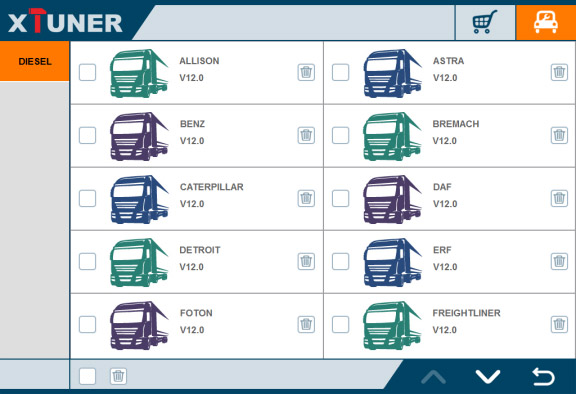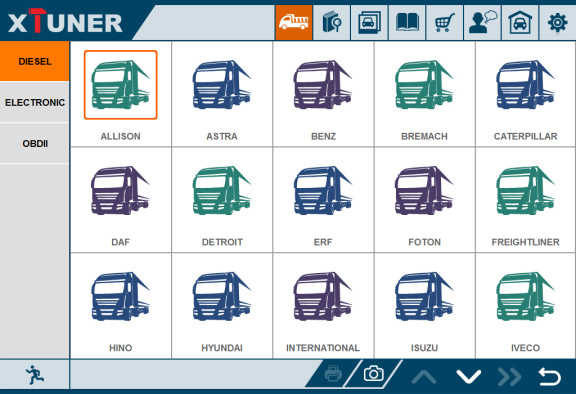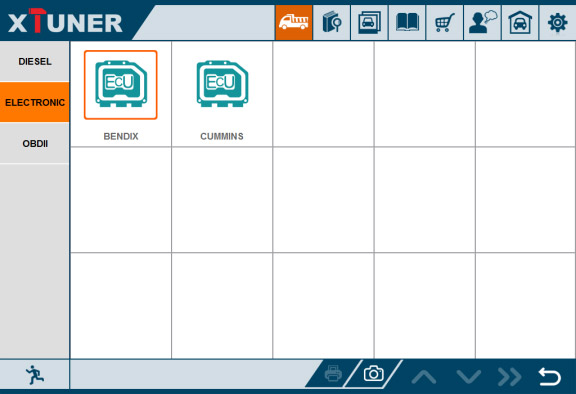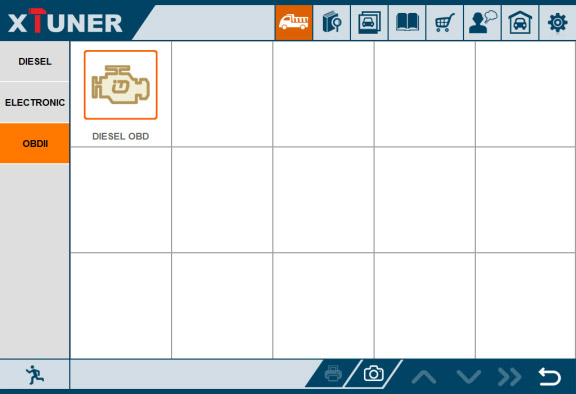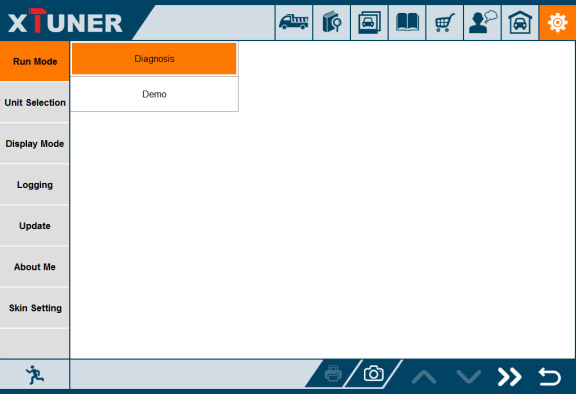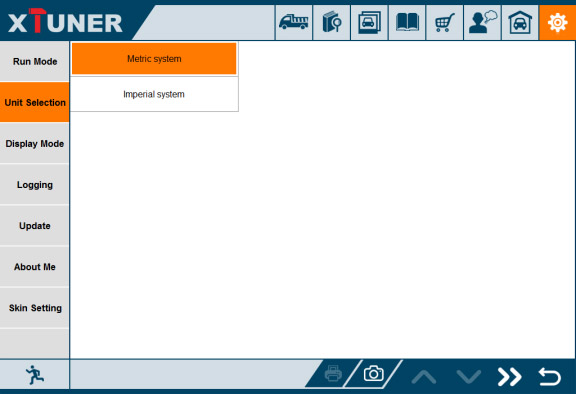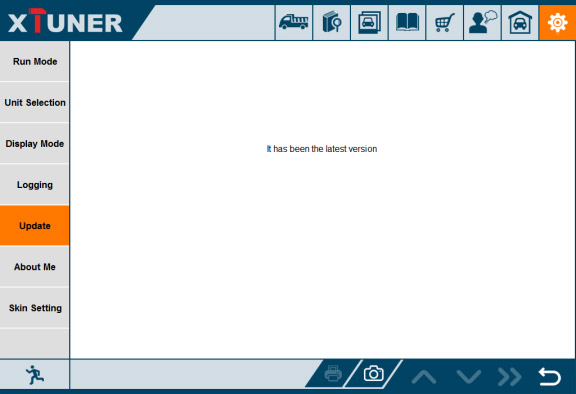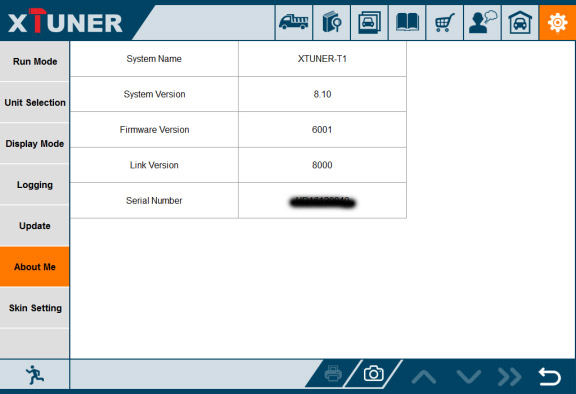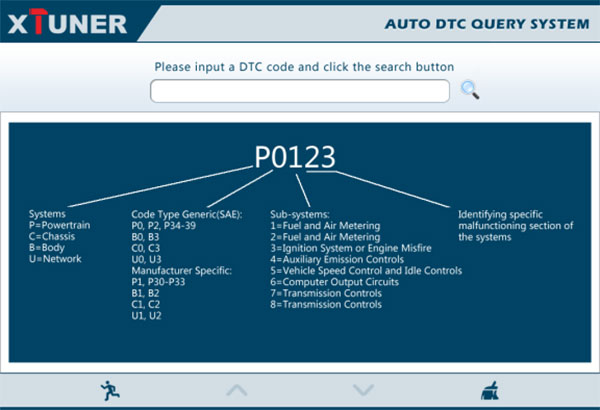 Xtuner T1 V4.1-5.5 Update Information:
1. SCANIA 12.6
⑴ 4 series->DIESEL INJECTION new addition menu EMS(Engine Management System), including reading version information, fault code, data flow, special function development。
⑵ Euro IV/Euro V (After 2006)->P, G, R series of new addition menu WTA(Auxiliary heating system water-to-air), including reading version information and basic function development of fault code。
2. BOSCH 12.4
⑴ Add BOSCH self recognition;
⑵ Add a lot of special functions.
3. BENZ 12.21
⑴ Improve the communication layer.
4. HDOBD 13.5
⑴ Support to 2018 model.
⑵ Add the Dirve data for all modles.
⑶ Add the Repair data for all modles.
⑷ Improve the communication layer for J1939 and J1708 protocols.
5. HINO 12.81
⑴ Improve the communication layer.

XTUNER T1 update information:
HDMAXXFORCE V12.30
1.Add basic function for CAT CT11/13 (2010 - 2012),CAT CT15,CAT CT13 (2013),CAT CT13 SCR (2013 - ),Volkswagon,CAT CT13 (2013 - ).
XTUNER T1 update information:
ISUZU V12.8
1.Add 460 Active Tests and 60 Special Functions for all the series.
XTUNER T1 DIESEL OBD V13.1 Update
1. Add data groups for data list function.
2. Improve the communication for J1939 systems.
The DIESEL OBD function of XTUNER - T1 has updated!
1. Add system information function.
2. Add I/M readiness data function.
3. Update the database support to 2017

XTUNER T1 UI V8.1 Upgraded!!!
1. Improve the communication layer.
2. Improve the print report.
3. Fix the bug of the setting function.

Package List:
1PC x XTUNER T1 VCI
1PC x Main Test Cable with OBDII connector
1PC x BENS-14 Connector
1PC x CAT-9 Connector
1PC x DENSO-12 Connector
1PC x DIESEL-6 Connector
1PC x DIESEL-9 Connector
1PC x ISUZU-9 Connector
1PC x ISUZU-20 Connector
1PC x IVECO-30 Connector
1PC x OBD-16 Connector
1PC x VOLVO-8 Connector
1PC x Universal Cable
1PC x Battery Cable
1PC x Cigar Lighter Cable
1PC x USB Cable
1PC x Quick Start Guide
1PC x Password Envelope